When IATA pushed back its annual general meeting from June into November it was with the hope that the global pandemic may be sufficiently in check to allow for a physical meeting of some kind.
But the scale of the second wave of the virus, particularly in Europe – the AGM was to be hosted in Amsterdam – dashed any such chances. It has done likewise for any hope that the momentum in the initial return of services seen over the summer could be carried into the winter.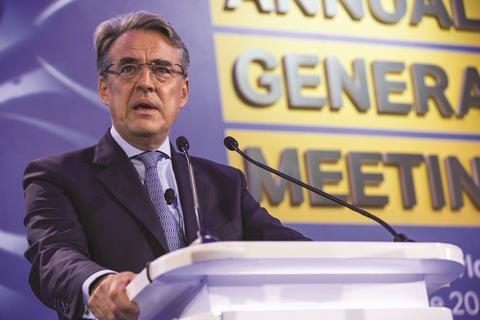 It means that the association's director general Alexandre de Juniac will address the AGM on 24 November with IATA very much still in crisis management mode.
"Hopefully this will be the only one [virtual AGM] and we should have a physical AGM in 2021," he tells FlightGlobal during an interview ahead of the event. Indeed, he notes the association only decided at the start of November that this year's event should be fully virtual.
"We are still in crisis mode," de Juniac says. "Now that has become our day-to-day job."
That crisis management began as the scale of the pandemic started to crystallise early this year, quickly spreading from outbreaks in parts of Asia and Europe, and resulting in a swathe of national lockdowns by late March.
"What we have done, immediately after the beginning the pandemic in March, is we have shifted IATA into crisis mode," de Juniac states. "[We were] working 24-7 to support the industry and to lobby governments to immediately do three things: generate cash for members,… reduce their costs, and thirdly obtain some regulatory relief.
"We did that and it was pretty successful immediately," he says.
The wave of relief measures and financial support packages has helped stabilise airlines in many countries, while IATA was able to keep the industry's booking settlements system flowing despite the short-term cash shortages.
IATA quickly turned its attentions to forming a restart plan – set against concerns about whether passengers would feel confident enough to fly during the Covid crisis. The association worked with states, stakeholders and with ICAO to establish recommendations through the latter's Council Aviation Recovery Task Force (CART) for operating in the Covid environment.
"[This] has been implemented almost everywhere and has solved all the issues relating to flying and how we fly the passengers, how we treat them at the airport, so that was the first step," says de Juniac. "Governments, airlines, passengers – they feel safe when they fly, provided they comply with the processes that have been put in place."
SECOND WAVE HITS RECOVERY
But as states struggled to maintain a grip on the spread of the virus and the feared second wave began to emerge, so markets began closing down again – largely through restrictive quarantine measures which all but stopped international travel demand.
"So we started to work on a plan to reopen borders and to ask governments to lift these quarantines," de Juniac says. "We worked with the medical community and the pharmaceutical industry to be able to propose something to replace these quarantine measures. In September we proposed our systematic testing process for departing passengers – because we were comfortable with the evolution of the test."
He notes that at the time IATA made its proposals, the ability to produce the antigen tests at the required reliability, cost and scale was only just coming online. "So our proposal was very advanced," de Juniac says, noting he was not surprised it has taken time for authorities to gain confident in how testing could help safely reopen borders.
Again IATA worked with ICAO through CART to develop fresh guidelines, issued earlier in November, to help on the implementation of testing.
"It's not done yet," acknowledges de Juniac. "Some health authorities and states are convinced. Singapore, France – progressively the US and UK – but there are still some strongly reluctant countries. So we still have to push. But we are moving in the right direction. Probably in Latin America more states are open to that. But in Asia it is still an issue, they are implementing quarantine measures massively almost everywhere.
"That is why we are pushing the travel corridors or bubbles as a kind of experiment to restart some routes. So the Hong Kong-Singapore bubble is a good example, and we have been very engaged with Singapore Airlines, the Singapore and Hong Kong governments to put that together and provide the right information."
The challenge though has again been underlined by news on the day before the planned Singapore-Hong Kong bubble was to launch on 22 November that the scheme had been pushed back for two weeks because of a spike in coronavirus cases in Hong Kong.
"We are also working with the US and UK to reopen the London-North America route through a bubble, because we think it's a good way of restarting things," adds de Juniac.
"You cannot maintain these bubbles or travel corridors for ever, because otherwise it would be impossible to manage – it would be an impossible patchwork of different systems and processes. But it's a good system to restart the industry and then it will move to a kind of normal system."
De Juniac notes one of the challenges the association has faced is dealing with different regulators and stakeholders because of the nature of the health crisis. "Usually we work with civil aviation or transport regulators or transport ministries," he says. "Now we have learnt to work with public health authorities and ministries of health, the WHO.
"So we have to engage with them and to understand what are the constraints. And to convince them we have strong, safe, robust solutions to reopen borders safely."
IATA NOT IMMUNE FROM CRISIS IMPACT
IATA itself has not been untouched by the crisis. At the start of October the association announced proposed restructuring under which its headcount would be cut by 22% – around 400 positions. Half of these are covered through vacant positions or voluntary departures.
"We were facing some difficulties in IATA as well, because of a drop in revenues the same as everyone. We engaged in a restructuring which we have now completed and will be finished by the end of the year. So even the organisation and people have suffered from this," he says.
There have been some small positives to come out of the crisis. Alongside the high-profile boost – if in only yield terms – in cargo traffic, de Juniac says it has allowed for the faster rollout of some digital solutions for the industry.
"All the contactless technologies that we are trying to implement for checking, boarding, luggage, payment, is now more generalised. We are now working on apps for identification systems, so it has been very helpful to push and accelerate the implementation of these technologies," he says.
Neither, says de Juniac, has the crisis changed IATA's commitment towards the industry meeting its environmental goals – which includes the halving of emissions by 2050 and becoming fully carbon neutral activity by 2060. "We haven't changed this commitments, which are extremely ambitious already. What we are asking governments is not to add cost [through environmental taxes] because we are fighting for survival."
The scale of the challenge will become clearer as IATA issues its updated economic outlook on 24 November. In June it forecast the airline industry would lose a massive $84 billion in this pandemic-hit year.
De Juniac says IATA will keep lobbying governments to extend their help – financial and regulatory – because "we are not out of the difficulties". He says the industry will need a further major capital injection – estimated at around $70-80 billion – as the crisis will last into into the summer 2021 season.
Hope on the horizon does at least appear a little closer following recent positive news about the effectiveness of potential vaccines.
"The vaccine is very good news and will give states confidence to lift the measures they have put in place, in particular restrictions on borders," says de Juniac. "But it will have to be combined with the testing process. We cannot wait for the vaccine to be massively available – that will not happen before mid-2021.
"Governments must get used to the idea that we will have to live with this virus, permanently," he adds. "Even with the vaccine, as we live with the flu every year, as we live with measles, There are a lot of virus or disease that we live with comfortably without locking down the whole population."