It made sense for Willie Walsh to use his first briefing as IATA director general to insist that Covid-related health requirements such as pre-flight testing, vaccination certificates and quarantines should only be in place for as long as is necessary.
By this point of the crisis, there is no point in pretending that governments are going to get together and formulate a global Covid-19 testing regime, as was IATA's previous hope.
Nor is there a particularly strong reason for them to do so. When arguments were being made for such a scheme last year, real-world vaccine efficacy data was yet to be released. For all anyone knew, the human arsenal against Covid-19 would be a limited range of therapeutics and the natural build-up of immunity over months and years.
Today, with an expectation that the worst of the global crisis from a health perspective might be over within a few months, thanks in large part to a growing list of highly effective vaccines, it is a reasonable bet for the airline industry to work alongside governments on implementing bespoke short-term measures around testing and vaccine certification to reopen international travel.
At the same time, it can focus on lobbying to ensure such requirements – which tend to have a detrimental impact on demand – are removed once the health situation is fully under control.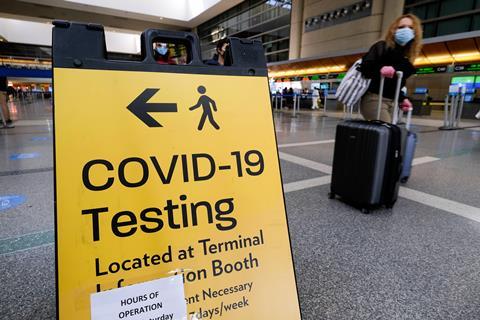 But it also needs to accept that the journey to that end point is going to be far from straightforward.
With vaccination programmes at different stages in every country and different attitudes to current and future risks among governments, myriad sets of travel requirements will exist for months at least.
That creates vastly different outlooks across regions and individual countries.
Walsh's observation that "we're really seeing two industries operating within one" – thanks to the differing fortunes of cargo and passengers operations – perhaps undersells just how fragmented the industry is likely become thanks to the varying speeds at which passenger markets will open up.
"We've seen a huge surge in bookings," said Delta Air Lines chief executive Ed Bastian as the US major announced its first-quarter results in mid-April. "In March, we had twice the amount of bookings as just in January. Our business has made a turn."
Bastian's optimism over the recovery is shared by many US airline chiefs, but not necessarily those elsewhere.
"We haven't walked away from October," said Qantas chief executive Alan Joyce around the same time, in reference to a possible resumption date for international travel to and from Australia.
"This could open up a bubble by bubble, market by market, dependent on what the framework looks like."
In Europe, airlines sit somewhere in between the optimism of the US and the waiting game under way in Asia-Pacific.
And in other jurisdictions around the world, a similarly mixed picture exists.
Accepting this messy reality, the global industry should celebrate the good-news stories during what is likely to be a long slog back to a restriction-free international travel.
It should also feel optimistic that as governments become more confident regarding the positive health situation, early movers will give other authorities the confidence to follow suit.
A case in point is the recent guidance from the US Centers for Disease Control and Prevention, suggesting that vaccinated citizens should be exempted from Covid-19 testing requirements in some travel scenarios, with light-touch testing otherwise.
And ultimately, while much pain is still ahead for the majority of airlines, it is a good thing that scientific breakthroughs have brought the industry to the point where it can even discuss the possibility of restriction-free travel making a return.