The emergence of more infectious strains of Covid-19 and the consequent restrictions placed on travel to and from the UK, Denmark and South Africa could have significant implications for the airline industry's recovery path.
Under a scenario where initial reports about the more-infectious nature of the new strains are scientifically sound, and accepting that IATA's ambition for universal Covid-19 testing is some way from being realised, two factors are crucial when assessing the severity of that potential impact.
The most important one is whether or not the vaccines that have been approved so far will work against the strains. Most scientific commentary suggests they are likely to, which is reassuring, given so much of the airline industry's optimism going into 2021 is based on the prospect of people being vaccinated.
The other important factor is how far the strains spread in the coming weeks. A crucial consideration here is whether or not they are more prevalent in other countries than is currently assumed.
Considering a middling scenario where vaccines still work but there is some struggle to suppress the new strains, a number of uncertainties emerge, even if the short-term impact is moderated by airline connectivity already being punishingly low in Europe and elsewhere.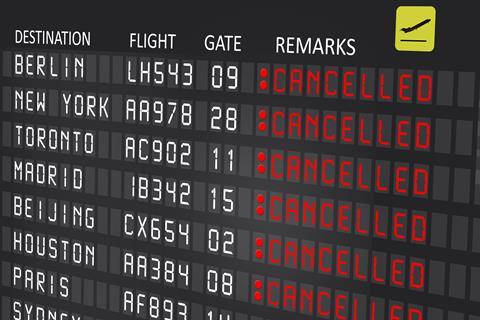 For airlines with a significant footprint in the large UK market – where the impact of new travel restrictions is particularly acute today – an even worse financial picture might develop, should the short-term blocks on flights extend beyond a couple of weeks. That is saying something, given industry body Airlines UK said in October that "all airlines today are effectively going bankrupt".
Similar challenges apply in Denmark and South Africa, as they will in another other countries where the strains become prevalent.
And the more places this happens, the fewer destinations there are for other airlines to serve.
More carriers might therefore need more money – either through bailouts or their own financial measures – as cash burn worsens.
In terms of government policies, the presence or threat of the strains may mean a longer wait until countries are able to release virus restrictions that are weighing on international travel.
In many cases, that longer wait will be driven by more people needing to be vaccinated to suppress the reproduction rate of a more-infectious virus.
The predicted vaccination-driven bounceback in intra-European travel demand from the second quarter of 2021, for example, may be delayed.
At the same time, countries that have already pursued a Covid-elimination strategy are likely to be even more cautious about opening up borders to international flights, as they seek to avoid undoing months of effective measures by allowing the new strains in.
Indeed, more countries might be tempted to pursue a "zero Covid" strategy until enough people have been vaccinated, given that tight borders may be the only way to keep the more infectious strains at bay without the swingeing economic impact of draconian lockdowns.
That would be particularly bad news for international air travel.
Jitters about the new strains may also increase the likelihood that proof of vaccination becomes a prerequisite to flying, either thanks to governmental decrees or individual airline policies.
All this considered, it is also possible that the outcomes will not be as significant as expected – either because mitigation measures work and the strains are controlled or because scientists come to different conclusions about their impact – and the recovery path is largely unaffected.
As ever, the airline industry is beholden to forces outside its control.