Airline leaders left IATA's World Air Transport Summit this week in a buoyant mood, sensing the industry's worst days are behind it, and that normalcy is months, not years, away.
They also left having made firm commitments to reduce carbon output, saying the industry is emerging from the pandemic-driven aviation downturn with invigorated dedication to environmental stewardship. Exactly how airlines will significantly cut carbon, however, remains unclear.
"My view is that we will have forgotten all about this, in terms of what it did to travel, by the end of next year," Emirates Airline president Tim Clark says of the industry downturn. He made his comments on 5 October during the Boston conference – the first such meeting since IATA's 2019 event.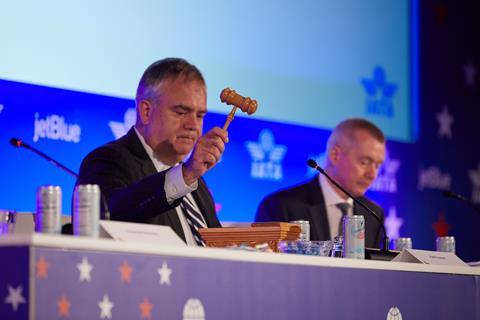 Even before vaccine passports have proven their mettle, "governments will seek to eliminate [them] because the virus will have nowhere else to go", Clark adds.
He is among numerous executives who said the crisis is nearly over; that the world is ready to move on.
United Airlines' chief executive Scott Kirby, who one of the first airline CEOs to require all staff be vaccinated, said the crisis is "in the rear-view mirror".
In North America, airlines have rapidly returned jets to service – and are now desperately seeking enough crew to staff them. Domestic flights are full, and schedules have largely recovered to near-2019 levels. In Mexico, some airlines' capacity is more than 20% higher than in pre-pandemic 2019, with load factors rising steadily into the 70-80% range.
"Mexico did not interrupt air travel," says Volaris CEO Enrique Beltranena. "The limitations to fly to Mexico were basically nothing…That has allowed the industry to continue operating, and recover faster."
International travel still lags, with little indication as to when full freedom of movement between countries and continents will return. However, the USA has said it will open its borders to European travellers as well as those from Brazil and China in November.
During this year's conference, as is tradition, IATA announced the location of next year's annual general meeting (AGM) and summit: Shanghai, China. It will be the third time the group will hold the meeting in China. Beijing hosted in 2012, and Shanghai in 2002.
For the 2022 event to go ahead with its usual large overseas contingent, the Chinese government must remove border restrictions intended to achieve a health strategy that has been characterised as 'zero-Covid'.
IATA director-general Willie Walsh is optimistic the organisation will be able to hold the Shanghai event, which is being hosted by China Eastern Airlines.
"When we accepted the offer from China Eastern, we were very clear that the AGM had to be in-person," Walsh says.
SUSTAINABILITY AMBITIONS
With the global health crisis ebbing, IATA pushed forward on a different – and arguably more challenging – long-term path: moving to clean energy.
IATA's 292 airline members passed a resolution committing they reach "net-zero" CO2 emissions by 2050. The ambitious commitment reflects one already targeted by many – but not all – airlines under their own initiative in recent months and years. "Net-zero" emissions does not mean aircraft will not emit CO2; rather, it is a state at which emitted carbon is offset by an equal amount of carbon being absorbed out of the atmosphere.
Achieving the goal requires a collaborative effort between all stakeholders involved in aviation, says Walsh.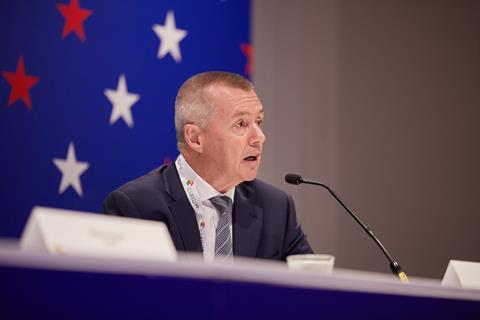 Sustainability became "more important post-Covid," says KLM CEO Pieter Elbers. While "everyone was sitting inside, was locked up, the whole topic around sustainability [has] taken on a more-prominent position".
Attendees, including airframer executives, pitched sustainable aviation fuel (SAF) – a biofuel – as an immediate means of reducing net-carbon output. They also see revolutionary technologies, like electric- and hydrogen-powered aircraft, as long-term solutions.
"Sustainable aviation fuel – that will [be] a step-function change in the very near term," says Boeing Commercial Airplanes CEO Stan Deal.
SAF currently accounts for a fraction of the global airline industry's fuel usage. IATA aims for SAF to reach 2% of total fuel supply by 2025, and 5% by 2030.
But are such solutions realistic? Some executives are doubtful.
SAF production capability remains incredibly meagre, attendees noted, and it can cost two-to-four times as much as fossil-based jet fuel.
Biofuel production creates other concerns, including issues that arise if land now used for food production is transitioned to producing crops that would be used for SAF production.
Studies have shown biofuel to be effective at reducing carbon output. Others have raised uncertainty about the actual carbon-reduction benefits and cited the complexity of understanding the carbon life-cycle.
"Sustainable aviation fuel is important to this industry," says United's Kirby. "But we should not be producing stainable aviation fuel from farm products, we should not be using soy, palm oil and corn."
In addition, the industry needs to move away from carbon offsets, he adds. "Carbon offsets are planting trees. Noble as that is, if we planted trees on every acre on the planet that could grow trees, it accounts for less than five months of mankind's emissions."
Longer term, Airbus is working to bring hydrogen-powered aircraft to market in the mid-2030s. Meanwhile, CFM international is on a similar timeline to develop a propfan (also called an un-ducted fan) for a commercial airliner.
Emirates' Clark thinks such revolutionary technologies are essentially infeasible without billions and billions of dollars in direct government aid.
"The cost of that aeroplane is going to be astronomical," Clark says when asked about CFM's propfan concept.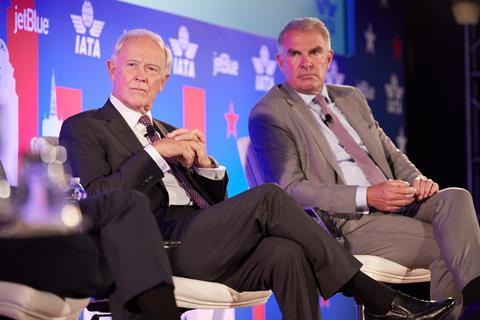 He notes that hydrogen (when used as fuel) must be in liquid form, meaning it must be stored colder than about 250°C (-418°F). That is partly why creating a new hydrogen-fuel infrastructure is so expensive, he says.
"Who is going to spend all this money? Is it the aircraft manufacturers?" Clark says. "What's the business case?"
In many regions, governments have implemented measures to promote SAF and other clean-energy aviation technologies. In the USA, a bill working through Congress would provide tax credits to SAF blenders.
Boeing Commercial's Deal also supports a "tax credit for SAF consumption".
IATA's net-zero 2050 goal is "laudable and challenging," Clark says. "To do nothing was asking for trouble".
But he warns against promising too much.
"If you create the expectation we are going to have electric A380s flying… We have to do something about that," Clark says. The industry must "bring people back to reality".