In an airline industry subject to a patchwork of ownership, control and flying-rights restrictions, it has long been the case that partnerships are a critical strategic pillar for some carriers.
But as the sector emerges from the pandemic, many airline chief executives are talking up the value of such relationships with renewed enthusiasm.
The sense is that while there was good reason for insular thinking when carriers were in survival mode, the blinkers should be back in storage as 2022 begins.
Indeed, retrenched and risk-averse following a punishing 22 months or so, airlines can see the attraction of having friends to share the heavy-lifting of shoring up market positions or expanding networks.
And at carriers where financial fortunes were already rocky before the pandemic, the past two years will hardly have helped their ability to stand alone. They will also have noted that the early stages of the recovery are tending to favour those airlines that had solid foundations in 2019.
At the same time, with debt at record levels, there is restricted appetite for expensive acquisitions, making lighter-touch tie-ups seem attractive.
But like many potential effects of the pandemic, the question is whether the predictions of strategic shifts coming out of the crisis actually materialise, or whether the 'new normal' looks mostly like the old one.
Where relationships already existed pre-crisis, there is certainly evidence of partners doubling-down on their joint activities.
Notably, Delta Air Lines announced in December that it was investing a further $1.2 billion to retain significant equity stakes in Aeromexico, LATAM Airlines Group and Virgin Atlantic following their respective restructurings or recapitalisations.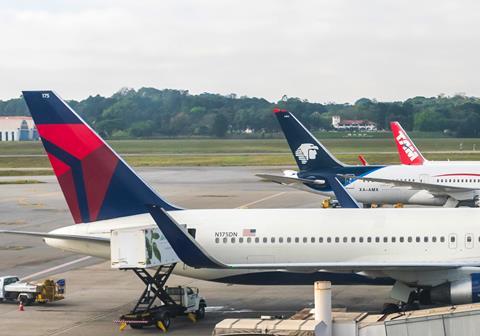 That meant the US carrier maintaining its 49% stake in Virgin, while targeting a 20% stake in Aeromexico and a 10% holding in LATAM.
A recent codeshare announcement between Virgin and LATAM shows how having a common partner can push other carriers into a closer relationship.
Also in mid-December, British Airways said it is aiming to extend its joint business arrangement with IAG shareholder and Oneworld alliance partner Qatar Airways, to provide greater access to one another's networks.
Among relationships nurtured during the pandemic, American Airlines and JetBlue Airways are forging ahead with their so-called "Northeast Alliance", despite a lawsuit brought by the US Department of Justice claiming the tie-up is stifling competition in those markets.
But does this suggest a genuine increased momentum towards partnerships? And where will the next ones come from?
In Africa, Kenya Airways and South African Airways are potentially providing an answer to both questions, having recently outlined ambitions to create a pan-African airline group by 2023.
In the view of the two carriers – whose recent financial performance means they know better than most the perils of trying to do too much on your own – partnerships are the best way to create scale while keeping financial risks to a minimum.
Speaking in October last year, Kenya Airways chief executive Allan Kilavuka said the key is to "collaborate and make the airlines more scalable, so that we can reduce the costs that we are incurring".
In this case, it is perhaps a consequence of the devastation wrought by Covid-19 that airline leaders and governments will place a higher value on partnerships than the national pride that might have previously made such tie-ups unlikely.
For that reason and others, such openness to working together should exist in many other regions.
This year could, therefore, be the chance to act – the optimum time to integrate new tie-ups into strategies before the return of pre-crisis traffic levels proves too much of a distraction.
If not in 2022, when?