While hard hit North American carriers may have found some comfort from state support packages and the size of its home markets, they have taken action swift action to limit cash burn to protect their businesses while waiting for passenger demand to return
No other region reaped the financial benefits of the most successful decade in airline history more than North America's carriers.
Bolstered by post-financial crisis restructuring and consolidation, North America's airlines consistently delivered more than half of industry global profits between 2010 and 2019. That financial performance was strong enough for Warren Buffett's Berkshire Hathaway vehicle to invest in the US majors in 2016.
If Buffett's endorsement became an emblem for the new successful era for US carriers, so Berkshire Hathaway's decision in early to May sell its investments in four US carriers illustrates how deep the current crisis facing even the industry's most profitable operators is.
As the coronavirus continues to disrupt global aviation, airlines in North America have taken decisive measures to reduce cash burn and protect their businesses while waiting for passenger demand to bounce back.
Accelerated fleet retirements, voluntary and involuntary layoffs of tens of thousands of employees, and government financial assistance have helped passenger carriers weather the storm so far.
But the question remains: How much time will pass before the sector returns to some semblance of the pre-Covid-19 world?
Since mid-April, when much of the industry fell into a kind of hibernation following a sharp drop off in demand, airlines have seen a small "bounce" in bookings for the third and fourth quarters of 2020.
Airline executives are interpreting this as a hopeful signal that the public may once again be ready to travel in airplanes. That said, industry professionals warn years may pass before commercial aviation returns to levels seen just three months ago.
During the pandemic, some airlines have taken the opportunity to streamline their fleets and re-think their networks, with several major carriers retiring older aircraft and cancelling orders of newer ones.
American Airlines, Delta Air Lines and Air Canada are just a few of the carriers that announced accelerated fleet retirements, and Air Canada also cancelled Boeinig 737 Max orders, citing the new reality in which they find themselves. The Max grounding, which took effect in March 2019 after two crashes that killed 346 people, remains in place. The timeline for its return to service is still unclear.
Most major US airlines have taken advantage of the CARES Act, a $2 trillion government aid package passed by the US Congress in March. It is designed to support the industry as it deals with a catastrophic decline in revenue as a result of lockdowns and shelter-in-place orders imposed across the continent.
About $60 billion was set aside for airlines and aviation-related companies, in order to protect jobs and shore up the businesses in the short term. In return, airlines pledged they would maintain staffing levels until at least the end of September, reduce executive pay and suspend share buyback programmes.
The airlines were also mandated to maintain "minimum service" networks, to continue to move passengers and goods as needed. Several airlines pivoted to cargo-only flights, to bring in some revenue.
The funds are available in grants and loans, but airlines must issue warrants to the government in return, amounting to a partial nationalization of the carriers.
Even with government aid, airlines are already eyeing means to further reduce costs. In early May, United Airlines notified pilots of "displacements" affecting 30% of cockpit crew in the coming months.
Displacements occur when airlines have more pilots at specific bases or assigned to specific aircraft types than needed, leading them to bump pilots off assigned aircraft types or shift them to lower positions, for example from captain to first officer. For pilots at the bottom of airlines' seniority lists, displacements can mean no job at all.
The pandemic has claimed two US regional carriers – Compass Airlines and Trans States Airlines – which flew regional routes for American and United, respectively. Both airlines folded in early April.
In Canada, rivals Air Canada and WestJet have been able to access government financial assistance similar to the US' CARES bill, called CEWS, the Canada Emergency Wage Subsidy. But in Canada, the crisis too has led to 25,000 jobs cut from the industry in the past 60 days, with no end in sight.
North America pre-crisis fleet and backlog from May 2020
Fleet on 31 Jan 2020
May 2020
May 2020-Dec 2021
Operator
In-service
Stored
TOTAL
Backlog
Planned deliveries
1
American Airlines
917
65
982
224
94
2
Delta Air Lines
901
28
929
235
67
3
United Airlines
760
43
803
274
64
4
Southwest Airlines
707
37
744
262
48
5
Skywest Airlines
492
35
527
126
26
6
JetBlue Airways
259
259
146
22
7
Alaska Airlines
234
1
235
62
29
8
Republic Airways
202
6
208
100
23
9
Envoy Air
173
16
189
11
11
10
Endeavor Air
167
71
238
4
4
11
Air Canada
159
28
187
67
39
12
Spirit Airlines
146
3
149
130
18
13
Mesa Airlines
143
2
145
20
20
14
PSA Airlines
141
12
153
0
0
15
ExpressJet Airlines
119
2
121
0
0
16
Jazz
117
17
134
9
9
17
WestJet
110
14
124
49
19
18
Frontier Airlines
96
2
98
162
18
19
Allegiant Air
93
7
100
0
0
20
Air Canada Rouge
64
1
65
0
0
Source: Cirium fleets data
American Airlines
For American Airlines chief executive Doug Parker, who several years ago predicted the US industry might never again experience a significant downturn, the coronavirus pandemic must have come as a stark reminder that nothing is certain.
Parker made his prediction in April 2016, a period of record profits that followed US airline consolidation. In 2016, American earned a $2.7 billion profit.
"I think its highly unlikely you are going to see losses again in this business," he said at the time.
Fast forward to 27 May, when Parker told investment analysts that American expects to burn an average of $70 million daily in the second quarter due to the coronavirus pandemic. American hopes to slow cash burn to $50 million daily by June and $10-20 million daily in the third and fourth quarters, executives said.
American lost $2.2 billion in the first quarter.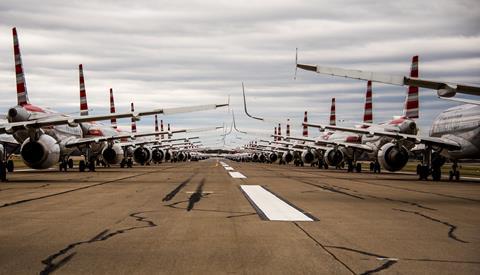 It might seem unreasonable to fault Parker for not considering that the industry could conceivable suffer the type of unprecedented downturn now underway – a downturn that in its earliest days eliminated nearly all air travel demand, leaving airlines operating aircraft with single-digit load factors.
American has already responded to the downturn by grounding, or announcing plans to ground, about 100 jets, including Embraer 190s, Boeing 757s, 767s, Airbus A330-300s and Bombardier CRJs.
In January, before the coronavirus downturn, American had operated 917 aircraft – more than prime competitors Delta Air Lines and United Airlines, Cirium fleets data shows. Today, American's in-service fleet stands at 508 aircraft, with 447 aircraft in storage, Cirium shows.
In recent weeks, American placed some 39,000 employees on voluntary leave and disclosed plans to cut management and support staffing 30%. It also was approved by the US Department of the Treasury to receive $5.8 billion (including a $4.1 billion grant and $1.7 billion loan) in financial aid via the US government's relief package. Those funds are earmarked for workforce payroll expenses, though American said it would also apply for another $4.7 billion in government loans.
Difficulties aside, Parker expressed optimism in recent days. On 27 May he said American's load factors during a recent holiday weekend topped 56%, up from 15% during most of April.
Parker also dismissed the notion that the downturn might force American or a major competitor into bankruptcy, saying, "I think we're all going to be fine". However, he expects the combined US airline industry will be 10-20% smaller year-on-year this summer. "The effect is going to be as though a large airline went away," he says.
Delta Air Lines
Delta Air Lines said in mid-May that it aims to cut daily cash burn to zero by the end of the year as it begins to slowly ramp up schedules following a small uptick in demand.
The SkyTeam carrier sees that uptick as a sign passengers are beginning to think about air travel again, for both leisure and business.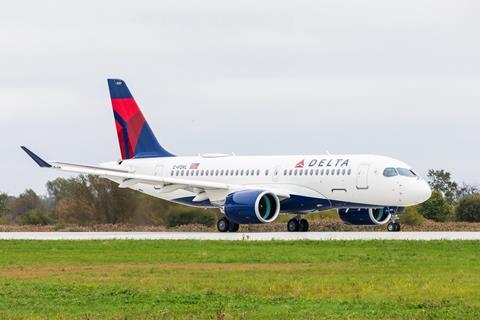 Delta's chief financial officer Paul Jacobson said the airline has already notched some days where bookings outstripped cancellations for the first time since the coronavirus brought the industry to a near-standstill in April.
Delta will add more than 100 routes back to its schedule in June – still about an 85% reduction in total capacity from the same period a year earlier.
As a result, Delta expects its second quarter expenses to decline approximately 50%, or $5 billion. Some of its cost-saving measures include cutting salaries and suspending capital expenditures, and more than 37,000 employees (one-third of its workforce) have taken voluntary unpaid leave.
The carrier will maintain a load factor cap of 60% to encourage social distancing, and remain vigilant about not building up its schedule too quickly, Jacobson adds, since it is still unknown if a second wave of coronavirus infections may hit later in the year.
Delta is due to receive about $5.4 billion in emergency funding through the CARES Act's payroll support programme, including $3.8 billion in grants and an unsecured, 10-year low-interest loan of $1.6 billion. Delta reported a first-quarter loss of $534 million, down from a profit of $730 million in the same quarter a year ago.
Of the US majors, Delta has so far announced the largest early retirement of jets following the crisis. It said in mid-May it would retire its 18-strong Boeing 777 fleet, including 10 of the long-range 777-200LR, as it replaces older aircraft with newer and more-fuel-efficient Airbus A350-900 jets, in an effort to streamline and simplify its fleet.
In addition, Delta said it will accelerate retirements of McDonnell Douglas MD-88 and MD-90 aircraft, taking them out of service in June.
United Airlines
Like Delta, Chicago-based United is planning numerous potential rebound scenarios. But chief executive Scott Kirby warns that any forecast made today is pure speculation.
"We are trying really, really hard to not pretend we know when demand is going to bounce back," Kirby told analysts on 28 May. "Because you run the risk of making big mistakes for trying to forecast something that is unknowable."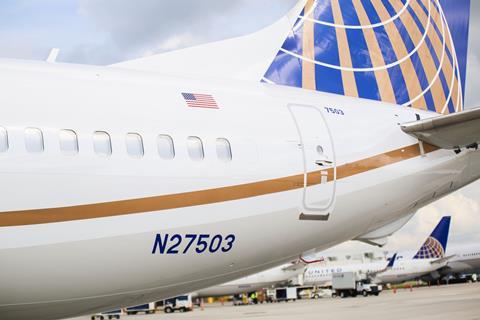 The airline must position itself to jump on demand as soon as it appears, so cutting the company down to the bone now, when there is none, seems to be a risky proposition.
"What we are focused on is bouncing back from the crisis – that's what makes it hard," Kirby says..
Kirby adds that on 27 May the airline transported 50,000 passengers across its entire system, up from a mid-April low of 10,000 per day, but significantly down from the half-million that usually fly on United on a given mid-week day in May.
"We absolutely think we have hit the trough on cancellations versus new bookings. The more time that goes by, there's fewer bookings to be cancelled," he added. "The US is going to be open, so people are getting out and getting back to living and travelling."
Unlike its US peers, though, United has opted not to announce any fleet streamlining or retirements, saying it will wait until the recovery scenario becomes more clear. Still, it did inform pilots of displacements – reshuffling to accommodate a smaller fleet - that could affect up to 30% of cockpit crews.
It also recently disclosed plans to lay off about 30% of management and administrative staff. United is requiring these workers to take 20 unpaid days off work between 16 May and 30 September, and many of those staffers will then transition to four-day workweeks.
The airline has been sparring with labour unions about staff reductions as it tries to find the right mix for a future beyond the coronavirus.
In mid-April, United reported a preliminary loss of $1.7 billion for the first quarter of 2020.Total revenue in the quarter declined by 17% compared to the first quarter of 2019.
Southwest Airlines
Nine-hundred million dollars – that's how much cash US low-cost behemoth Southwest Airlines burned in April.
Southwest is far from alone in seeing its corporate treasure fly out door amid the coronavirus downturn; US legacy airlines actually burned more cash daily than Southwest in recent months.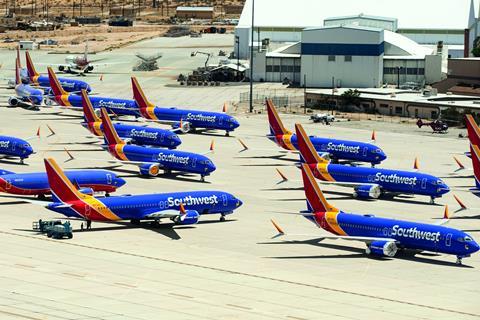 But Dallas-based Southwest has historically been among the best performing, if not the best performing, US airline, squeezing out profits even during the industry's darkest pre-coronavirus periods. It has turned profits in each of the last 47 calendar years.
But coronavirus has put that 48th consecutive year of profits in doubt.
The downturn pushed Southwest to a $94 million loss in the first quarter. The carrier anticipates another rough second quarter, with average daily cash burn estimated to be about $25 million in the period.
Southwest predicts second-quarter revenue will be down 85-90% year-on-year, with capacity down 60-70% and load factors in the 25-30% range. Those figures actually represent slight improvement from a previous estimate that second-quarter revenue would fall as much as 95% year-on-year, with 5-10% of seats filled.
"The company has recently experienced a modest improvement in passenger demand, bookings and trip cancellations," Southwest said in a 19 May financial update.
The carrier has responded to the downturn by cancelling thousands of daily flights. The airline operated about 1,400-1,500 flights daily at the end of May, down from about 3,700 daily flights early this year, according to Cirium schedules data.
At the end of May, Southwest's in-service fleet stood at 547 Boeing 737s, down from 708 at the beginning of the year, Cirium fleets data shows.
In April, Southwest said it deferred delivery of 59 737 Max. The revised schedule calls for Southwest to receive 48 of the aircraft from Boeing through the end of 2021, down from 107 jets.
On 22 May, Southwest chief executive Greg Kelly warned the airline will be smaller for the foreseeable future, with capacity down about 30% year-on-year this fall. "You can make at least some assumptions that we are overstaffed in many areas at a similar rate," Kelly said. Southwest has not announced layoffs.
The airline will shore its finances with US government funds made available through a coronavirus relief package. Southwest intends to take $3.2 billion for the purpose of payroll support, including $2.3 billion in grants and a $1 billion loan.
The company has taken other steps to ensure it has sufficient cash to weather the crisis.
In April Southwest announced it will raise about $4 billion through issuance of stock and bonds. And in May, Southwest disclosed it reached a deal to sell 20 737s, including 10 737-800s and 10 737 Max 8s, for $815 million. The airline will lease back those jets.
JetBlue Airways
JetBlue Airways' transatlantic growth plans have been stunted by coronavirus, with the New York carrier announcing that its European expansion will begin later than planned.
JetBlue has for several years been prepping to undertake what might be the most ambitious leap in its 20-year operating history – an expansion beyond the Americas, with flights to Europe beginning in 2021.
The airline's pre-coronavirus plan called for it first to fly to London from New York John F Kennedy International airport and Boston Logan International airport. JetBlue later intended to serve cities such as Amsterdam, Dublin and Paris.
But in May, JetBlue chief executive Robin Hayes said those plans are on hold, though he did not specify for how long. "You should probably expect a timing impact. We're probably going a little later than we intended," he said during a first quarter earnings call.
"You've got to play a lot of defence when you're going through something of this magnitude," he adds.
In the first quarter of 2020, JetBlue lost $268 million, reversing a $42 million profit in the same period last year. Its revenue slipped 15% year-on-year to $1.6 billion, while expenses leapt 7% to $1.9 billion.
Like its US peers, JetBlue reached an agreement to receive financial aid – $936 million – via the US government's coronavirus relief package. That money will help pay JetBlue's payroll expenses and includes $685 million in grants and a $251 million loan.
JetBlue has pledged to block middle seats on its A320-family aircraft and aisle seats on its Embraer 190s until at least 6 July as part of an effort to help passengers feel comfortable travelling during the pandemic.
US ultra-low-cost carriers
The once-thriving US ultra-low-cost airline sector has likewise found itself floundering since the coronavirus pandemic took hold – no surprise considering shutdowns and stay-at-home orders wiped out leisure travel.
Spirit Airlines lost $28 million in the first quarter, reversing a $56 million profit one year earlier. By April, Spirit had reduced its capacity by about 75% year-on-year, and it slashed May and June capacity by about 95%.
The company also cut 2020 capital spending by $50 million and has held talks with Airbus about deferring deliveries of aircraft that were to be handed over in 2020 and 2021.
Like peers, Spirit has taken steps to solidify its finances. In May, the airline issued stocks and bonds in deals it said would generate about $336 million. Spirit also expects to received $335 million in US government financial aid and is considering whether to seek part or all of an additional $741 million available through government loans.
Spirit operated 55 Airbus A320-family aircraft at the end of May, down from 144 jets prior to the start of the pandemic, Cirium fleets data shows.
Las Vegas-based Allegiant Air lost $33 million in the first quarter, reversing a $57 million profit in the same period of 2019. The company's revenue slipped only 9% year-on-year to $409 million in the quarter, but expenses shot up 46% to $527 million.
Allegiant's April operating figures reflected the full scope of the collapse in air travel demand. That month, Allegiant carried just 39,000 passengers, down 97% year-on-year, and operated about 1,200 flights, down 88%.
During Allegiant's first quarter earnings call in May, chief executive Maurice Gallagher outlined measures intended to help stabilise the airline's finances. He said 25% of Allegiant's staff had either accepted voluntary leave or reduced pay, and that the carrier would receive $172 million in payroll-support funds from the US government. Gallagher also said Allegiant intended to shrink its fleet by 25 aircraft "in the near term".
At the end of May, Allegiant operated 86 jets, down from 91 at the beginning of the year, Cirium fleets data shows.
The specific financial impact of the downturn on another discounter, Frontier Airlines, remains largely unknown because that Denver-based carrier is privately owned. But, Cirium data shows Frontier has grounded nearly half its fleet since the start of the year, with 54 Airbus jets in service.
Air Canada
The coronavirus has done more than hammer Air Canada's earnings and force fleet retirements and layoffs, it also threatens to scupper the airline's planned acquisition of Canadian competitor and vacation package specialist Transat.
Air Canada lost C$1.05 billion ($762 million) in the first quarter of 2020, compared with a C$345 million profit one year earlier, and in early May warned that "at least three years" may pass before revenue and capacity levels return to those seen in 2019.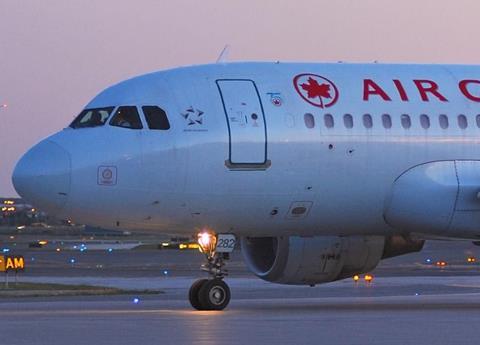 On its quarterly earnings call, chief executive Calin Rovinescu said the Canadian carrier is "living through the darkest period ever in the history of commercial aviation".
Similar to its peers, Air Canada reduced capacity by 85-90% in the second quarter year-on-year, and it expects capacity in the third quarter will be down 75%. It will "continue to dynamically adjust capacity" in line with travel restrictions, border closures and passenger demand.
As a result of the sharp decline in demand, the carrier has decided to streamline its fleet and accelerate retirement of 79 aircraft, including Airbus A319s, Boeing 767s and Embraer 190s. The Embraer aircraft will exit immediately. The airline also cancelled 11 orders for the beleaguered 737 Max.
Air Canada also said it expects to cut some 20,000 staffers – about 60% of its pre-pandemic workforce.
Meanwhile, the airline's purchase of Montreal-based holiday specialist Transat, parent of leisure airline Air Transat, looks to be on the ropes as the crisis deepens.
In March, Competition Bureau Canada expressed "competition concerns" about the merger. It said the coronavirus may have significant long-term impacts on the entire industry in Canada, requiring a deeper examination of the plan. The European Union has also said it will take a closer look at antitrust issues around the tie-up.
In August 2019, Transat's shareholders voted overwhelmingly in favour of Air Canada's C$720 million takeover bid for the company. That calculates out to C$18 per share. Both entities had said they had expected the transaction to close in the second quarter of 2020, but that timeline now looks tougher to keep.
WestJet
WestJet started planning for a catastrophic event related to the coronavirus long before it actually became one, and began cancelling flights early in the crisis, getting ahead of government-issued travel bans and shelter-in-place orders imposed in late March and early April.
In the first week of March, when the virus still seemed a distant but looming threat, Canada's second-largest and fastest-growing airline set up an incident command centre to keep a close eye on developments around the world.
The company is currently running a skeleton network of domestic flights between its hubs, and to far-flung northerly destinations, many of which can only be sensibly reached by air. It has suspended all international flights, including to the United States, until at least 4 June. About 95% of its passenger loads have disappeared.
"The first lesson for me was, you know this is difficult. You face it, and you get to it early, before somebody takes the options away," chief executive Ed Sims said in April. "When I knew we were parking two thirds of the fleet I knew I was going to have to essentially lay off at least half of our people."
WestJet initially laid off more than 8,500 of its 14,000-strong pre-coronavirus staff but rehired some after receiving emergency wage subsidy assistance from the Canadian government. About 700 pilots have lost their jobs, and the airline has cancelled almost 20,000 flights since the pandemic became a global crisis.
On 21 May, WestJet requested an exemption from the Canada Labour Code in order to allow it to be more flexible in laying off workers during what it called "unprecedented circumstances with regards to the coronavirus pandemic and the subsequent decline in air travel prompted by containment measures worldwide."
If approved, the airline would be able to slim its workforce without having to pay the obligatory 16 weeks' salary for group terminations of more than 50 people
How the airline industry has been hit by the crisis
1

2

Currently reading

North American carriers hunker down through crisis

3

4

5

6

7