Seeing 75-year-old airline trade association IATA and ultimate industry disruptor Michael O'Leary express the same view on a topic is a rare thing, but we are living through unprecedented times.
Regarding the impact of social distancing on flights, IATA pointed out during a 21 April briefing that a load factor of around 66% – based on the middle seat being left empty on a narrowbody service – would be unprofitable for airlines on short-haul routes, unless they increased prices by 50%. Doing the latter would bring an end to "cheap travel", according to the association's director general Alexandre de Juniac.
In a 22 April interview with the Financial Times, meanwhile, Ryanair chief executive O'Leary said: "We can't make money on 66% load factors. Even if you do that, the middle seat doesn't deliver any social distancing, so it's kind of an idiotic idea that doesn't achieve anything anyway."
Their comments reflect a reality where airlines do not have many levers to pull around social distancing, and are instead playing a waiting game.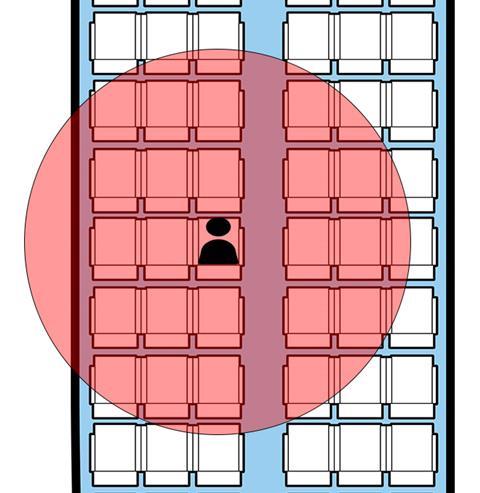 The inescapable fact is that social distancing is one the key markers of where we are with the global coronavirus crisis. The airline industry's ability to get back to "normal" is therefore inextricably linked to its endurance.
People's concerns about catching coronavirus begin the moment they step outside their places of isolation. Even if airlines managed to miraculously – and profitably – create oases of zero-risk travel on board their aircraft, it wouldn't change the fact that social-distancing restrictions might be in place for travellers at every other stage of their journeys.
For as long as those restrictions are in place – whether legally enforced or through strongly worded advice – the demand for air travel is likely to remain suppressed.
Dozens of empty seats
And in terms of the practicalities around social distancing on flights, a cursory assessment of applying a two-metre gap between passengers shows that one person would need upwards of a dozen empty seats around them in a typical economy-class cabin.
That's before considering the impact of crew and passengers moving around the aircraft.
The "empty middle seat" concept is therefore really just paying lip service to the concept of social distancing.
At the same time, speculative cabin concepts with middle seats reversed and plastic coverings over the heads of passengers seem to be aimed at solving a problem that doesn't exist – at least in terms of social distancing, given that passengers are no further apart.
All of this is not to say airlines should enter a recovery period as if nothing has changed.
They must demonstrate that they are doing everything they can to reduce the risk of infection during flights, within the limits of maintaining viable businesses. Having well-trained crew, clean aircraft and appropriate onboard service will all be important. Wider measures introduced at airports and by regulatory bodies will be added to the mix.
It will also be possible – as EasyJet has suggested – for middle seats to be kept empty as the recovery begins, simply because fewer people are flying. But carriers must not incorrectly claim such an approach is driven by medical science – or that it is sustainable if people want cheap air travel.
Creating unrealistic expectations around empty seats today would store up problems further down the line.
Ultimately, airlines must hope for a scenario where, for whatever reasons, social-distancing requirements and instincts among the population subside over the coming months – likely with some hiccups along the way – to the point where 70%-plus load factors are possible sooner rather than later.