The Asia-Pacific region is starting to open up for air travel, but travel restrictions still impact key markets, and Russia's invasion of Ukraine brings additional challenges.
This week, India and Malaysia become the latest markets to announce they will open to vaccinated travellers, taking a cue from Australia, the Philippines and Singapore.
Vietnam has also started to relax its border controls, while Indonesia, long off limits to international travellers, is looking at a broad opening up in April.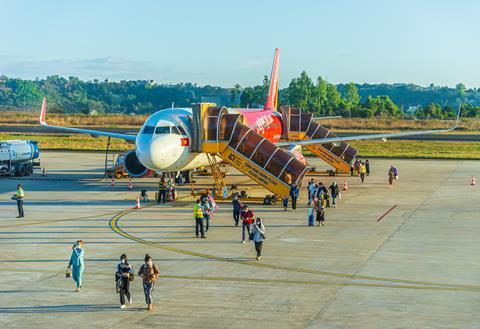 North Asia, however, continues to lag behind. South Korea allows some leisure travel, but Japan is still closed. China and Hong Kong, which have doubled down on Beijing's 'zero Covid' strategy, are many months from any sort of reopening.
To understand the impact of travel restrictions on airline profits, Hong Kong's Cathay Pacific Airways and Singapore's SIA offer a perfect juxtaposition.
Underlining how difficult things have become at Cathay, which is being strangled by Hong Kong's unrelenting travel restrictions, chairman Patrick Healy felt compelled this week to stress that he has the "utmost confidence" in the airline's survival.
This stands in stark contrast to SIA, which is flush with cash and benefiting from Singapore's expanding Vaccinated Travel Lane (VTL) scheme. On 9 March, there was talk of the city-state going even further with its border relaxation.
But even as the region begins to open up more, Thailand's carriers offer a cautionary tale of how far most airlines have to go. In mid-2021, Thai airlines had high hopes for the country's Phuket 'Sandbox' scheme and other initiatives for vaccinated travellers, but losses continued to mount – and the emergence of Omicron was a definite setback.
"For Thailand's tourism, foreign tourist figures increased after the opening of tourism sandbox scheme in July 2021 and re-opening of the country on 1 November 2021, but overall tourism growth remained low as the outbreak situation both in Thailand and aboard remained uncertain," said Bangkok Airways in a recent downbeat earnings update.
Subscribers to the Airline Business newsletter receive the Weekly Briefing first every week. For more information, click here.