US aeronautics agency NASA is progressing with solid-state battery designs which are capable of offering increased energy discharge while substantially reducing the weight of the casing.
The agency has been pursuing a programme known as SABERS, focused on solid-state battery architecture, pointing out that such batteries can offer better energy storage and performance than lithium-ion cells.
NASA says the programme has been driven by the need to develop an all-new battery "tailored" to the performance demand of an electric aircraft.
This means achieving significantly higher energy without loss of capacity – and, crucially, without the fire risks associated with lithium-ion designs.
Solid-state batteries have no liquid in their architecture and are more robust, with less complexity needed for packaging. The SABERS project, centred on NASA's Glenn Research Centre has been studying sulphur-selenium combinations to store charge.
"SABERS continues to exceed its goals," says principal investigator Rocco Viggiano. "The possibilities are pretty incredible."
Energy storage alone is not sufficient. The battery must also be capable of discharging the energy at a rate suitable to power an aerial vehicle.
NASA says the SABERS team has increased discharge rates for the experimental battery 10-fold, and then another factor of five, in the past year, through tests with innovative materials.
The architecture of the batteries also enables the cells to be stacked vertically in a single casing, rather than separately as with liquid batteries – saving 30-40% of the battery weight while also "far exceeding" the energy capability of lithium-ion cells.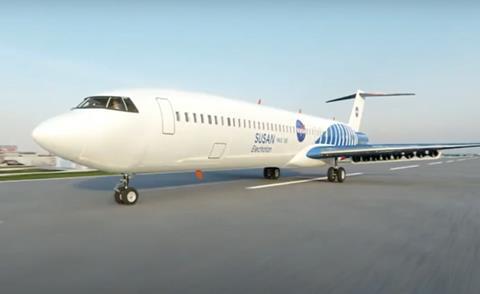 SABERS has been able to demonstrate a capacity of 500Wh/kg for the solid-state battery. Viggiano says the design, while reducing weight, also allows "double or even triple" the energy storage. The battery can also operate in temperatures much higher than lithium-ion cells without the same level of cooling.
NASA says the project has "piqued the interest" of another of its research efforts, the 'SUSAN' programme studying a single aft engine hybrid-electric concept aircraft.
"We've seen SABERS grow from an idea we had a lunch one day to, potentially, an energy solution for aeronautics," says Viggiano.
SUSAN is a concept for a 180-seat, T-tail configuration airliner powered by a 20MW rear electrical propulsion system generating thrust as well as electrical power for distributed assemblies of small wing-mounted engines.
This aircraft would have an economic range of 750nm. Redundancy is provided by a single-use battery to generate power in the event of engine failure.