Under the leadership of Michael Deluce, the Canadian regional carrier is in the early stages of its grandest-ever expansion, thanks to the arrival of its new Embraer jets
Canadian regional carrier Porter Airlines has spent years carving out a solid niche in eastern Canada, operating a fleet of 78-seat De Havilland Canada Dash 8 turboprops from its base at Billy Bishop Toronto City airport – that city's secondary field, close to downtown.
But early during the Covid-19 pandemic, Porter saw an opportunity to grow its presence at Toronto's primary airport, Pearson International, and achieve "substantial scale with aircraft manufacturers", chief executive Michael Deluce tells FlightGlobal during a May interview.
Previously limited by the range of the Dash 8, Porter is in the early stages of its grandest-ever expansion, thanks to the arrival of its new Embraer E195-E2s and their six hours of range – allowing the carrier to expand across the breadth of the North American continent for the first time.
In December 2022, Porter took delivery of the first two aircraft in its 50-strong order for E195-E2s. The company expects to receive up to 30 by the end of the year.
"There is a lot of expansion coming over the next seven months," Deluce says. "In the coming stage of our growth plans, you will see a significant expansion into the US."
Focusing first on a domestic expansion, Porter recently said that it would launch a new transcontinental route from Ottawa to Vancouver starting 26 July.
To be operated with Porter's growing fleet of 132-seat E195-E2s, the new route will provide "another way to travel between Porter's extensive regional eastern Canada network and British Columbia", the carrier has said.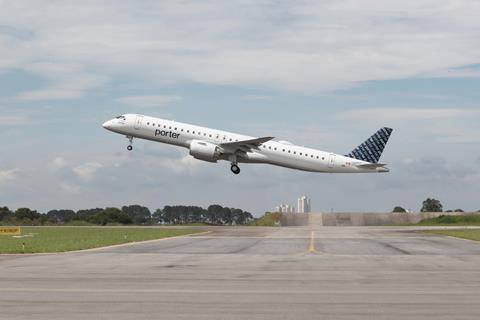 It is the airline's first direct route from Ottawa to western Canada. Porter also plans to operate five daily round-trip flights between Toronto and Vancouver during August 2023.
In preparation for operating within the USA, Porter formed a "sister airline" – Porter Airlines Canada, which will fly the new E-jets, while Porter Airlines will continue flying the company's regional turboprops.
Deluce compares the separate airline operating code for its mainline and regional carriers to the arrangements of WestJet and Encore, or Air Canada and Jazz before the latter became a third-party company.
Porter is looking at some "natural fits" in the Caribbean and Mexico for its growing network, including "niche, unique markets" that cannot support daily service with an 189-seat Boeing 737. "The E2 is the right size aircraft, with a much lower trip cost than some of the larger narrowbodies, to explore some of the markets that are a little thinner," Deluce says.
The two-by-two seating configuration of the jets "allows Porter to differentiate itself in the marketplace, and is effectively the only carrier that has no middle seats across its entire fleet", he adds. The Pratt & Whitney PW1900G-powered twinjets can carry 146 passengers, but Porter's airframes have 132-seat economy configurations that give passengers more space.
Porter has a strong brand and customer base in the eastern Canadian cities of Toronto, Ottawa, Montreal and Halifax. Now, the challenge will be preserving the airline's service-oriented culture as it executes its ambitious expansion plan.
SERVICE FOCUS
The carrier seeks to differentiate itself with "a focus on service that has been pretty steadfast since the early days", Deluce says. "As we look forward to our future growth plans, the same philosophy holds true. We are now expanding beyond our regional footprint and really focusing on elevating economy air travel across North America."
As part of its economy package, Porter offers complimentary beer and wine, premium snacks, and serves "healthy but highly appealing meals" available for purchase, Deluce says. And its new E-jets are equipped with on-board Wifi for all passengers.
The airline is attempting to capitalise on its internal market research suggesting "great dissatisfaction with economy air travel in Canada and across North America", Deluce says.
"It is a segment that has been chipped away at over the last 20 years by common carriers," he says. "While they focus on elite passengers and the business class, they have stripped away economy class."
He acknowledges that the North American market is getting crowded with ultra-low-cost carriers, including a few Canadian start-ups that are competing for budget-conscious customers.
"It is getting crowded at the bottom," Deluce says. "You have multiple carriers in Canada – and three in particular that are focused on the ULCC space – but it is more of the same: not making economy travel better, but actually doing the opposite and taking more away."
Porter is focused on economy travellers who "do not necessarily gravitate toward a bare-bones ULCC approach", he adds.
Further clearing market space for Porter, competitor WestJet "has effectively abandoned eastern Canada, a significant move on their part over the past couple of months", he says: "Clearly, those capacity removals have created a healthier environment from a revenue perspective. It has been a net positive for us."
But the operating environment has not always been favourable for the Toronto-based airline.
Porter had to overcome major early challenges during its start-up phase, Deluce recalls. The airline's entrance to the market was delayed by about four years because it initially proposed the construction of a bridge to Billy Bishop Toronto City airport, which became a contentious issue during the Toronto mayoral election in 2003.
Those plans were shelved and Porter re-emerged in 2005 with a plan for ferry access to Billy Bishop, often referred to as Toronto Island airport. The airline secured financing that same year and ordered its fleet of Dash 8 turboprops, which are now mostly between 11 and 17 years old, according to Cirium fleets data.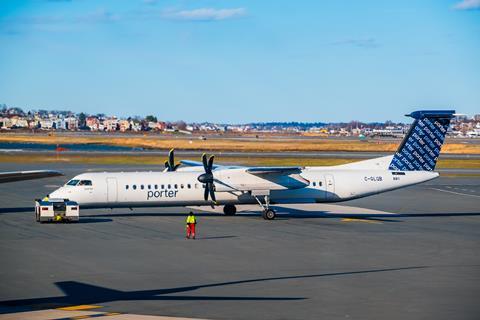 The Dash 8 remains the best aircraft on the market for Porter's regional network, Deluce says, and the company has not contemplated replacing its fleet with other turboprops, such as the ATR 72. However, the company would be interested in a new passenger turboprop from Embraer, if the airframer ultimately decides to move forward with that development programme.
"With the right economics and operating performance, we absolutely would be interested in that aircraft," Deluce says. "We thought it was a neat product, but for their own reasons they have the brakes on that [programme] as they look into how it fits into the overall future of engine power across aircraft, especially as that changes quite a bit over the next 10 or 15 years.
"I think the [Dash 8s] will ultimately be replaced with the next generation of propulsion aircraft, whether it is hydrogen or electric-hybrid or other elements," he adds. "But that is really a 2030-something replacement for the Dash 8.
"I cannot say we would replace it with aircraft X, Y or Z because there are a lot of concepts with no clear development path," he says.
For now, Porter is focused on expanding its reach across the continent – and not losing sight of why it has been successful in the first place.
FINANCIAL CENTRE
Deluce says that Porter's base continues to be a strength, as Billy Bishop is "arguably one of the best-located urban airports in the world". It is about 3km away from Toronto's financial centre – "a shorter distance than the longest runway at Toronto Pearson airport", he says.
Retaining the right culture remains top priority. Porter's primary challenge for the next two years is "attracting the right talent to support what is a significant growth plan", Deluce says. The company has hired 1,500 new employees over the past 12 months and expects to reach a workforce of 4,500 by the end of 2024.
"It is a new chapter for sure, but it is the same book," he says. "The Porter product is completely different from the rest of the economy space, and that is our strength."