Having relaunched operations in September last year after an 18-month grounding, South African Airways (SAA) is expanding its operations as it capitalises on the recent collapse of local carrier Comair.
The South African carrier is increasing capacity on domestic and regional routes, and was in Doha at the recent IATA AGM to talk to lessors about the next stage of its operations – albeit it remains far smaller than the carrier whose financial challenges had caught up with it even before the Covid-19 crisis.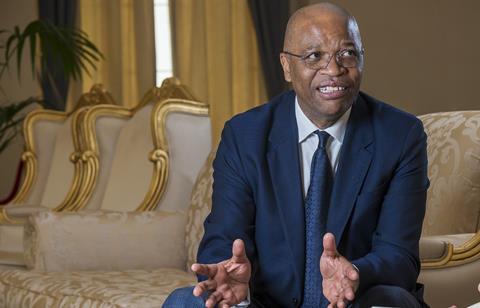 Indeed, few airlines have been through as much trauma in recent years as SAA, as it faced up to tough competition domestically and from international players, boardroom battles, management upheaval and state bailouts to stay afloat. This kept the political football that is the state-owned, loss-making carrier firmly in play.
"It has gone through a necessary metamorphosis," South African Airways interim chief executive John Lamola, speaking to FlightGlobal during an interview at the IATA AGM, says of the carrier that re-emerged last September.
"The airline had grown out of scale of the capital capacity of the shareholder, and there was a mismatch between management decisions and shareholder planning. That led to the airline unfortunately going into a controlled restructuring bankruptcy."
SAA entered a formal Business Rescue restructuring process in December 2019, at which point Cirium fleets data shows it was operating 45 aircraft and had a further six in storage. After the pandemic grounded operations in the spring of 2020, the airline was only to return to scheduled services 18 months later, operating just eight aircraft.
That resumption of flights was made possible by a deal struck in June under which investment consortium Takatso is taking a 51% stake in the carrier – the government will retain the balance, as well as a 'golden share' of voting rights to ensure certain protections. Under that plan, Takatso has committed to provide R3 billion ($189 million) in working capital and is attempting to complete the deal.
It was ahead of that relaunch in July last year that Lamola joined SAA as non-executive chairman leading a new board, before in May this year becoming executive chairman and chief executive of the carrier.
"We started with a small fleet, very conservative and essentially seeking to defend our brand in the international aviation market, but also our regulatory certificates, like our AOC, our slots," he explains.
"We needed to send the word out there that South African Airways is coming. We could have waited until the strategic equity partner comes on board some time next year, but we decided to fly and conservatively we started with some lessons that we learnt."
Those lessons included a streamlined all-Airbus fleet, initially comprising three A319s, three A320s, one A330 and an A340.
The conservative approach in part also reflected the challenging South African domestic market, and the airline has focused its route network on what it calls "original" regional routes to limit its exposure in the domestic sector.
"The domestic market in South Africa is over-crowded and as a result the yields were very low. Many of those airlines were running unprofitably, and most of them are still running unprofitably in the domestic markets," Lamola says. SAA relaunched with Johannesburg-Cape Town as its only domestic route, though it has since added a Durban service.
"We decided we will continue to operate lucrative domestic markets, like Cape Town, but go for high-yield routes outside South Africa. So we chose eight routes outside of South Africa, which we believed will sustain our start-up operations with the aircraft that we have."
The challenging South African market was further illustrated earlier this month by the collapse of local carrier Comair, which had been through its own Business Rescue process and whose administrators put it into liquidation after investors failed to secure fresh funding.
"Currently we are in phase two of the restart, which is what we call an adjusted fleet plan, which in part is informed by the change of domestic landscape from the demise of Comair," explains Lamola.
"[It] is not like there is a new market out there, but the market has consolidated to a degree with the demise of Comair. There was an over-supply of capacity in the market," he says. SAA has increased domestic frequencies about 50% with its current fleet, "so we have optimised our aircraft and crew utilisation".
He adds: "This is what our mission here [in Doha] is, to meet and finalise our discussions with the lessors on our refleeting on the adjusted fleet – which involves our exit from A319s in preference for A320s – a little bit of an increase in capacity.
"The idea is eventually to have close to 12 A320s by the end of next year, because we are also expanding our regional routes. We are doubling our A330 widebody fleet. We will have at least four [widebodies] by the end of this phase."
That ties in with the planned relaunch of intercontinental flights. "There is a very intense study going on there. Our position currently is to go into international routes in partnership, where we can exploit our membership of the Star Alliance and other codeshare arrangements we have," he says.
Cirium schedules data shows SAA served seven intercontinental points until March 2020: Frankfurt, London Heathrow and Munich in Europe, New York JFK and Sao Paulo in the Americas, and Hong Kong and Perth in Asia-Pacific. He highlights SAA's traditionally strong routes in Europe and the USA as being under consideration, with a view to launching in early December in time for the southern hemisphere summer season.
SAA PUTS FOOT ON THE PEDAL
It marks a stepping up in the carrier's activity, after a deliberately low-key start – in part a result of the continued playing out of the strategic equity partner process.
"We were a little bit remiss ourselves when we launched because we didn't go into a very aggressive marketing drive," Lamola says. "We were waiting for the strategic partner to come with its management – we were not gung-ho.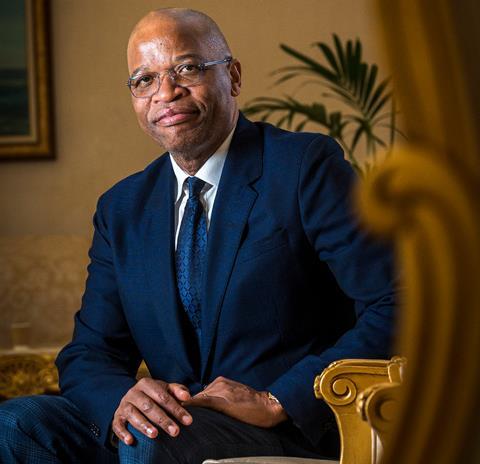 "Now there is an acceptance that we are the management, we are pushing South African Airways as if there is no other equity partner coming," he says, but adds: "We make sure whatever we do is in coherence with the eventual business plan."
The airline has just embarked on a major marketing campaign.
"For us coming to IATA, this is part of our strategy of saying to the world that South African Airways is back and we are there to take our place as an African airline."
He points to the strong reaction there has been to the relaunch of SAA across Africa in particular. "What is fascinating, you see South African Airways is an African brand, it is a brand that inspires a lot of pride for the rest of the African continent. There is an excitement that South African Airways is back."
Crucially, given the financial troubles which have plagued the carrier, Lamola sees a more sustainable SAA emerging.
"Cost containment is our major focus. SAA used to be about 5,800 people, we are down to 1,200. We used to run a fleet of 60 aircraft, we are at now a fleet of about 12. It is a smaller operation, which is manageable.
"The routes that we are flying we are breaking even, but that was pre-Comair's demise," he says. While he is awaiting the final numbers, he says bookings since Comair dropped out of the market indicate the carrier will be operating profitably. "Our revenue has increased 35% week-on-week and that is only for June," he says.
"We are very confident that things are going to go well," he says, noting that the next big challenge ahead is the "speedy and smooth closure of the institutionalisation of the strategic equity partner".
Completing that process will provide greater certainty that the relaunched SAA is here to stay.