South Africa's government is to sell a majority share in South African Airways to a consortium of investors, as part of the effort to relaunch the troubled flag-carrier.
Preferred investment consortium Takatso would take a 51% stake in the airline while the government would retain the balance, as well as a 'golden share' of 33% of voting rights to ensure certain protections.
But the government says it aims to conduct an initial public offering in the longer term and list the airline, enabling South African citizens to participate.
Takatso comprises African airport investor Harith General Partners and airline management firm Global Airways. The consortium is based in South Africa and will provide the required funding.
As a result of the provisional agreement the relaunch of SAA – intended later this year – would "no longer need state funding", the government's ministry of public enterprises claims.
The government has spent about a year seeking a strategic equity partner for the airline after it ran into severe financial difficulty and underwent a prolonged and fractious period of business rescue.
While agreement was eventually reached with creditors to restructure SAA, the government has been under pressure to limit allocation of public funding to the heavily loss-making company.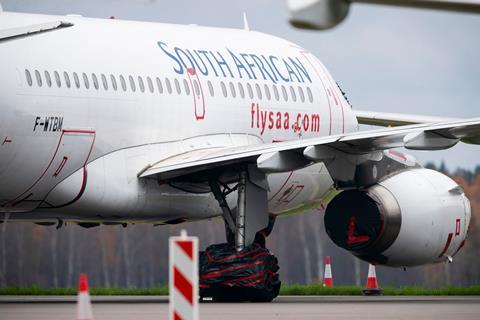 Public enterprises minister Pravin Gordhan says Takatso is a "clear choice" for SAA's preferred partner. He insists it will provide the carrier with the necessary financial and operational expertise to emerge as a viable company.
"We have looked long and hard at the proposals submitted," he says. "With this partnership we believe we are closer to achieving the important objective of having a sustainable national airline.
"The new SAA will not be dependent on the fiscus. It will be agile enough to cope with the current uncertainty, and improvement, in global travel."
SAA will contribute its brand, landing slots, route licences, lounges and loyalty programme to the venture, he adds.
"We want to relaunch SAA as an iconic South African brand and are confident that we have the right partner to achieve this objective," says Gordhan.
Takatso will carry out due diligence before finalising the transaction. Historical liabilities will be the responsibility of the government.
The ministry says that, through the public-private partnership, the revived SAA will be able to consider re-establishing relationships with other African and international carriers.
SAA's relaunch will focus initially on domestic and regional routes, before expanding to long-haul destinations as travel restrictions recede.
The pandemic-driven air transport crisis has "created a momentum to re-imagine a future for aviation and its various components", say Takatso representatives Tshepo Mahloele and Gidon Novick.
"There are great skills and talent available as well as an abundance of available aircraft, which makes the quest of creating a world-class airline a lot easier," they add. "The consortium brings a unique combination of skills and infrastructure funding and aviation operator experience."
Takatso, which is a majority black-owned consortium, is "fully committed" to an "inclusive and diverse team", says the ministry.
SAA's board will have a South African chair, it adds, and "ideally all three" of the senior executive team members – the chief executive, chief financial officer and chief operating officer – will also be South African.