South African Airways has been granted clearance by the country's government to expand its fleet with the lease of six additional aircraft.
The airline says the "significant" increase will enable it to relaunch international routes and provide extra regional and domestic capacity.
SAA says the six aircraft – all Airbus jets – comprise five A320-family airframes and a long-haul A330.
Two of the aircraft, including the A330, have already been secured from lessors while a request for proposals has been issued for the other four A320s.
"We are excited…to lay the groundwork for the relaunch of our first international route since coming out of business rescue," says SAA interim chief John Lamola.
He says the carrier will unveil the route in the next few weeks.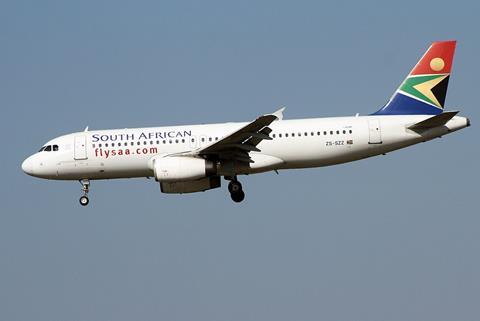 Lamola states that the South African finance ministry and public enterprise ministry have each approved the fleet expansion.
He says all the aircraft will be delivered to the carrier before the end of the year, and indicates that the four A320s it is seeking will be flying by September.
"This is a significant boost for the domestic and regional markets and underscores our commitment to expanding our route network and increasing our frequency in the African market," he adds.
"It will also ensure that the equilibrium between the supply of seats and the flow of traffic will benefit our passengers."
SAA underwent an extensive restructuring after being placed in business rescue in 2019, finally emerging in 2021.