The chief executive of Istanbul's nascent hub describes how the coronavirus crisis hit the business just after a huge capital investment – and how he plans to ensure it emerges from the downturn as a strong global player
When operations began in earnest at Istanbul's new airport in April 2019, Turkey appeared to be making a significant step towards realising its ambition to challenge the Gulf hubs.
With a shiny new facility boasting a first-phase annual capacity of 90 million passengers, and a flag carrier in Turkish Airlines that serves more destinations than any other airline in the world, things were looking up, despite the economic and security challenges faced by its home country in recent years.
But barely a year after Istanbul airport's full opening – following a 'soft' launch six months before – the commercial air travel world was turned upside down by the coronavirus pandemic.
Today, Istanbul airport has been plotting a path through an unpredictable crisis that has no firm end date – all in the wake of a huge capital investment.
"We invested almost €7.5 billion [$8.7 billion] for the airport, and after 12 months, the pandemic hit us," Kadri Samsunlu, the chief executive of the airport's operator IGA, recalls during a mid-October interview with FlightGlobal. "So that's pretty tough for a business that's just come out of a huge capex exercise."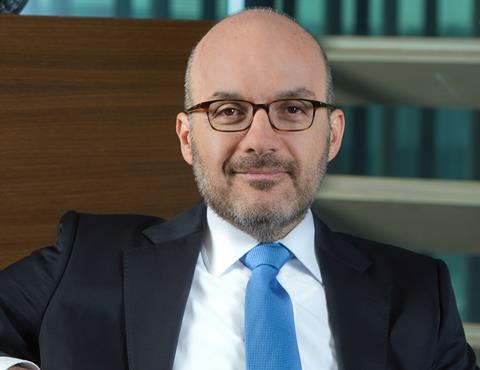 Amid those challenges, however, Samsunlu believes Istanbul airport will eventually emerge from the crisis in a strong position – an ambition boosted by the opening of the facility's third runway in June this year, despite the bleak near-term picture.
His optimism is increased by the "very seamless" operation of the hub during the year of full operations, which left him "very confident about my business" going into 2020.
Indeed, during the 2019 calendar year, Istuanbul's main hub served around 69 million passengers – when figures for the new facility are combined with those of Ataturk airport for the early part of the year – making it the 17th busiest worldwide, FlightGlobal analysis of Cirium data shows.
But the outlook today is very different.
HOW WAS ISTANBUL AIRPORT AFFECTED BY THE FIRST WAVE OF COVID-19?
"At this moment we are at almost one third of what we had this time last year," Samsunlu states. "In terms of numbers, around 500 to 600 flights per day, and in terms of passenger numbers, somewhere between 60,000 to 70,000 passengers on a daily basis."
The crisis fully hit Istanbul airport in late March, when all scheduled operations were suspended, he explains. That meant cargo and repatriation flights dominated skeleton operations in April and May, before connectivity began to open up again in June.
There was some improvement in passenger numbers in July and August as coronavirus cases fell away in key markets and restrictions were softened, but that narrative has not endured, and passengers numbers have been wavering through to October.
In normal times, flag carrier Turkish Airlines flies to more than "120 countries and over 300 destinations", Samsunlu says, but only around "60-65%" of those destinations were being served in mid-October.
For 2020 overall, that means Istanbul airport is likely to reach around 30% of 2019 volumes, Samsunlu predicts.
And, in common with many industry stakeholders, he has observed a worsening short-term outlook in recent weeks.
Samsunlu notes that Istanbul airport was previously expecting demand "to reach 50% of December 2019 levels" by the end of this year, "but because the second wave came, and as well as the quarantine measures that are very strictly imposed all around the world", those calculations appear "a bit optimistic".
Rather, he now expects "a pretty sluggish first half" of next year, "or at least the first quarter of 2021".
His projections are that "maybe we'll reach 50% of 2019 volumes in the second half, maybe the beginning of summer 2021".
Samsunlu adds: "These are of course very dramatic numbers for a company like us, which just came out of a very big capex programme."
That is why the airport has quickly taken action to stabilise its finances.
"From the first day of the pandemic, we implemented a lot of measures to shrink the business to reflect the [traffic] volumes of the airport," Samsunlu explains.
"Even today, we are proactively managing the employment, meaning not necessarily firing or hiring, but it's basically keeping only the current number of people working daily.
"The rest are being kept at home," he states, while praising the furlough scheme introduced by the government, which means permanent reductions in head count can be kept to a minimum.
"We are proactively managing the human resources, we are proactively managing the size of the operation inside the terminal and outside the terminal on the airside."
An advantage for Istanbul airport – which operates in a country where the value of the local currency against the US dollar is around a third of what it was five years ago – is that "we run the business purely with Turks, which means we are paying them in Turkish lira – we don't have any foreign currency payment to anybody, and relatively it's a very low-cost operation, versus other hubs."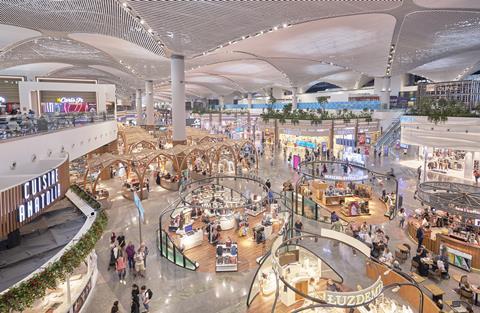 All these factors give the airport the flexibility to "work very closely with Turkish Airlines and other airlines to grow their businesses and start recommencing their flights to more destinations" once conditions improve.
With a focus on its cost base, Istanbul airport is also working "very closely with our financing banks to support us in these difficult conditions", Samsunlu says – important for a facility that was facing questions about its ability to secure funding even before the current crisis hit.
So far, the airport has received a "welcoming approach from them", he continues, noting that banks are "very satisfied with the way the airport was run in the first year of the business, and they know that this Covid is not going to continue forever".
"That's why it's time for them to stand behind us, support us in this difficult situation," he states. "And they know that the concession is for 25 years, and there is every reason for them to be persuaded that this business is good enough to pay down the debt within the scheduled period, and more importantly create value for the country."
WILL ISTANBUL AIRPORT STILL CHALLENGE THE GULF HUBS?
During those 25 years, Samsunlu is confident that Istanbul airport can move beyond the crisis and succeed in its mission to challenge the Gulf hubs.
Indeed, he believes that in the near term, Turkish Airlines has some in-built advantages over the Middle Eastern majors.
"We all have very strong flagship carriers, but the portfolio of the carriers is very different," he says.
An important factor is that "Turkish Airlines is flying predominantly with narrowbody aircraft, versus the Gulf airlines [which are] widebody [focused]".
"In the low-demand environment, we see that narrowbodies are more beneficial than the widebodies. This is the first important advantage of Turkey versus the Gulf."
He also cites Turkey's large population – a captive market that gives it an advantage over the Gulf carriers, which operate in relatively small local markets.
At the same time, Turkey is "the sixth-biggest tourism destination" globally, Samsunlu notes, calling that "an important advantage".
Furthermore, "Turkish Airlines flies to more destinations – it is bringing geographic diversity to our customer base. This is a pretty good advantage versus the Gulf nations".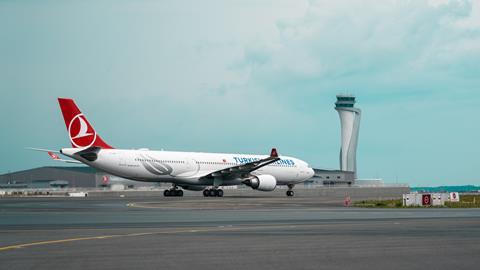 As a result, "in terms of the future, what I see is that we may come out much stronger from this crisis".
He also believes that Turkish Airlines – and the airport he runs – "have pretty healthy financial situations", meaning "we will definitely survive in these difficult times".
So while Samsunlu is "expecting inevitable consolidation of the industry", that is unlikely to have a significant impact on Istanbul airport.
"You will see that smaller, weak airlines will go bust, which will have an impact on the small airports, because nobody's going to start a service to a small airport," he says.
"A hub airline like Turkish Airlines can still fly to secondary cities in its catchment area, because they are not just dependent on point-to-point passengers. They can collect passengers from many other locations and put them together in Istanbul and then connect them to a final small destination."
TRAVEL RESTRICTIONS AND TESTING INADEQUACIES WEIGH ON DEMAND
In the shorter term, the factors keeping traffic down at Istanbul airport are all too familiar amid the pandemic.
Despite Turkey having "an 85 million population and millions of Turks living in Europe and around Turkey in neighbouring countries", travel bans are stymieing demand. When combined with a lack of measures to reassure international travellers on the health side of the equation – speedy coronavirus testing being a key one – and the simple fact of the virus's prevalence, conditions are not conducive to strong travel demand.
What demand there is for Istanbul airport's services in mid-October is being driven more by international passengers than locals, with Turks facing draconian restrictions on travel to nearby European countries in particular, according to Samsunlu.
Turkish Airlines is "still collecting passengers from 200 destinations, bringing them to Turkey and connecting them to final arriving points", he states.
"That's creating some demand," Samsunlu says.
But the lack of joined-up thinking around travel restrictions is an obstacle that Samsunlu laments as particularly damaging.
"All around the world there's a huge incoordination in terms of lifting the travel bans and eliminating quarantine measures," he states. "Therefore we see fewer people are willing to travel intercontinental – they don't even know what they will face when they [arrive at] a destination.
"When there are so many uncertainties [such as] being stranded, being quarantined, you don't know whether you will be accepted to the country [and] people stop flying."
The airport itself can only do so much to change this situation.
Samsunlu outlines a long list of measures taken to ensure people feel safe from a health perspective while they are in the airport. The same goes for strict health controls once passengers are on the aircraft.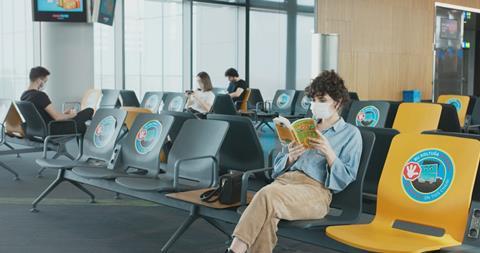 "My reading is that we have persuaded the public that travelling is safe," he states of the local market, citing the fact that while Turks are restricted in terms of international travel, the domestic market has held up well.
"That's why we have almost one-third of our total volume [as] domestic [passengers] versus 25% before Covid, and we are still reaching 70% load factors [for those flights]," Samsunlu states.
But for an international hub, "[domestic] is not so important business for me, because I didn't build up this hub for domestic business". Rather, "we are eyeing developments more on the international front".
As things stand, the scales are tipped too far towards reasons for people to avoid travelling internationally – even when border restrictions are less strict.
"This is a safety issue and a health issue," Samsunlu says. "People are looking for reasons to persuade themselves to travel.
"When you travel, you have to know that the person sitting next to you [has tested] negative [for coronavirus]," he continues. "If you don't know, and you have suspicions about the person's health conditions, that is also going to have a damaging impact on your willingness to travel.
"We are going to stop. I mean, we are going to [reach a] full stop, unless we have more convincing evidence and persuading evidence, [proving to] passengers on airliners or at airports [that others do not have the virus]. This is why testing is important."
He laments, however, that the current PCR testing "takes too much time".
That is despite Istanbul airport being able to "handle over 10,000 tests per day", with around 2,000 of that capacity currently being used.
So while the current PCR testing serves a purpose – "anything which is going to lift the travelling bans, which is going to kill the quarantine measures, is positive for the industry" – delivering test results within minutes rather than hours would make a huge difference, Samsunlu believes, echoing calls from bodies including ACI World and IATA for speedy pre-flight testing to be standardised, commonplace and universally recognised.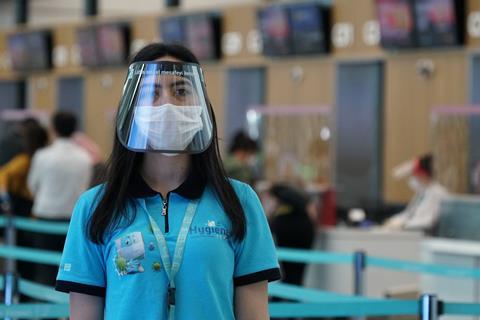 Ultimately, in terms of more permanent fixes for the current crisis, effective vaccines would also be a game-changer for the airport.
"People need something to hang on [to]," Samsunlu states. "I think vaccines will play this role. Even with 50-60% success rate, knowing there is a remedy for this pandemic is a life-saver.
"And I think players like us, like the airlines and local CAAs, ICAO, and World Health Organization, ACI, IATA should play a very important role to educate people on how this vaccine works for the good of the people.
"If it really works and if it really achieves good results, it will bring relatively huge comfort to the passengers and help us in building trust for the people to come to the airport and take aircraft."
Samsunlu also states his belief that, in time, "pent-up demand" will "fuel a very quick recovery of the industry" once the operating environment improves.
"And I think that's where we are headed in the coming months," he concludes.