Turkish Airlines has been operating its newly-delivered initial pair of Airbus A350-900s on domestic routes, but has yet to confirm a schedule for the remaining aircraft.
The airline had 25 A350s on order but, while it had been intending to take five this year, the carrier has not detailed the revised fleet plan recently agreed with Airbus.
Its initial A350s were handed over on 22 and 23 October without fanfare, possibly a consequence of the high-level political row between France and Turkey which emerged in mid-October.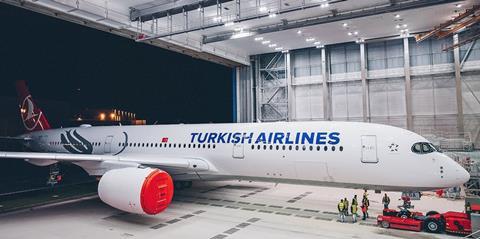 Turkish Airlines posted an operating profit, before investment activities, of $75 million for the third quarter to 30 September although it still recorded an operating loss for the nine months of $367 million and a net loss of $786 million.
Revenues for the nine months halved to $4.96 billion and were down by more than 60%, to $1.5 billion, in the third quarter.
The company says it has conducted an impairment test for the fleet, under different scenarios, but has not needed to recognise any.
At the end of September the carrier had 360 aircraft of which 58 were owned, 217 were on financial lease and the remainder were on operating lease or wet-leased. More than 10 long-haul jets have been converted to transport cargo.
Joint-venture carrier SunExpress made a loss of $195 million over the first nine months, compared with a previous $89 million profit.
Turkish Airlines says its capacity during the third quarter reached 31% of the level last year, and expects to reach 45% in the fourth quarter – forecasting a 60% decline in passenger numbers and 59% fall in capacity for the full year.
"Thanks to a lower cost base and the wide flight network of [Turkish Airlines], the group expects a faster recovery than its competitors in financial and operational results," the company states.
"It is expected that cargo operations will add significantly to total revenue and profit compared to those of the previous year."
Turkish Airlines says it is "continually communicating" with government authorities to alleviate the effects arising from the crisis, and that the ministry of finance has been introducing economic packages to help companies cope.
The carrier says the government has put a reduced-time work law in place, meaning $52 million of personnel costs were covered by 1 September – but that this support has ceased.
Turkish Airlines says it has benefited from reductions in the value-added tax rate and payment deferrals, leading to a decline in cash outflow.
It adds that it has taken action to cut operational expenses and secure financial liquidity – postponing uncommitted capital expenditures, cutting non-urgent expenses, and discussing deferrals to fuel expenses and lease agreements.