Air New Zealand's board is following a similar path in tapping talent outside the industry by appointing Kiwi-born US retail boss Greg Foran as its next chief executive, at a time when there is turbulence on the horizon.
Air New Zealand's board is following a similar path in tapping talent outside the industry by appointing Kiwi-born US retail boss Greg Foran as its next chief executive, at a time when there is turbulence on the horizon.
New Zealand and Australian media outlets had tipped that the airline's chief revenue officer Cam Wallace was at seemingly unbackable odds to take the role following the departure of Christopher Luxon on 25 September. Instead, the company announced to the market on 11 October that Foran will take up the reins from the first quarter of 2020.
If there was any bitterness about being overlooked for the top job, Wallace didn't show it, instead taking to Twitter soon after the announcement saying that it was "pretty special" that the airline could attract "such a successful global [chief executive]" in Foran.
In the interim, chief financial officer Jeff McDowall continues as the airline's acting chief executive, having earlier ruled himself out of the leadership race, and appears likely to stay on as its finance chief. Barring a more attractive offer elsewhere or a near-term restructuring, Wallace is also likely to stay with the carrier.
Luxon, meanwhile, has confirmed a move into politics, with plans to nominate as a candidate of the National Party to contest a seat in elections due next year.
OUTSIDE WISDOM
Foran's choice continues something of a trend of largely bringing in home-grown talent that has been nurtured outside of the carrier – something that by almost every measure has been successful.
Ralph Norris, who had previously built his career at Auckland Savings Bank, stepped in to lead the airline for three years until mid-2005, and is widely credited with bringing it back from the edge of bankruptcy after securing a government bailout following the collapse of its Australian subsidiary, Ansett Australia, in 2001.
He was succeeded by Rob Fyfe who had been the chief operating officer of the airline since 2003, but also held several banking and media roles after starting his career as an aircraft engineer at the Royal New Zealand Air Force.
After Fyfe moved on in 2012, Air NZ promoted Luxon to the top job, who joined the airline a year earlier as its group general manager international airline. Prior to that, he had been president of fast-moving consumer goods (FMCG) conglomerate Unilever's Canadian business.
As he told Airline Business in 2014, the progression of largely external talent has allowed the airline to take a different approach compared to some of its competitors.
"We've had a series of CEOs over the last decade that have come from outside the industry and with that comes a lot of provocation about why we can't do things differently," Luxon said.
Applying his understanding of marketing and branding from the FMCG industry, Luxon continued the efforts of his predecessors in turning Air NZ from an airline that, as he said recently "serves two rocks at the bottom of the world" into not only a national symbol, but a very successful business.
Luxon was also acutely aware that in building up a strong brand, it would help to induce demand, and was frank in his assessment of how poorly that was understood in the industry.
"The big opportunity for us is demand creation, and to be honest, in the aviation industry, I think there's very little conversation around that. It's always fixated on the uncontrollable and then it's the supply side of network, fleet and product. There's very little conversation about how you build a business."
DATA-DRIVEN
Accompanying that, Luxon also invested in new data analytic capabilities for the airline to gain more insight into its customers – something that Foran will be keen to develop further.
In announcing his departure, Walmart chief Doub McMillon paid tribute to how Foran's ability to innovate and use new technology helped position the company for the future.
It seems inevitable that with his retail background, Foran will look to gain more insight from those analytics, which could also push a case for greater merchandising and focus on ancillary sales at the airline.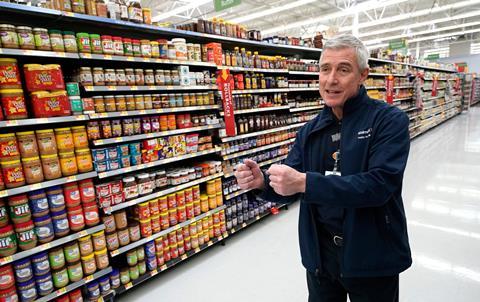 From a business perspective, that may not be a bad thing. Air NZ is financially on a firm footing, but has also made clear that it is throttling back some of its growth plans to deal with weaker demand in some markets. In that environment, driving up revenues through greater use of ancillaries or using data-driven customer insight to target people to travel more will likely become key to keeping profits up amid tougher times.
That aside, Foran is also likely to continue the airline's focus on keeping its costs contained, which is a key part of any retail CEO's remit. In some ways that should get easier, as he will not have the major disruption caused by the Rolls-Royce Trent 1000 engine issues that Luxon has had to deal with in the last few years. But with so much cost cutting already done, additional savings may be harder to come by.
Inevitably the CEO of Air NZ is a high-profile role in a small business community, and it seems that Foran will, at times, also be pressed on issues that hit on wider trends in society. On his part, Luxon was recognised in June by IATA for Air NZ's work on increasing its diversity, but then used the award ceremony to put the pressure back on industry to see more female representation in the top-tiers of the male-dominated industry.
The appointment of another male to a CEO's role could be seen as a backward step in that goal, but it would be reasonable to assume that the board considered a broad range of candidates before appointing Foran.
As with Luxon before him, Foran will have big shoes to fill at Air NZ, while charting it through a lower growth scenario and signs of global economic fragility. We wish him all the best.