With a new narrowbody aircraft order and second livery announcements on the horizon, Riyadh Air chief executive Tony Douglas continues to plot the Saudi Arabian start-up carrier's launch path.
Riyadh Air is set to place its expected narrowbody aircraft order "in the coming months" as Tony Douglas, chief executive of the ambitious Saudi Arabian start-up, continues to plot the national carrier's launch path.
The carrier disclosed a commitment for up to 72 Boeing 787s – including 39 Dreamliners on firm order – shortly after its official launch by the Saudi Arabian Public Investment Fund in March. Douglas subsequently said the airline is set to follow this with a major narrowbody order.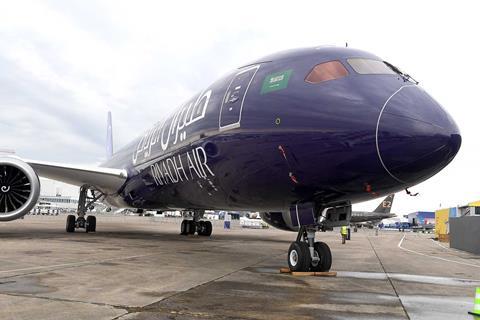 "We will be making a second, sizeable, narrowbody aircraft order in the coming months, and it will be sooner rather than later," Douglas told FlightGlobal during an interview at the World Aviation Festival in Lisbon on 27 September.
It forms part of a steady drumbeat of announcements aimed at maximising interest in and engagement with the carrier in the lead up to its operational launch in 2025.
"I'm delighted and surprised in some respects," Douglas says of the response to the carrier since the plans for the airline were unveiled. "Six months ago you hadn't heard of our brand, and here we are, six months in, and I think we have made more progress in getting out there then perhaps we thought."
He sees the interest level in Saudi Arabia as a destination further boosted by projects, including the high-profile development and signings of footballers by Saudi Pro League clubs – notably Riyadh-based Al Nassr's recruitment of Cristiano Ronaldo.
"It has gathered a level of curiosity and interest because people who probably, two years ago would never have expected Cristiano Ronaldo to be a resident of Riyadh, are getting curious and wanting to find out more," Douglas says.
"At the moment, everybody wants to be part of this story," he adds. "And if you go back to why, there is the undeniable fact around the economic growth and the lack of connectivity – ie there's a huge catch-up – as well as trying to keep pace with a fast-growing economy. [There's a] young population that all want to travel. And the investment into the Kingdom of Saudi Arabia with incredible destination attractions."
"We've got a roadmap because we know when we are going to go live in 25. We don't want to turn all the cards face up now, because then you have played your whole hand"
Development of Riyadh Air, and specifically aims to increase air connectivity into the Saudi capital, forms part of the Saudi Arabia Vision 2030 economic diversification strategy. Under the development, existing national carrier Saudia will over time focus its operations more on Jeddah, while Riyadh Air will build connectivity into the capital – a city Douglas says is under-served.
"If I use the eastern network as an example, currently the capital city Riyadh of the world's fastest growing economy doesn't connect directly to Beijing, to Shanghai, to Chengdu, to Guangzhou, to Tokyo, Seoul, Sydney. The list just goes on and on," he says.
Riyadh Air, which will operate domestic, regional and long-haul flights, has a mission to be serving a network over 100 destinations by the end of the decade.
Analysis of Cirium schedules data of departing flights from Riyadh to European destinations in October illustrates the relatively limited capacity from the city. Carriers are serving 24 points out of the Saudi city, with getting on for half the flights accounted for by Turkey alone.
Snapshot: European departing flights from Riyadh, October 2023
Airline
City
Country
Flights
Source: Cirium schedules data - departing flights from Riyadh to Europe, October 2023
Flynas
Antalya,
Turkey
8
Aegean Airlines
Athens
Greece
16
Flynas
Bodrum
Turkey
8
Wizz Air
Bucharest
Romania
9
Wizz Air
Budapest
Hungary
9
Wizz Air
Catania
Italy
8
Lufthansa
Frankfurt
Germany
31
Saudia
Frankfurt
Germany
13
Saudia
Geneva
Switzerland
13
Flyadeal
Istanbul
Turkey
31
Saudia
Istanbul
Turkey
31
Turkish Airlines
Istanbul
Turkey
68
Flynas
Istanbul
Turkey
12
Pegasus Airlines
Istanbul Sabiha Gokcen
Turkey
35
Turkish Airlines
Istanbul Sabiha Gokcen
Turkey
31
Flynas
Istanbul Sabiha Gokcen
Turkey
33
Wizz Air
Larnaca
Cyprus
9
British Airways
London Heathrow
UK
31
Saudia
London Heathrow
UK
91
Wizz Air
Milan Malpensa
Italy
8
Saudia
Munich
Germany
9
Wizz Air
Naples
Italy
7
Saudia
Paris Charles de Gaulle
France
28
Saudia
Rome Fiumicino
Italy
13
Wizz Air
Rome Fiumicino
Italy
13
Flynas
Sarajevo
Bosnia & Herzegovina
12
Wizz Air
Sofia
Bulgaria
9
Flynas
Tirana
Albania
8
Flynas
Trabzon
Turkey
28
Wizz Air
Venice
Italy
4
Wizz Air
Vienna
Austria
8
Saudia
Zurich
Switzerland
13
Existing Saudi carriers Flyadeal, Flynas and Saudia operate just over half these flights, while European budget carrier Wizz Air serves 10 points having entered the market a year ago.
MORE ANNOUNCEMENTS TO COME
A large narrowbody aircraft order is just one of a number of announcements the airline has planned. "We will reveal our second livery, which we think is even more beautiful than the first one," he says. The airline's first livery was showcased on a 787 at June's Paris air show.
"We will during the course of Q2 [2024] reveal the interior," he adds. That, on the airline's widebody fleet, will be a three-class configuration. "The front of it will be business-plus but will not be [a] first class, because that in our opinion would be sub-economic," he adds.
Douglas, citing the young demographic of the Saudi Arabian population, has since launch also been stressing the digital credentials of the new airline. "During the course of next year, there will probably two, maybe three reveals of what does digital native actually looks like, and the demonstrations of how it works," he adds.
"We've got a roadmap because we know when we are going to go live in 25. We don't want to turn all the cards face up now, because then you have played your whole hand, [but] what we are trying to do is build engagement, build excitement," he says, highlighting its presence and announcements already at the IATA AGM and Paris air show. November's Dubai air show seems likely to be another key date in the calendar.
WILL DELIVERY DELAYS IMPACT LAUNCH PLAN?
Riyadh Air, which is still to disclose it's start-up network, expects to take delivery of its first Dreamliners in 2025 with a view to launching widebody services in the second quarter of that year. As a start-up, with no existing fleet to fall back on, the launch of these services is at the mercy of aircraft being delivered on time. That is a particular worry given the continued supply chain and production challenges manufacturers have battled since the pandemic.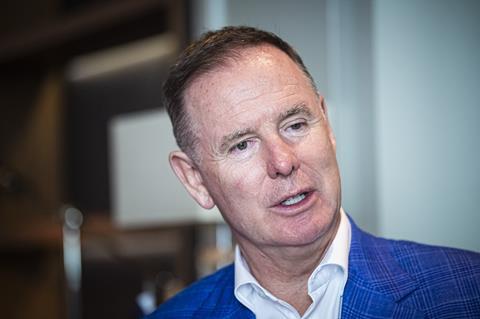 "We went into it with our eyes wide open," says Douglas. "We are working very closely with the first order, Boeing – as we will when we place the next order – to make sure we have clear line of sight on all the latest movements in terms of delivery and the many other factors to consider. At the moment we don't have a red risk in that regard.
"The reason from a governance and a control point of view we are on it on a weekly basis – at my level – is because as a start-up, it's not as if I can extend the leases on our existing fleet because we don't have one. It's not as if I can change the deployment of our network, because I don't have one," he says.
Alongside the airline growth ambitions, Saudi Arabia is also working on developing the Kingdom's airport infrastructure – including at Riyadh.
"There been a significant investment in not just capacity, but also quality," Douglas says of the existing airport facility. "There will be a massive additional investment between now and when we go live."
However, in the longer term there are plans to absorb Riyadh's existing King Salman airport into a new facility capable to handling up to 120 million passengers.
"I don't need it from day one, but I think it supports the understanding that the Kingdom is taking the long view here. [There's] no point in saying you are all in with a new massive national carrier, but within seven years you run out of capacity."