National start-up carrier Riyadh Air is to take up to 72 Boeing 787-9s, including plans for firm orders for 39 Dreamliners, as part of a wider Saudi Arabian commitment which will see Saudia also sign for up to 49 more of the widebodies.
The Riyadh commitment, which includes 33 options, comes two days after firm details of the ambitious new carrier were unveiled by the Saudi Arabian Public Investment Fund. First deliveries of the Dreamliners to Riyadh Air are set for early 2025.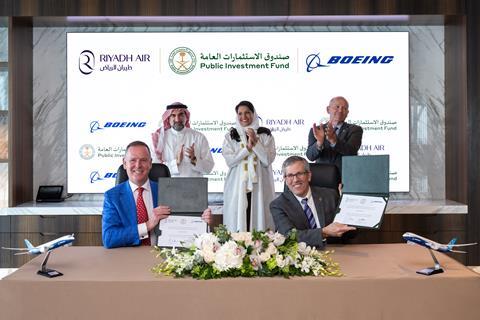 Riyadh Air chief executive Tony Douglas says: "By positioning the airline as both a global connector and a vehicle to drive tourist and business travel to Saudi Arabia, our new 787-9 airplanes will serve as a foundation for our worldwide operations."
Saudia, meanwhile, is set to purchase 39 more Dreamliners and take options on 10 more. Cirium fleets data shows the SkyTeam carrier already operates 13 787-9s and five 787-10s, and holds previous orders for three -10s. Saudia's fresh commitment covers both -9 and -10 models.
The combined commitment for up 121 Dreamliners will be the fifth larget commercial order by value in Boeing's history. Boeing says the aircraft will be posted to its Orders and Deliveries website when finalised.