Stockholm has taken a significant step closer to ordering GlobalEye surveillance aircraft to replace its current pair of Saab 340-based Erieye airborne early warning aircraft.
"Sweden has now prepared to be able to acquire the GlobalEye. We don't have a contract yet, but they have announced that they would like to go this way," Saab chief executive Micael Johansson said during a third-quarter results briefing on 22 October.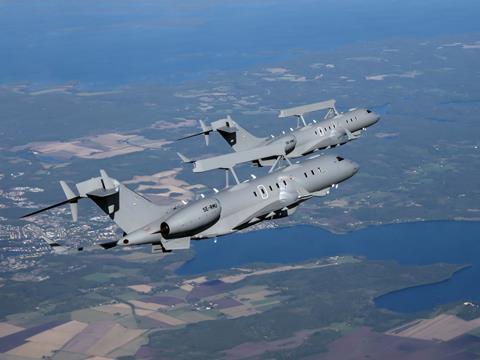 The Swedish air force has previously expressed interest in fielding the Bombardier Global 6000-based GlobalEye to meet its future airborne surveillance needs. An order from Stockholm would represent a second success for the product, with the United Arab Emirates having already received three of its five on-order examples.
No details are available on how many GlobalEyes Stockholm is interested in buying, or when it might want the type to enter service, but Johansson says: "Looking at Sweden and Finland, I guess it will be similar." Saab has offered two of heavily adapted business jets to Helsinki alongside 64 Gripen E fighters as part of its HX programme submission.
"Since we have a finalised product, a [Swedish] contract could be quite speedy – but it depends on the customer. We are prepared to do that very quickly when they have the [government] decision," he says.
Looking at its other near-term sales prospects, Johansson says: "In the next six months, I hope we will know the outcome of both Finland and Canada, when it comes to fighter acquisitions." Ottawa's requirement is for an expected 88 aircraft.
Meanwhile, Johansson says Saab's mid-October opening of a US production facility in West Lafayette, Indiana, marks "an important step in its international expansion". The site will manufacture aft fuselage sections for the T-7A Red Hawk advanced jet trainer, developed jointly by the company and Boeing.
Saab in mid-September shipped its third aft fuselage section from Linkoping in Sweden in support of the T-7A programme's current engineering, manufacturing and development phase. It notes that its first such structure was mated with the aircraft's forward fuselage by Boeing in just 30min.
The US Air Force plans to acquire 351 examples of the T-7A to replace part of its fleet of its Northrop T-38 jet trainers. Johansson says Boeing and Saab are expecting a so-called "Milestone C" production decision to be taken in "autumn 2022".
Meanwhile, Saab is already making progress as part of its recent pledge to halve greenhouse gas emissions by 2030, and to achieve net-zero status by 2050. Johansson says a 15% reduction has been recorded during the company's activities so far in 2021.
"It's about our own operations – energy efficiency on our sites, how we travel, how we work with different test activities; trying to simulate rather than test in real life," he says. "It is a comprehensive package of things that we will accelerate." The company also will work with its supply chain and end users to also reduce their carbon emissions, he adds.
"The demand from our customers when it comes to environmentally-friendly equipment and products is huge," he notes. "This will be an integral part of our R&D investment and strategy going forward."