Airbus Helicopters has secured an order for two H135 light-twins from London's Air Ambulance Charity (LAAC) as the capital's emergency medical services provider updates its fleet.
Currently an operator of the MD Helicopters MD 902, LAAC will take delivery of the new rotorcraft in September and October 2024.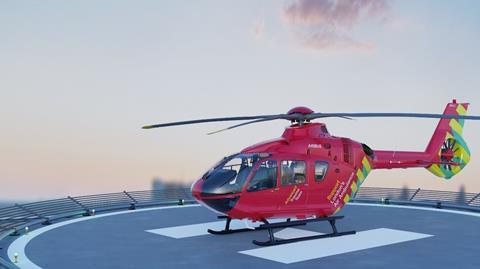 Charles Newitt, LAAC deputy chief executive, says the charity ran an exhaustive two-year tender, which came down to a run off between the H135 and Leonardo Helicopters AW109 Trekker.
Newitt says the selection of the H135 was made after a "very tight" competition against a "very good" rival bid. "It was very close but ultimately we looked to Airbus," he says.
"We decided that the H135 just met the operating requirements slightly better, particularly for [operations in] London."
Medical interiors will be provided by Bucher Leichtbau, but LAAC has taken the unusual step of only equipping the aircraft with a temporary stretcher located in the rear of the cabin. This came after analysis showed that only 8% of casualties were transported to hospital in the helicopter.
Newitt says although LAAC's pilots would have preferred new or upgraded MD 902s, with the US manufacturer going through a restructuring process, the operator identified "supportability issues going forward".
Captain Neil Jeffers, LAAC chief pilot, adds: "If the MD 902 had been developed as well as Airbus Helicopters has developed its aircraft it would have been an obvious choice for us.
"But we forecast that in the future we expect to see some critical parts that would be problematic should they not be available."
Newitt says the charity has also evaluated the potential use of electric vertical take-off and landing aircraft. However, he believes they are "still a few years off" for emergency medical services operations.
LAAC raised a total of £15 million ($18 million) for the new helicopters, which will also come with a support package from Airbus Helicopters.

Dominic Perry is deputy editor of Flight International but also contributes extensively to flightglobal.com. Although specialising in the coverage of the helicopter industry, he has written on most topics in aerospace – be they commercial, defence or business aviation. In addition, there has been an increasing focus on the decarbonisation of the industry and zero-emission flight initiatives.