Rolls-Royce and Hyundai Motor Group have announced a new collaboration that could see the pair jointly develop and fly a fuel cell-powered aircraft by the middle of the decade.
The subject of a memorandum of understanding signed at the Farnborough air show on 18 July, the pact will see the partners work together to bring full-electric propulsion and hydrogen fuel cell technology to the advanced air mobility (AAM) market.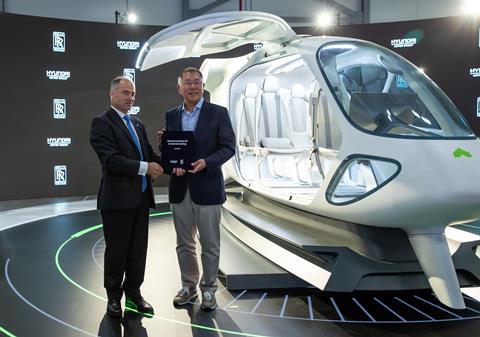 It will leverage Rolls-Royce's aviation and certification capabilities and Hyundai's fuel cell expertise, plus the automotive giant's industrialisation capability.
Key aims detailed in the agreement include: the development of power and propulsion systems, including fuel cells, for Hyundai's AAM and regional air mobility products, and the wider market; and the industrialisation of Rolls-Royce electric propulsion technology for AAM.
In addition, a joint fuel-cell electric aircraft demonstrator is envisaged by 2025.
Jaiwon Shin, president of Hyundai's AAM division, says: "Hyundai has successfully delivered hydrogen fuel cell systems to the global automotive market and is now exploring the feasibility of electric and hydrogen propulsion technologies for aerospace integration."
President of Rolls-Royce Electrical Rob Watson adds: "This collaboration supports our joint ambitions to lead the way in the AAM market."
Hyundai's US-based Supernal unit is aiming to begin commercial services of urban air mobility vehicles in the USA in 2028 while RAM services are envisaged in the 2030s. Fuel cell power is seen as important for the latter mission due to the longer ranges envisaged.