If the Modi government's second attempt to privatise Air India in as many years fails, it will not be for a lack of trying.
If the Modi government's second attempt to privatise Air India in as many years fails, it will not be for a lack of trying.
Last year's attempt to sell up to a 76% stake in the Star Alliance carrier failed spectacularly with no expressions of interest lodged, despite strong interest initially for certain parts of the company.
This time, however, is different.
After the humiliation of last year, it seems that the Modi administration is working to reduce some of the major stumbling blocks, with the biggest one being the airline's huge debt load that it has amassed after years of sustained losses. Such has been the fiscal drag from that debt that it has prevented it from posting a net profit, with interest payments wiping out the few periods when it has been able to post an operating profit.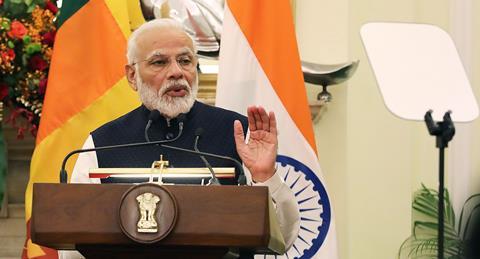 To tackle that, New Delhi established Air India Assets (AIAHL) as a vehicle that will absorb around Rs294 billion ($4.15 billion) of the airline's debt, while also taking over its ground handling, engineering, hotels and regional subsidiary Alliance Air. For good measure, it will also take over other assets, including art works, real estate and other intangibles.
AIAHL has released two tranches of bonds totalling Rs220 billion that will help to service and repay some of that debt, while asset sales are expected to make up the shortfall. One tranche of the bonds is being government-serviced while the other has a sovereign guarantee, meaning the interest on them should be sufficiently lower than the rates on the debt it is inheriting.
That will not only leave Air India's balance sheet sufficiently cleansed, but also allow it to be sold almost solely as an airline, rather than an airline with many other non-core – and often politically linked – operations. With budget unit Air India Express not being transferred to AIAHL, that appears likely to be part of the sale.
It appears that the slimming of Air India should make it clearer to potential bidders what they are in for. Prior to last year's privatisation attempt, various companies had expressed interest in taking parts of Air India but nobody was brave enough to take it as a whole. Perhaps with the core airline operations now the focus, that could change.
The other major change appears to be the desire of the government to sell all the equity in the airline, compared to only a 76% stake. In theory, that should leave little to no room for government interference, but that theory is likely to be tested in practice later on.
New Delhi has indicated that it intends to move forward with the expression of interest phase before the year is out, and so any deal would be likely to close in 2020.
PERFECT TIMING?
It is impossible to understate the importance to New Delhi of getting a deal done in the next few months as the carrier faces the best conditions it ever has.
That has been largely due to the demise of its major competitor on international routes in Jet Airways. Despite some signs that Jet could be revived, with Colombian group Synergy Aerospace appearing to be the front-runner, it has a long runway ahead of it to get back to the international airlines that it once was.
That has given Air India a fillip and impetus to grow within the constraints of its current fleet to capture some of that demand. Recently, executives at the airline told attendees at the World Routes conference that more aircraft were coming out of maintenance and utilisation being increased to meet the demand, especially on long-haul routes where it is, for now, the only Indian carrier that can play in that market.
But that will soon change as Vistara takes delivery of its first Boeing 787-9 later this month, which will be the vehicle to start the launch of its long-held ambition to become a significant player in India's long-haul market. While the carrier has mentioned Europe and London as likely markets, it has yet to announce any firm plans. That could indicate that it is still waiting to be allocated route authorities and slots – something that will likely only come once the DGCA approves adding the 787 to its air operator's certificate.
To its credit, Air India has not stood still. Senior executives have said that there are plans to grow the carrier's network and fleet, with it having completed a plan that could see its fleet grow up to 250 aircraft by 2025. That would be a doubling of its 127 aircraft fleet, opening up major growth opportunities.
Understandably though, those growth plans are on ice until a new owner is found.
RISKY BET?
Air India may have the most lucrative part of the Indian aviation market largely to itself, and has shed a lot of debt, but any potential purchaser will be wary of how fickle the market can be, and also how exposed it is to the shaky-looking Indian economy.
Unions have also dug in their heels, launching protests against the planned sale of the company, with some even arguing that it should be turned around while still under government ownership. It is possible that a potential bidder may see some risk from the airline's labour movement, especially if it takes moves to downsize what has been labelled as a bloated workforce.
Even with all the actions that New Delhi is taking to prepare the airline for sale, there are no guarantees that any bidders will be interested in taking over the carrier. The slow sale of Jet Airways is in very different circumstances but may indicate that investor interest in the Indian aviation sector is lukewarm at best, especially with some concerns that the domestic economy is slowing down. Add to that the often-repeated boom-bust nature of the market, and wary investors may decide it is more prudent to keep their wallets in their pockets.
Those risks mean that, try as it may to make Air India as attractive as possible, New Delhi could still be the owner of the carrier this time next year.