René Armas Maes, vice-president of commercial at Jet Link International, considers how adapting to cost and demand variables over the next two years will be key to the successful implementation of restructuring plans for Latin America's three biggest operators.
Latin America's three biggest operators LATAM Airlines, Avianca and Aeromexico have all presented restructuring plans to exit the formal Chapter 11 bankruptcy processes they filed for in the USA after the pandemic hit.
For all three, there are a number of variable costs and demand issues which will impact the success of these plans, which are being carried out against the backdrop an uncertain market recovery over the next 12-24 months.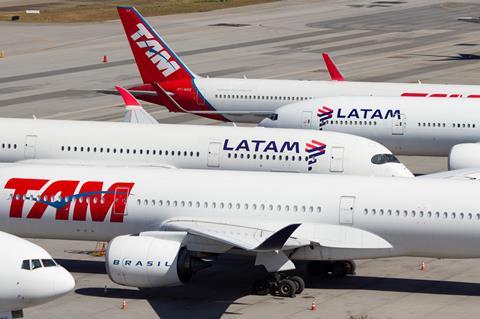 On the expense side one such variable is going to be the price of jet fuel, which is the largest cost and represents on average third of these airlines' total annual expenditure.
Fuel prices have been steadily on the rise. The barrel price of Brent crude oil has climbed to around the $85 mark, a more than doubling on price of a year ago.
A benchmarking of global jet fuel prices by mid-October 2021 shows the price of jet fuel was above $95 per barrel or $2.3 p./gal.
In their restructuring plans LATAM Airlines has projected a fixed price of $1.74 p./gal; Aeromexico a price of $1.55 p./gal to $1.76 p./gal (including fare increment from 2023 onward to recoup higher fuel prices); and Avianca has assumed an industry fuel price between $1.65/gal and $1.67/gal.
The fuel projections are on the low side and a projection of $2.0 p./gal or slightly higher at least for the next 18 months may be a more prudent estimate.
Should fuel costs prove higher, the airlines will be in need to stimulate more demand and load factors to help balance out any potential jet fuel price increments over the next 18-24 months.
Alongside fuel, reducing average headcount per aircraft and moving as many fixed costs as possible to a more flexible and agile variable cost base, will also be key focus points for these carriers.
RIGHT-SIZING FLEETS
The plans also outline fleet strategies which aim to better position the operators post-restructuring. In terms of fleet optimization, it is positive to observe that the three airlines are right-sizing and simplifying their fleet to better match capacity with demand, reduce maintenance, spare parts costs and pilot training among others.
LATAM will cut its fleet by 16% to 286 aircraft, while Aeromexico plans to replace older types including a number of regional jets with Boeing 737 Max aircraft.
Aeromexico's strategy is simple; increase the number of seats per departure, lower its cost per available seat kilometer (CASK) and reduce fuel costs. In addition, by deploying a new product it hopes to offer a differentiating service that could increase loyalty and hopefully drive more revenue.
Likewise, Avianca plans a significant fleet CASK improvement through a cabin upgauge strategy that adds on average 20% more seats per aircraft. Besides, it plans to improve aircraft utilization.
However all three carriers may need to further stimulate market penetration and move to larger seat count aircraft as part of a cabin densification strategy - while keeping three types of cabin products if applicable.
Smaller Airbus 319 fleet should be replaced with larger A320 aircraft as soon as possible to further reduce CASKs. For example, LATAM's A319s represents 16% of its single-aisle fleet. Upgauging these aircraft could help LATAM to increase seat offering by 21% in a three-class configuration.
Equally important, it would help the airline to lower its CASK and derive premium revenue while strengthening its competitive position in markets where low-cost airlines have thrived.
Likewise, consideration should be given to accelerating the replacement of LATAM and Avianca's current generation A320s and Aeromexico's Boeing 737-800 fleet that are under lease agreements. This could help further reduce fuel costs and CASK, depending on the terms of these leases.
CABIN CONFIGURATIONS
According to LATAM and Avianca's restructuring plans, their annual average load factor planned is 84% while Aeromexico stands at 82%. If business travel and its associated profitability does not materialise over the next 12 to 24 months in sustainable volumes, the airlines may have to execute a different strategy - one that optimizes load factors and ancillary revenues to offset the shortfall.
Cabin configurations could also be a factor, especially if the carriers seek to take advantage of growth in the premium economy segment. In addition, the carriers could potentially look at cabin reconfigurations, specifically around potentially introducing more premium economy seating at the expense of business class seating if demand for the latter fails to return.
LATAM and Aeromexico already offer some premium economy seating, while Avianca does not presently have a premium economy product and might need to review its strategy on this front soon.
René Armas Maes is vice-president of commercial at Jet Link International and an international airline consultant focusing on business restructuring and turnarounds, strategy, fleet planning and commercial growth.