Boeing's commercial aviation business lost nearly $700 million in the third quarter, a period during which the airframer delivered no 787s while continuing to build them at a reduced rate of two per month.
But Boeing's services and defence businesses turned profits in the period ended 30 September, leaving the company with an overall third-quarter loss of $132 million. By comparison, Boeing lost $466 million in the third quarter of 2020.
The Chicago-headquartered airframer says the issues with the 787 will cost it about $1 billion, including $183 million in costs in the third quarter.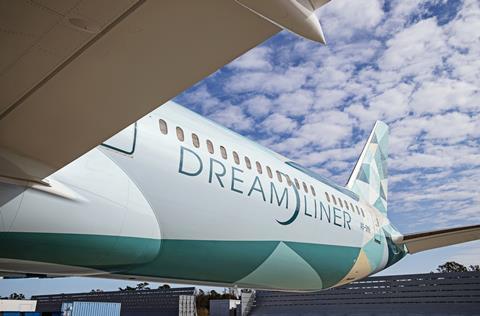 Boeing's deliveries of 787s have been paused since May as the company addresses fuselage-related quality issues and works to achieve acceptance of rework from the Federal Aviation Administration (FAA).
Boeing Commercial Airplanes' third-quarter operating loss came in at $693 million, worse than its $472 million loss in the second quarter but substantially better than the division's $1.4 billion loss in the third quarter of 2020.
"We are driving stability across our operations, investing in our future and positioning our teams to deliver for our customers as the market recovers," says Boeing chief executive David Calhoun. "Commercial market demand continues to gain traction with broad-based vaccine distribution and border protocols beginning to open."
Boeing confirms it has reduced 787 output to two jets per month. Although the manufacturer previously indicated it was cutting the Dreamliner production rate to less than five per month it had not specified a level.
"The company continues to focus 787 production resources on conducting inspections and rework and continues to engage in detailed discussions with the FAA regarding required actions for resuming delivery," Boeing says. "The company expects to continue at this rate until deliveries resume and then return to five per month over time."
In the third quarter, Boeing delivered 85 aircraft, up from 79 in the previous three-month period. That total includes 63 737 Max jets, three 737NG-based military aircraft, two 747s, 11 767s and six 777s.
Boeing recorded new orders for 111 aircraft in the third quarter: 70 737 Max jets, five 737NGs, one 767 Freighter, 23 777Fs and 12 787s. It also logged cancellations for 52 jets in the period.
Boeing's commercial division generated $4.4 billion in third-quarter revenue, up 24% year on year.
Meanwhile, Boeing Global Services aftermarket business turned a $644 million operating profit in the third quarter, up 38% from the same period of 2020, while the division's revenue jumped 14% year on year, to $4.2 billion.
During the third quarter, Boeing Global Services landed deals to convert 12 737-800s into freighters.
The company's Defense, Space & Security business generated a third-quarter operating profit of $436 million, down 31% year on year, while revenue showed a 3% year-on-year decrease, to $6.6 billion.
Boeing ended the third quarter with cash and short-term investments valued at $20 billion, down from $25.6 billion at the end of 2020.
Story corrected on 28 October to include "million" after "$183" in the third paragraph.