The Canadian carrier's chief executive Ed Sims describes the difficult choices already made and those that lie ahead amid the coronavirus outbreak.
When WestJet chief executive Ed Sims drives past Calgary International airport to his office every morning, he sees a row of parked aircraft, grounded by the coronavirus pandemic, and wonders what fresh hell awaits.
"It's just so unpredictable for all of us at the moment," Sims says. "The strange thing about this environment is that we have no waypoints. It's really difficult for people in the airline world who love that sense of predictability, and, let's be honest, that sense of control.
"Whatever our role – pilots, engineers, chief executives – we are all having to adjust to a world without any control."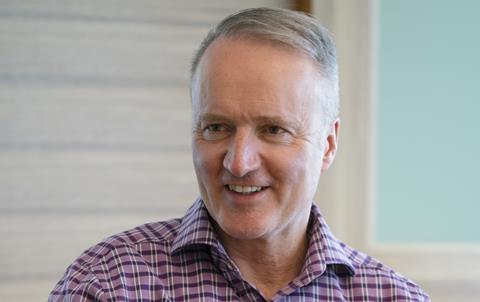 WestJet is Canadian aviation's irreverent upstart, born in 1996 as a low-cost carrier in the western boomtown at the foot of the Rocky Mountains known more for its annual rodeo – the Calgary Stampede – than its ability to sustain a multibillion-dollar international airline.
In the almost quarter-century of its existence, and through many an economic crunch and strategic misstep, the airline has survived, learned, thrived and built up a devoted customer base that is giving legacy carrier Air Canada, 60 years its senior, a real run for its money.
WestJet's management team started planning for a catastrophic event related to the coronavirus long before it actually became one. In the first week of March, when the virus still seemed a very distant threat, Canada's second-largest and fastest-growing airline set up an incident command centre, with experts and managers from every corner of the company.
They were tasked to anticipate what operations would look like not if, but when, the spread of the virus brought the airline and the entire industry to its knees. Since then the command centre has met every morning at 09:00 local time for a situation report.
BACK TO BASE
From day one, the participants knew it would be a bloodbath.
"We grounded all our international fleet four days before Canada announced border closures. What that gave us was time. We completely rescheduled all of our network to bring aircraft back to base in the space of 72h without having to do it 6h before the borders were closing around us."
It was a massive logistical undertaking for his operations team to find parking space for 120 aircraft, or two thirds of WestJet's fleet, which brought the airline to the size it was in 2003, in just a few days.
The team secured space in Calgary for about half of those airliners, as well as parking spots in Edmonton, Toronto and Kelowna.
"The first lesson for me was, you know this is difficult. You face it, and you get to it early, before somebody takes the options away," Sims says. "When I knew we were parking two thirds of the fleet, I knew I was going to have to essentially lay off at least half of our people."
On 16 March the airline said it would begin suspending international flights and reducing domestic operations by 50% later that week. On 24 March, the company dismissed 6,900 employees, and on 17 April WestJet said it is laying off another 1,700 pilots.
"When I briefed our management team about the horrible reality of having to lay off 6,900 staff, I asked them to focus on all the jobs they were saving, the 7,000 that we were retaining in the organisation, and how important every single one of those jobs were. And if you can just focus on what you're retaining, rather than the reality of what you're losing, then you don't get overwhelmed by the enormity of the task that you're being asked to undertake."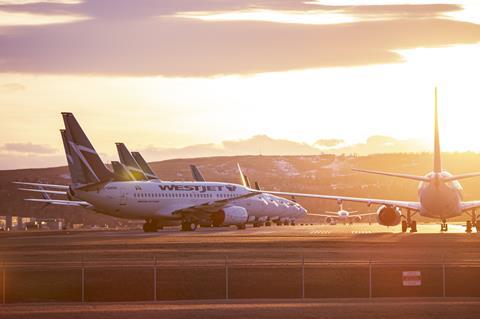 About 500 employees chose early retirement, and the rest are expected to return to the airline in some capacity when this crisis is over.
Sims says WestJet will partake in the "Canada Emergency Wage Subsidy" programme, in which the government has made C$71 billion ($50.6 billion) available to companies that have seen revenue decline by at least 30% due to the coronavirus crisis. The programme reimburses up to 75% of employees' salaries, to a maximum of C$847 weekly, according to the government's website.
"We will be looking to participate in the government scheme and to bring those people back onto the payroll, although not back into work, because frankly, there just isn't the passenger demand and there isn't enough work for them," Sims says. "The ability to bring those people back in, albeit on a lower salary level than some of them would have been used to prior, is at least helping people make ends meet, which in the current environment is probably as much as you can do."
The airline also said in March that its executive team members and directors had taken pay cuts, it released most of its contractors, instituted a hiring freeze, stopped non-essential travel and paused many capital projects – all in the name of preserving cash.
CONTINUING OPERATIONS
WestJet is currently operating between 100 and 180 domestic and repatriation flights per day, while keeping close tabs on load factors. The target is 50%.
"We've been cancelling two to three days out, to try to make sure that we don't fly planes with just one or two people on board. This concept of "ghost flying" is anathema to me, because I'm also still trying to keep one eye on environmental damage."
But the term "load factor" doesn't mean what it used to. It's currently distorted, he says, due to the social distancing measures the airline has introduced, including not selling middle seats on the larger aircraft, and staggering occupied seats in the Dash 8-400 turboprops, to ensure that passengers who do fly have enough personal space to stay safe.
Like some of its peers, WestJet has also pivoted to carrying more cargo, and has been repatriating Canadians stranded overseas as a result of the international health crisis. Aircraft are flying to destinations which the airline does not usually serve with regularly scheduled flights, including Panama, Trinidad and Havana, among others, to pick up Canada's citizens.
"We're carrying enormous amounts of essential medical supplies, both inbound on some of our repatriation flights but also across Canada, particularly to communities that would otherwise be really struggling with a shortfall in road traffic," Sims says.
MAX CONUNDRUM
With all of these planes sitting idle, Sims is wondering what the future will look like, and how long it will take the industry to return. WestJet's 13 Boeing 737 Max jets have been grounded for more than a year now, and the airline is considering what to do with the 44 more it has on order.
"In previous conversations, I've said we're committed to the forward order," Sims says. "But now we have to look at a very different reality where, if I take 9/11 as a parallel – it took three years for North American traffic levels to recover, from September 2001 to September 2004. This has been like a sequence of disasters of that magnitude on the aviation industry week after week and I think it is a reasonable assumption to say it'll take even longer for traffic levels to recover.
"Max customers have to look at their forward order and say, is that still going to be appropriate? I can't answer that right now, other than it's causing me to do a lot of soul searching. How much capacity is actually going to be viable?"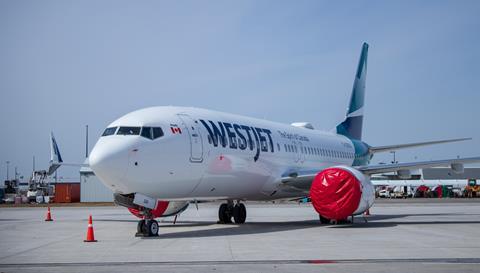 Viability of the Max orders aside, Sims says he is optimistic that the airline and its loyal band of "WestJetters" will successfully navigate the crisis, no matter how long it takes. Three strategic elements inspire this confidence, and the result could serve as a crisis management case study for business administration students of the future.
First, he says, secure the element of time – make difficult decisions before they are made for you. Second, set a rhythm to follow rigorously, "like a metronome".
But most importantly, bring in the professionals – he calls them "warriors" – who are able to manoeuvre through something that none of them has ever experienced before.
"I always recruited people with battle scars, but who are still smiling. And that sense of resilience has been so critical in the way that we manage this," he says.
"Through that we retain an ability to put ourselves in the shoes of the people we're laying off. We put ourselves in the shoes of guests who are stranded in Panama, or in San Salvador. And we then reflect that we have to fight to do whatever we can to help those people."