Calgary-based WestJet in July and August will increase frequencies on its network and resume service to certain locations for a total of 39 destinations in Canada, five in the USA and one in Mexico as air travel slowly recovers.
WestJet's capacity in June is down 91% year-over-year as people shelter in place to avoid the coronavirus pandemic, according to Cirium's schedules data. The new seasonal schedule will double the number of flights operated on its network compared with June, but July capacity will still be 76% lower year-over-year, the carrier says on 15 June in a statement.
Canada's second-largest carrier from 5 July through 4 August will operate flights to Los Angeles from Calgary and Vancouver; to Las Vegas from Calgary, Toronto and Vancouver; and from Toronto to New York LaGuardia International and to Orlando. A weekly flight from Toronto to Cancun, Mexico will begin on 11 July.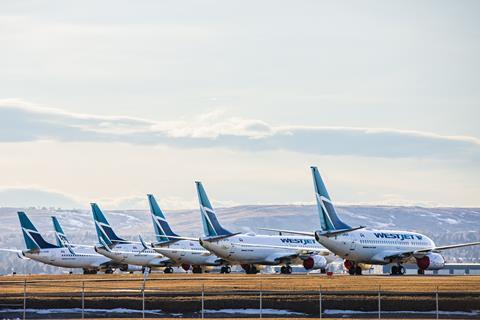 WestJet in July will operate more frequent flights within Canada to destinations including Charlottetown, Winnipeg, Kelowna, Yellowknife and Saskatoon.
The seasonal schedule will be a test of increasing air travel as businesses start to reopen. Agencies including the US Centers for Disease Control and Prevention have cautioned against large public gatherings to avoid a resurgence of infections.
Mexico, the USA and Canada are debating whether to extend restrictions on nonessential travel between their nations from 21 June through July. All arrivals between Canada and the USA, including citizens, are still required to remain in quarantine for 14 days after travelling from international locations.
WestJet competitor Air Canada is also testing demand for air travel that has slowly risen from its low point in April. The Canadian flag carrier increased its domestic network from 34 routes in May to 58 routes in June, with the aim of resuming parts of its international network during the summer.