Canada's WestJet has permanently cut more than one third of its remaining workforce as the effects of the pandemic force the airline to reduce and outsource services in an effort to continue cutting costs.
Chief executive Ed Sims says in a video message on 24 June that the company will permanently eliminate the roles of 3,333 members of staff, also known as "WestJetters", throughout the organization. That will leave less than 5,000 empoyees out of a pre-coronavirus workforce of 14,000.
The Calgary-based carrier will consolidate its contact centre activity to one location only - Calgary - and outsource airport operations at all domestic airports other than Vancouver, Calgary, Edmonton and Toronto. In addition, the airline will "strategically restructure our office and our management staff".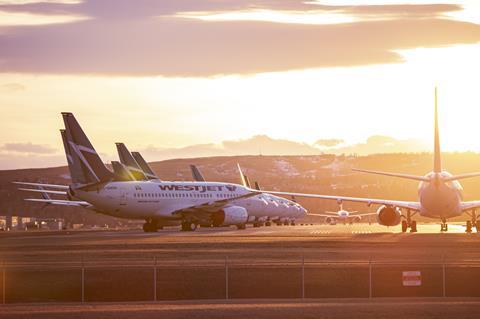 The staff reductions at Canada's second-largest airline come as a blow just ten days after it said it was expanding its summer schedule in July to more than double what had been planned for June.
"This situation is nobody's fault and nothing anyone could have done would have created a different outcome," Sims says. "Reducing WestJetter roles has always been a last resort. If there were other viable options open to us we would be taking them."
Sims says that the airline has cut its costs by about 60%, but that numerous issues in the past four months have exacerbated the problems for the business.
"Despite these efforts, the damage we have incurred from a weakened demand environment has been compounded by multiple factors including a patchwork of provincial and federal travel advisories, constraints on non-essential travel both globally and even domestically, and cost challenges facing our airport and air navigation partners," he says in the video.
WestJet's management reacted to the impending global pandemic crisis early, with the hope that it could save jobs. In mid-March already, it had grounded a sizeable amount of aircraft and implemented cost-reduction measures such as releasing contractors, instituting a hiring freeze, stopping non-essential travel, cutting management salaries and suspending capital projects.
On 24 March, WestJet laid off about half of its staff, 90% of whom volunteered to leave their roles temporarily to save the company. In April 1,700 pilots were also laid off. The company was able to hire some back after participating in Canada's emergency wage subsidy programme, but more layoffs occurred in May. With the crisis now well into its fourth month, the airline, like many of its peers across North America and around the world, is still struggling.
The airline says that its capacity in June is down "more than 90%" from pre-coronavirus levels as shelter-in-place orders remain in effect to avoid the spread of the highly contageouos virus. The carrier said on 15 June that it will double the number of flights it operates in July compared with June, but July capacity will still be 76% lower year-over-year.
Through the crisis, Westjet has continued to operate to all of its 38 year-round domestic destinations to ensure essential service for passengers and cargo to and from far-flung regions in the country's north which are often only reachable by air.