WestJet will cease flying to numerous destinations in far eastern Canada and reduce frequencies to other cities in the region, cutting 80% of seat capacity in that part of the country.
The cuts, which come as a result of the continued lack of demand due to the coronavirus crisis, take effect on 2 November, the Calgary-based carrier says on 14 October.
WestJet says it will suspend operations to Moncton, Fredericton, Sydney and Charlottetown, while significantly reducing service to Halifax and St John's as well as some flights to Quebec City. In all, the carrier will indefinitely suspend more than 100 flights per week.
The airline also says it will lay off an additional 100 corporate staff members.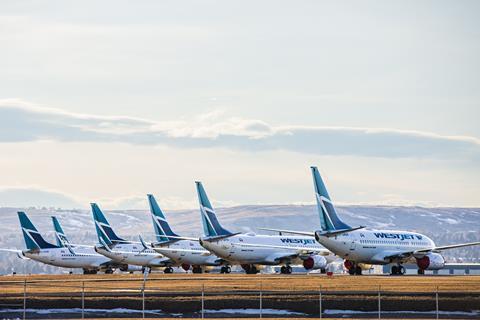 "It has become increasingly unviable to serve these markets," says WestJet chief executive Ed Sims. "Since the pandemic's beginning, we have worked to keep essential air service to all of our domestic airports. However, demand for travel is being severely limited by restrictive policies and third-party fee increases that have left us out of runway without sector-specific support."
WestJet had been the only Canadian airline that had not reduced domestic service since the beginning of the global health crisis in March. Atlantic Canada, in which WestJet had invested heavily in recent years, relies on tourism as an essential part of its economy.The airline had opened an extensive network to and within the easternmost region, as well as flights to Europe from there.
"While we remain committed to the Atlantic region, it's impossible to say when there will be a return to service without support for a coordinated domestic approach," Sims adds. "Our intent is to return as soon as it becomes economically viable to do so."
Canadian air transport has been badly hit by the pandemic on several fronts, including by strict travel restrictions imposed by the government of Canada to stop the spread of the highly-contagious virus.
Since March, Canada has had a mandatory 14-day quarantine requirement for all inbound passengers. Some provinces have also introduced isolation requirements, making even inter-provincial travel more complicated. The longest peaceful border in the world, between the United States and Canada, has also been effectively sealed off for non-essential travel since 21 March. The border is now set to open on 21 October, though officials have already pushed back the date several times.
In addition, the federal government has not provided any direct aid to the aviation industry beyond a general wage subsidy, leaving it largely to manage on its own during the sector's historic downturn.
Also, Canadian air traffic control operator Nav Canada increased its fees for air traffic control services by almost 30% in September, prompting WestJet to pass the fee bump to customers. The carrier criticised the fee increase and responded by tacking a C$4-7 ($3-5) surcharge on ticket prices.