With a government support package secured and better news on the health outlook, KLM is approaching 2021 on much more 'solid ground', according to the airline's chief executive Pieter Elbers
As the president of this year's IATA AGM, Pieter Elbers oversaw an assessment of the industry's health that would have been unimaginable in its bleakness when KLM was celebrating its centenary in 2019.
But while IATA's decision to move the annual gathering from June to November did not mean that delegates could attend in person – as it had hoped – it did mean that the event took place amid reports of several Covid-19 vaccines proving effective in trials.
And that matters greatly to the industry.
"I've used different phrases from glimpses of hope, to the best news I've had in the last six months," the KLM chief executive tells FlightGlobal during an interview immediately after the AGM proceedings concluded.
Coming weeks after the SkyTeam carrier received final approval for its €3.4 billion ($4 billion) loan package from the Dutch government, KLM finally has "some solid ground under our fleet", Elbers says.
"That's there now and that enables us to start planning again."
Crucially, it is now possible to imagine genuine recovery momentum building during 2021.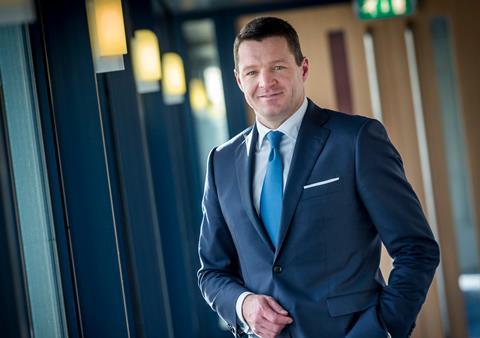 "If, by middle or end of the first quarter, the distribution [of vaccines] will have reached a certain critical mass in combination with more testing… Listening to the markets, listening to our business consumers, listening to travel panels, listening to individual consumers, I could see an enormous desire for people to start flying again," Elbers states.
Before that, however, there are a bleak few months to get through, alongside the need for speedy industry progress on coronavirus testing.
"We're preparing for a cold and challenging winter," Elbers says. "But summer should be spring in terms of recovery, and by the end of [2021] we move another step forward."
To enable that recovery, the introduction of mutually recognised testing regimes is still "of paramount importance" in order to open up the international markets – such as transatlantic flights – that are so crucial to KLM's hub-and-spoke operations at its Amsterdam Schiphol base, according to Elbers.
"It would give a big relief to the industry," he states.
But asked whether, in late November, he has confidence that efforts to introduce widespread testing will begin to make a different to traffic soon, he cites the dearth of aircraft in the skies of Europe, and says: "In a way, of course not."
That lack of progress is why IATA has named Covid-19 testing for airline passengers as one of two crucial focus areas in the coming weeks and months, alongside securing further state support for the sector as cash burn continues into 2021.
WILL KLM NEED MORE STATE SUPPORT?
Indeed, with so many uncertainties around the speed and shape of the recovery, Elbers still cannot not rule out KLM needing further government support at some stage.
"No one knows precisely what is the outlook for the industry," he states. "Next year, we'll need to see where we stand and what is the actual situation."
KLM "had a good starting position before the crisis", Elbers explains, but "no carrier can go through this just by itself – this is so massive and so unprecedented".
Nevertheless, the support package agreed with the Dutch government in early November "really helps us to kick-off and really start the restructuring".
Some of the cost-cutting challenges that were a condition of that support have been addressed already.
"By now we have already reduced our workforce by 5,000 people, so that's quite a lot of dedicated great, good people who left the company – that's some 15-16% of the [pre-crisis workforce] who have gone already," Elbers says.
Also attached to the government loan conditions was a requirement that KLM become a more sustainable operator.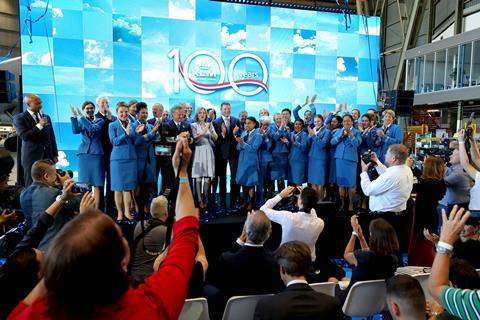 In Elbers' view, the renewed government financial interest in airlines means that reducing the industry's environmental footprint has become a shared endeavour.
"Now that governments have stepped forward so massively to support airlines, there's also a momentum whereby things such as the availability of sustainable aviation fuels… whereby cutting down some of the bureaucracy or even [implementing] the Single European Sky, which [we have been] waiting for the last two decades, maybe now finally we have the momentum of pushing forward".
Elbers cautions that "the worst thing that could happen to us is that sustainability is just translated into introducing new taxes".
But he hopes that such moves are less likely, now airlines and governments "have a more coherent and aligned view" on sustainability.
KLM AIMS TO 'BUILD BACK BETTER'
Action on sustainability forms part of a wider strategy for KLM to "build back better" from the crisis, according to Elbers.
He believes it is "probably not the most interesting question" to ponder whether the industry will be at "70% or 80%, 75% or 78%" of 2019 levels any time soon.
Rather, "what matters is are we building back a better quality in terms of the industry, better customer service, better hygiene measures, better comfort levels throughout the customer journey that will take care of all the hygiene measures, better sustainability", he says.
"We were granted the loan by the Dutch government [and] I think we should do something back for the society here as well in terms of employment, consistency, being a good employer. I think these are things which, probably after the crisis, are going to be more important than before."
When it comes to KLM's customer proposition – which is "all about reliability" and "peace of mind" for travellers, Elbers states – 'building back better' means investment in the onboard product.
The airline will therefore "continue to invest in our business class with all the direct aisle [seating]".
KLM will also "move forward on introducing premium economy in our fleet", which will create consistency in terms of product offering with transatlantic partners Delta Air Lines, Air France and Virgin Atlantic, Elbers suggests.
The premium-economy plan was announced on the eve of the Covid crisis in February this year, and news on KLM's rollout plan is imminent, Elbers says.
The onboard experience will also be a focus, including investment "in our meals".
On that subject of in-flight catering, Elbers says KLM is not planning to follow Lufthansa in stopping complimentary food for economy passengers on short-haul flights, even though the Dutch carrier is increasingly an outlier in that regard.
"We'll closely monitor what Lufthansa is doing," Elbers states. "We'll see whether their customers like it or not, and if they don't like it, they are most welcome to join us on board our flights."
Ultimately, "building back better I would say for me is the entire portfolio," Elbers says.
HOW IS KLM'S FLEET CHANGING?
On KLM's fleet – another key part of that portfolio – he states that a review of the airline's needs is under way.
In terms of certainties, the carrier's Boeing 747s made their final passenger flights in March this year – nearly two years ahead of a pre-crisis retirement date of end-2021. There was an unexpected reprieve for two of the 747-400 Combi aircraft, which were brought back into service to fly medical equipment from China, but "now the 747s are out at KLM", Elbers states.
"For me it's always a matter of horses for courses, and you should take decisions which are matching your needs," he says, also citing group stablemate Air France's decision to retire its Airbus A380s.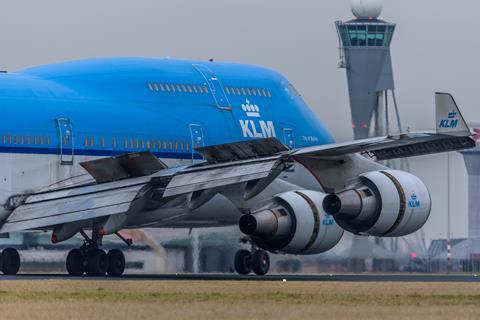 Aside from the 747s, "for some of the other aircraft, where we may need them in the near future, we would like to keep some level of flexibility", he continues, adding that "we are reviewing any further fleet steps".
The carrier is in a "good position" in that regard, because it only has a "couple of 787s and triples [777s] on order, and that's really it".
KLM's network strategy during the crisis, meanwhile, can be summed up as "destinations over frequencies".
Indeed, Elbers is adamant that KLM has a strategic advantage in the coming months, insisting that "small flows through hubs" will lead the recovery, with pre-crisis long-haul, point-to-point services to secondary airports likely to prove uneconomical for some time.
To secure that advantage, Elbers explains that KLM is serving around 90% of the "90 destinations" in the airline's pre-crisis European network, "matching our hub and spoke and wave system at Schiphol".
The difference during the crisis is that while some destinations were served up to "six or seven flights a day", frequencies are now "much lower".
And in some cases, regional Embraer regional jets are being used, "rather than our 737s".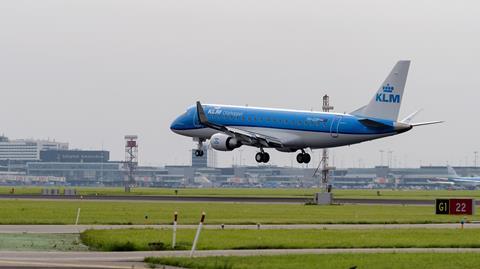 That keeps the system running, Elbers says.
"By having all these city pairs, there's a lot of people who still need to travel, who still have to travel for whatever reason, and they are looking desperately for a connection, and we are the ones who are providing that connection."
KLM has noticed that demand dynamic playing out in places such as the UK and the Nordic countries, "where we typically have a strong position".
The integrity of the hub has also been boosted by demand for cargo operations – delivered through Air France KLM Martinair Cargo – which has risen because of the capacity-crunch created by the lack of widebody passenger aircraft providing belly capacity to the global market.
"It has enabled us to keep the operation going and support the reintroduction of some of the passenger flights with relatively low passenger numbers – at least supported to cover the out-of-pocket cost with cargo," according to Elbers.
"For us at KLM with a small home base, with a global intercontinental network of 65-70 destinations, cargo is a crucial factor," he adds.
Elbers also notes that "our cargo team and our KLM operations here at Schiphol are ready" to provide services for the distribution of vaccines.
WILL THERE BE A 'RACE TO THE BOTTOM' ON FARES?
For passenger operations, Elbers will not be drawn on whether the recovery in 2021 might become a race to the bottom on fares, as carriers try to tempt people back to air travel.
"It's bit too early to judge that – our key focus now is reassuring our customers to come back on board the aircraft," he states. "The pricing dynamic will come later."
But it is not too early to say that the current crisis will live long in the memory – even under the best-case scenario for the industry's recovery.
"I learned that the day has only 24 hours," Elbers says with a laugh when asked what lessons he has taken from the pandemic so far. "It took me 50 years to discover that."
Describing the past few months as a "rollercoaster", Elbers is "incredibly proud of the KLM teams and the people on the front line working through that".
As a business leader, he believes his task is to "encourage, stimulate and unleash" the "energy, passion and commitment" he has seen in the KLM workforce.
"I think that sense of support and commitment and stepping forward has really been fantastic to witness," Elbers concludes.