Dutch carrier KLM will reportedly suspend 270 flights to the Netherlands after the country's government imposed new requirements to try to stem the spread of the coronavirus.
Various media report on 20 January that the Amsterdam-based airline will stop operating all of its intercontinental flights as well as some connections between the Dutch capital and other European destinations starting on 22 January.
European flights cancelled include those connections where the carrier's crew must spend a night.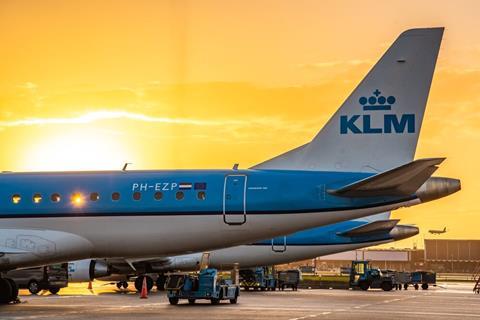 "We cannot run the risk of our staff being stranded somewhere. This is why we are stopping all intercontinental flights from Friday & all flights to European destinations where crew members have to spend the night", KLM reportedly tells Dutch media.
Attempts to reach the airline independently were not immediately successful and the airline had not posted an update on its website.
On social media, numerous customer questions to the airline about this decision went unanswered. The airline's official Twitter account responded that the carrier is "awaiting further information".
KLM does not operate domestic services due to the small geographic size of its home country.
The Netherlands have been in a lockdown since mid-December, with schools, the hospitality industry and retail stores selling non-essential items closed.
On 20 January the government recommended stricter measures to mitigate continued spread of the coronavirus, including a curfew and a temporary ban on flights to South Africa, South American countries and the United Kingdom. It also requires passengers bound for the Netherlands from abroad take a rapid test prior to departure as well as a standard PCR test upon arrival.