IATA is working full-out to secure further government financial support for struggling airlines, alongside the introduction of Covid-19 testing regimes to reopen borders, Alexandre de Juniac explained in his final AGM as IATA director general today.
"When the house is on fire, you don't pontificate about its future architecture, you throw water," he states during the virtual event.
"Our industry is in flames, and we must put every ounce of our energy into quenching the fire, so we can get back to business."
That is why the association's focus is on "getting financial support from governments and doing everything in our power to reopen borders with testing and without quarantine", de Juniac states.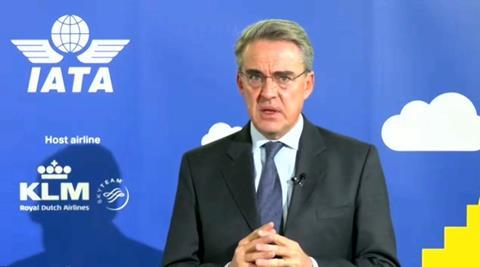 There are other important issues, de Juniac notes, for an industry that has been fundamentally changed by the crisis – not least because governments have become "major airline investors" again.
That creates "legitimate concerns about how long they will stay and the potential for re-regulation and protectionism", he suggests.
At the same time, "there are also suggestions that new approaches to liberalisation and open access to global capital markets could help the recovery".
De Juniac acknowledges that those issues "merit serious discussions" – but "not now".
For the next few months, securing financial support for airlines and the reopening of borders "will be very much at the top of IATA's agenda", he continues.
"And when we are back in business, we can then address the important questions of how to build back better."
It was announced on 23 November that de Juniac would be stepping down as IATA director general at the end of March 2021, to be replaced by former IAG chief Willie Walsh.