With its expansion into narrowbody operations, Australia's Regional Express (Rex) offers a rare story of growth and ambition in a global airline industry reeling from the coronavirus pandemic.
Company chairman Lim Kim Hai says that entering Australia's cut-throat domestic market was never really on the cards. Rex was doing fine – and generating consistent profits – focusing on the regional market with its fleet of 34-seater Saab 340s, of which it is the biggest operator in the world.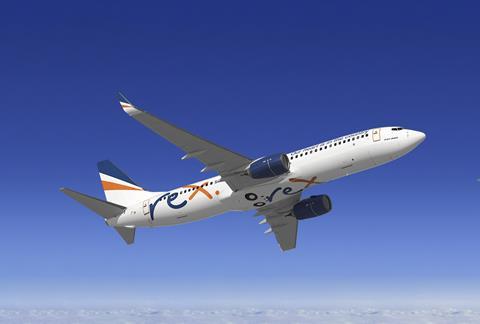 He recounts a Rex board meeting held in Sydney during late February 2020. At the time, coronavirus appeared to be an issue quite remote from the reality of life in Australia.
"It felt like business as usual," says Lim, speaking with FlightGlobal in Singapore, where he is based. "We saw everything happening in the world, but Australia was only down about five percent, so we thought we'd just ride it out."
One board member noted that Virgin Australia's Tigerair Australia unit was struggling, potentially creating a gap in the market. Perhaps it was the right time for Rex to launch narrowbody operations in competition with Virgin and Qantas? The board demurred, wary of Australia's competitive, crowded market.
Within a week, however, the devastating impact of coronavirus on the airline sector was becoming clear. In the months following the February board meeting Lim and his team saw revenue collapse. They considered grounding the entire fleet.
"The government then came out and announced assistance," he says. "By May, we were able to catch our breath and we knew there was a future for us."
Government support came in many forms, including support for jobs, waivers for air navigation charges and airport security, as well as support to keep a bare minimum of routes open. Given Australia's immense geography, far-flung communities are highly reliant on air services, such as those offered by Rex. The carrier has not had to retrench any workers.
It dawned on Rex's management that Covid-19 offered an opportunity. This was particularly true with Australia's number two airline, Virgin Australia, entering voluntary administration in April 2020.
Rex observed that the dire straits of the airline market meant that it would be possible to secure critical elements of mainline operations such as slots, gates, and airport lounges. Pilots, previously in short supply, were suddenly available in large numbers because of retrenchments, fuel was cheap, and lessors desperate to strike deals.
"So we thought that, yes, perhaps it's a good time," says Lim. "Because our regional services were always profitable, we realised that to do the domestic part of it, we actually needed very little extra in terms of our overheads. We probably have about 85% of overheads covered, and so we only needed to add that additional 15% to be able to take on domestic operations."
The airline ended up leasing six Boeing 737-800s at what Lim says are very favourable rates. All of the aircraft are ex-Virgin Australia jets and have received a new Rex livery. Two aircraft have been delivered. The airline aims to commence services on Sydney-Melbourne on 1 March, and will have five aircraft operational by early April. The sixth aircraft will be reserved as a spare.
Should the public accept the new venture, a new aircraft could be added every one or two months. The new 737 operations will run on a full-service model, initially on the Sydney-Melbourne route, with the aircraft retaining their previous Virgin Australia cabin configurations.
To help launch the new operation, Rex decided to bring a partner on board in the form of PAG Asia Capital, which is providing A$150 million ($115 million) to support the launch of the 737 operation.
"We needed someone willing to come and help us with the money to be able to start," says Lim. "Starting is easy, but you must be able to withstand a bit of losses, and to go the distance."
The support will come in handy given Qantas's scale in the Australian market – and its determination to recover from the devastation wrought by Covid-19. Speaking during the recent Reuters Next virtual conference, Qantas chief executive Alan Joyce said there is immense pent-up travel demand in Australia, which has suffered a number of interstate border closures.
Qantas expects to deploy 60% of its pre-pandemic capacity in January-March 2021, and 80% from April-June. Joyce was somewhat dismissive of Rex's impact, noting that Qantas and its low-cost Jetstar unit have "massive scale" compared to Rex. He expects that Qantas and Jetstar will control 70% of the domestic market, followed by the rebooted Virgin Australia, with Rex "a long distance behind".
Lim, however, is bullish on Rex's prospects. He notes that the Rex team has decades of experience running a profitable airline business.
"Even though we are small, we are very intense," he says.
With clear pride, he points out that it took Rex just a few months to stand up the new 737 operation. He contends that Rex has significant cost and efficiency advantages over the Qantas group. The Qantas group could slash prices, but this will not come cheap.
"Yes, they could punish us, but at a huge cost to themselves. And then again, do they really have the financial capacity to take this pain?"
It is apparent that the Rex team are not tremendous fans of Qantas. In December, Rex alerted Australia's competition watchdog to what it calls Qantas's "opportunistic strategy of flooding the regional airline market with excess capacity".
The complaint followed a major expansion of Qantas's regional route network from this month, adding seven new routes, mostly from Melbourne. The flights, to be operated by Dash 8-300s, add more than 320,000 seats annually. It will also see Qantas, together with its regional unit QantasLink, operate more domestic destinations than its pre-pandemic network.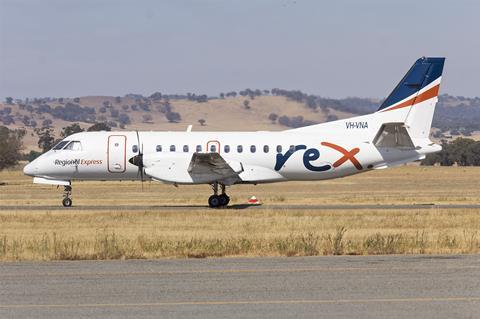 Rex slammed Qantas's move as "clearly anti-competitive". It added that the strategy is "particularly unconscionable at a time when Qantas is receiving almost one billion dollars of federal assistance, while laying off thousands of workers under the pretext of reducing losses".
Lim pulls no punches when asked about Qantas's regional foray.
"I think that they were very distressed when they found that Rex was [entering] domestic, because they know how terribly efficient we are," says Lim. "They know how organised we are…I think what they want to do is weaken us in the regional market to hopefully collapse us in the domestic market… that's why they went into routes where even by ourselves we find them already marginal."
As for Rex's regional operation, Lim reckons the Saab 340s will not need replacement for another decade, and that their "hard limit" is another 25 years. In addition to operating Rex routes, the type also serves with the company's charter unit, Pel-Air.
Lim does not give the impression of being close to adding ATRs to the fleet after signing a memorandum of understanding with the European turboprop maker in 2020. Still, he feels ATRs could be suitable for certain fly-in/fly-out contracts – assuming that Pel-Air wins one that requires an aircraft bigger than the Saab 340.
"We have not signed any such contracts so far, but if we do [the ATR] will probably be the platform that we'll be choosing," says Lim.
As airlines around the world struggle to stay afloat amid an apocalyptic downturn, Rex is among the few carriers to offer a compelling story of growth – a refreshing break from the gloomy narrative of restructurings, layoffs, and losses.
Lim has no illusions about the airline industry, noting that "it's probably the toughest industry in the world" and one that offers "no room for error". He is leading his carrier into a very challenging market at a very challenging time, but he clearly understands the risks – and the opportunities.

Greg Waldron is the Asia Managing Editor of FlightGlobal, responsible for the team's airline, aerospace, and defence coverage across the region. He has worked at the company since 2009. In the airline space, Waldron has conducted dozens of interviews with airline leaders in the Asia-Pacific. He also covers areas such as MRO and safety. On the defence beat, Waldron has written extensively about the rise of Chinese airpower, as well as broader airpower developments around the region, such as indigenous fighter programmes, and regional acquisitions of foreign equipment. In addition, Waldron writes about commercial helicopters in the region and business aviation. Waldron worked has a freelance journalist with his work appearing in several business publications.