Regional Express (Rex) unit Pel-Air has won a 12-year tender to provide air ambulance services in Australia's Victoria state.
The contract commences in January 2024 and is valued at over A$300 million (216 million), says Rex.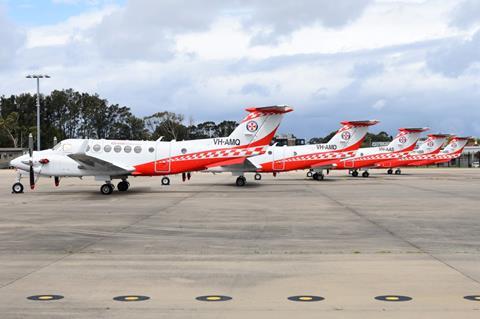 It covers the provision of four aircraft, pilots, and engineering support, which will allow for the transport of patients and medical personnel in Victoria itself, as well as Tasmania, South Australia, and the southern part of New South Wales state.
Pel-Air is the incumbent operator for the requirement owing to a similar contract that has run from July 2011.
Rex adds that four new Beechcraft King Airs will be delivered in 2022, and will be modified to support air ambulance services for the Victoria contract.
"Coming on the back of a similar award by New South Wales Ambulance in February 2021, this award is a clear recognition of Pel-Air's unparalleled ability to provide safe, reliable and high-quality aeromedical services on fixed-wing aircraft at competitive prices," says Pel-Air chairman John Sharp.
"We solemnly commit to the Victorian Government that we will spare no efforts in achieving the same outstanding service levels which Ambulance Victoria has enjoyed for the last decade."
In early 2022, Pel-Air commenced operations with five new King Air 350s to support the New South Wales Ambulance contract.
The aircraft were modified by a local company, Total Aerospace Solutions, providing the capability to undertake a range of medical flights, including patient transfers, paediatric flights, major incident responses, and other missions.
Cirium fleets data indicates that Pel Air has 15 in-service assets. These comprise five King Air 350Cs, four King Air 200s, three IAI Westwind 1124s, and three Saab 340s.