Icelandic budget carrier Play turned its first profit in the third quarter after a bright summer, but two and half years into the project, chief executive Birgir Jonsson is making sure the airline does not drift away from the basics
After posting a first quarterly profit in its third year of operations, leaders of many airline start-ups would find it hard to resist being swept away in the momentum and reaching for the accelerator.
However, there is a hard-headedness and clarity about Birgir Jonsson, chief executive of Icelandic start-up Play, which means financial sustainability is being prioritised over growth.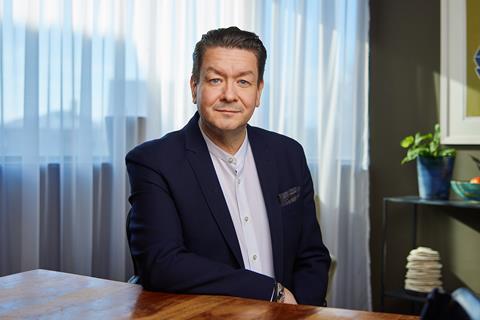 "We haven't tasted the cool aid so much that we want to have more aircraft next year and grow further," he tells FlightGlobal, in an interview on 8 November.
He was speaking shortly after Play had confirmed its first ever quarter in the black – a net profit of $5.2 million for the three months ending 30 September 2023. That was achieved in its third summer – though the first of these was at the height of pandemic – and, by nature of being a start-up, came following a growth period.
"It was really the summer where I would say the business model came together," Jonsson says. "Once we got up to the scale we needed – we got the tenth aircraft flying in June – we began to see the business model functioning as it should be. So in that regard it was a milestone to reach that.
You basically have to deliver a rock star performance every day just to stay alive in aviation
"For this summer, we launched 13 new destinations, we accepted four new aircraft, and hired 200 people, so there is a lot of cost connected to that," he says. "That will not happen next year.
"We want to stabilise the business and want to make sure we are financed and prepared for the next period to grow. So even though we are young, we are showing some discipline and fulfilling what we said. We are not in love with the growth."
SETTING COURSE FOR PROFIT
Play is following in the footsteps of the the initial model of another Icelandic carrier, Wow Airlines, which connected Europe and the USA with narrowbodies by capitalising on Reykjavik's location, before it ran into financial troubles in 2019 amid an expansion into widebody operations.
Plans for Play first emerged before the pandemic, though almost two years were to pass before the Icelandic carrier launched flights to European short-haul destinations in the summer of 2021 using three Airbus A321neos. Further Airbus narrowbodies followed in 2022, as did the launch of US services.
Further growth this year helped the airline deliver a near doubling of third-quarter revenues to $110 million and passenger numbers to climb three-quarters to 540,000. Yields rose 9% and load factor by three points to more than 88% in the third quarter. Crucially, it marked the airline's first profit.
"It was not an achievement in itself that an airline in Europe is profitable in quarter three. But for a start-up airline many things needed to come together, so we were quite happy about that," he says.
"You have to be so good in aviation just to be operational," Jonsson states. "If you have the same performance in the other sectors, at least the ones I know, you would reap more rewards as a company. You basically have to deliver a rock star performance every day just to stay alive in aviation.
"Looking at a start-up airline, maybe the conventional KPIs or measurements don't necessarily always apply," he adds. "Because I think it's an achievement to build a company from 10, 20, 30 people to now we have 550 people. We didn't have a coffee machine two and a half years ago, and in Iceland we are turning over about $300 million; there are not many companies in Iceland that are bigger in terms of turnover.
There are blueprints of how to do it correctly. There's also blueprints of how to do it incorrectly. We are trying to follow the first blueprint.
"And when you factor in the number of employees, we have managed to build a sizeable business and that is also a great achievement."
Such was the strength of demand this year that Play, which made an operating loss of $44 million last year, had hoped to deliver a "narrow, but positive" operating margin for 2023. However, that has been hit by rising fuel costs.
"We thought for most of this year we would be positive [for the full year], then we got the oil spike late summer and that is not going down, so we have told the market we will be -$10 million this year," Jonsson says.
But he says the reduction in losses still shows "development" and the airline expects to be profitable in 2024. "You never know in this great industry, but all things being relatively equal, we are on track and all the KPIs point to it," he states.
KEEPING CAPACITY IN CHECK
Notably the focus on profits means the airline is keeping capacity in check. Having got to a fleet of 10 aircraft, Play intends to keep at that level next year.
"We are still waiting for the slots to be clear for next summer," says Jonsson. "We have options of introducing a wet-lease over the height of summer, but we will only operate 10 aircraft under our AOC next year. So 2024 is optimising, gathering strength, making sure the wheels don't fall off by driving too fast."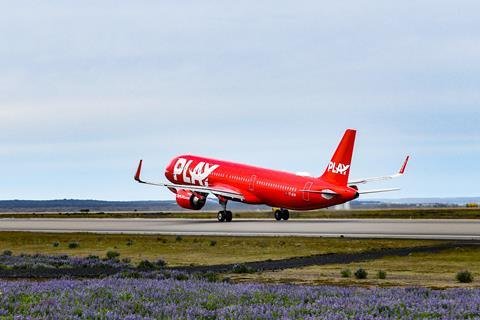 The airline will expand again after that. It has signed for two aircraft to arrive in time for summer 2025 to take its fleet to at least 12 and is looking at potentially bringing in two more narrowbodies.
"We are also very opportunistic about it. There is no one here who will cry themselves to sleep if we don't have a certain number of aircraft," he explains. "We just want to see a commercial opportunity for them, that we can sustainably finance them. So we took the step of securing two, and if we can find two more on the right terms, we will probably add them."
That cautious approach to capacity is also evident this winter. The seasonal nature of the industry, particularly with leisure demand weighted to the summer, means Play is finding ways to balance capacity. Alongside consolidating some frequencies during the winter, that also includes its new Space product, under which passengers can pay to keep the middle seat blocked at a premium.
While there is "a revenue angle" to this through upselling, the initiative is more about saving costs. Reducing seat capacity on its four A321s from 214 to 200 means it requires one less crew member per flight.
"When you have a network like ours where you have crews in layover in the US, it really changes the cost base and crew cost," he explains regarding the reduced capacity. "It takes about a day to put it in and take it out. So our plan is not to take it out before Easter and go at full capacity over the summer, and again probably November we will put it back in.
"It is basically a way to cut capacity and deal with seasonality a little bit, because in the summer we become more leisure-focused and we need all the seats we can get.
"The dynamic in our part of the market is you have to maximise your profit in the summer and minimise your losses in the winter. So it is clear we are going into loss-making quarters – quarters four and one – and we have to make sure we have the network strategy and capacity for next summer to make up for that loss."
The determination to remain disciplined is in part driven by the history of Wow, in which several of Play's executives were formally involved. Jonsson himself had a short stint as deputy CEO at the carrier in 2014-15.
"We are going into a business model that has been functioning for decades here in Iceland," he says. "So there are blueprints of how to do it correctly. There's also blueprints of how to do it incorrectly. We are trying to follow the first blueprint.
"What is often forgotten about Wow is it was quite successful and it was quite profitable for some years until they backed away from their low-cost bible," he adds, pointing to the cost complications that followed its expansion into widebodies and services to the US west coast and India.
"We know precisely what is needed, what works and doesn't work, and being a listed company, our decision-making processes are very [clear]," he says. "We have a really clear strategy and we are just focusing on executing that plan."
MAXIMISING ANCILLARY GAINS
One proven area of the model is ancillary revenues, investment in which helped them increase 150% in the third quarter over the same period last year.
"We are almost $60 a passenger on ancillary revenues," says Jonsson. "We got that result by investing heavily in all kinds of products and our booking engine.
"But we still have a long list of things to do and that is going to be the driver of the coming years, because I don't think air fares are going to increase very much – there is so much competition. Once you get the customer into your aircraft or into your system, the key is to make sure you have products and services that you can sell that individual."
While Jonsson also had a spell at the helm Icelandic Express almost two decades ago, much of his experience is leading turnarounds across a range of sectors. That gives him insight into the culture at the airline.
"We have a great culture of getting things done and people taking an extra step, and that is something which if you are like me and have been working in many different companies, you realise this is a rare thing," he says.
"You cannot buy it for money, and it is a culture you have to guard with your life and that's really what will make sure the company is successful. We have that here and that's going to be difficult to protect as we get bigger," he says. "We talk about that quite openly and we are very focused on culture."