Icelandic budget carrier Play is expecting to post its first quarterly profit, having generated a surplus of $12 million for the peak summer months of June-August.
The airline is forecasting an operating profit of $10 million and a net profit of $4 million for the third quarter, which runs to 30 September.
But it is predicting a full-year operating loss of $10 million – although this will still amount to a considerable improvement on last year's $44 million loss.
Play disclosed the outlook during a 28 September trading update.
"It shows that Play is a profitable company for the summer and that its business model is working well," the carrier states.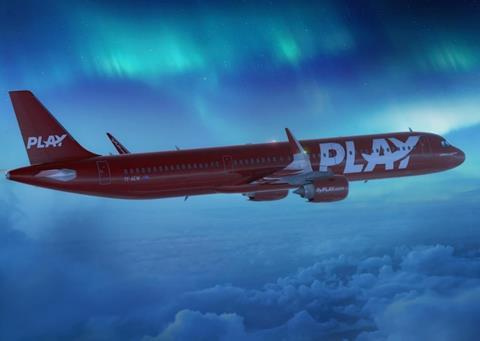 Revenue for the summer nearly doubled from last year, reaching $116 million, and the airline points out that it managed to increase unit revenues despite a 70% capacity hike.
Play contrasts this performance with that of former Icelandic budget carrier Wow Air which, it says, suffered from a decline in unit revenues as it was growing over the period 2015-17.
"After a period of steep growth, we have now reached the required scale to run an efficient and profitable operation and can begin to focus on optimising our operation," says chief executive Birgir Jonsson.
Play is looking at the possibility of expanding its fleet to 14 aircraft – up from the current 10 Airbus A320neo-family jets – in 2025.
It has already signed letters of intent for two more A320neos, and says the additional aircraft will be introduced if they can be "secured at the right terms".
Play says it "plans to post an operating profit" in 2024.
"Our cash position remains solid and, when adjusted for investments in fleet expansion, we have reached a neutral cash flow," says Jonsson. "We do not intend to raise new equity in the current market environment."