Icelandic low-cost airline Play's chief executive, Birgir Jonsson, appears prepared to turn off the seat-belt sign nearly two years after the carrier embarked on its rapid ascent through an uncertain and tempestuous air transport sector.
Since it launched services in June 2021, Play has expanded to nearly 40 destinations – with Scottish city Glasgow the latest addition – while building a fleet of 10 Airbus single-aisle jets, and Jonsson believes the company needs a plateau phase.
"I think this year we'll reach the scale we need to utilise fixed costs," he tells FlightGlobal. "This is really the year where Play is born as a company which is out of the start-up phase, out of the incubation period."
Play only implemented its full network in June last year, he says, with US flights enabling the carrier to shift from point-to-point services to a transatlantic bridge model between Europe and North America. "That's really the driver for the business," says Jonsson.
Play expects to start turning in positive earnings this year, and Jonsson believes it would have generated a "decent financial return" last year but for the unexpected $35 million impact of higher fuel prices – particularly given the near-80% average load factor, achieved despite persistent pandemic effects.
"We needed quite a steep growth. From zero to 100 is a steep curve," he says. "But we're not in love with the growth.
"We needed growth to get to the scale and utilise the full benefits of the network. We needed a certain number of US destinations to feed into the European destinations, and needed a certain number of aircraft for that."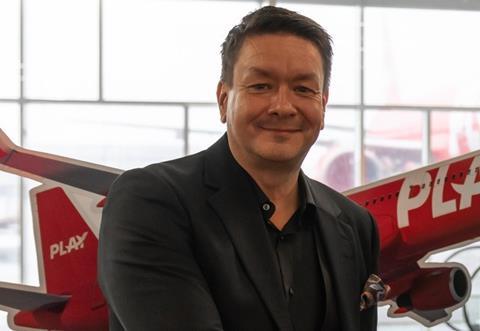 The airline is still discussing whether to take one or two more aircraft in spring 2024, or take a strict hiatus on fleet expansion. Jonsson says the priority is to focus on profitability and work within a "very defined" business model.
"I'm not an aircraft geek," he says. "I want to see the commercial opportunities before we do it. I'm really scared of getting the aircraft and then trying to find something for them to do."
TARGETING GAINS FROM TRANSFER WINDOW
Having established its network, Play is concentrating on refining and balancing. It captured a strong share of the leisure-driven outbound market from Iceland in its first year, notably to Mediterranean destinations, but Jonsson admits it was less successful in the market for tourism to Iceland.
He attributes this to the Icelandic tourism sector's being unable to ramp-up post-pandemic operations fast enough. "Iceland was kind of sold out last year," he says. "We weren't able to get as many 'to' passengers as we would have wanted."
But this pillar of Play's model is improving this year. The airline is also capitalising on transfer demand. Jonsson acknowledges that the margin in transfer is limited, compared with point-to-point traffic, but the operations allow the aircraft to be utilised for 14-15h daily and fly such routes as Dublin or Brussels which have much lower point-to-point demand from Iceland.
"It's quite a peculiar business model and it needs to be managed carefully," Jonsson says. Although the airline carried close to its target of 800,000 passengers last year, he says, the mix and margin were "not correct", and this year Play will focus more on the strength of its point-to-point network.
The carrier has five North American destinations, and over 30 in Europe, but Jonsson insists: "It's really about how you mix the business model, it's not about the number of destinations or how big the map is.
"I hope we're quite close [to finding the balance] and that's a big foundation as to why we think we'll be in profit this year."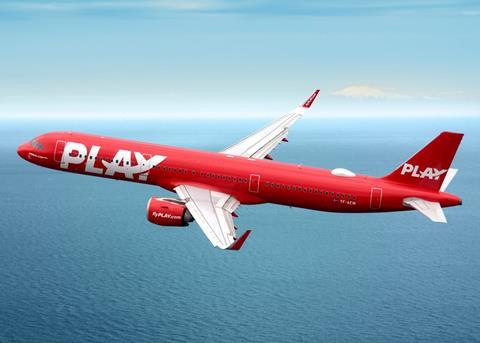 Jonsson is satisfied with the airline's distribution and ex-fuel costs, and confident over yields and on-time performance. "We seem to have a much more secure position in the market now."
He adds that the carrier has worked to improve ancillary activity, which was "not so successful" last year, with ancillary revenue per passenger falling by 12%. The carrier launched a bundling product in January, which passengers can select when booking, rather than buying a seat and choosing additions. The airline has also rolled out handheld technology to give it more flexibility in selling, and gathering real-time data.
Play is not intending to introduce wi-fi but it is studying the potential of closed-loop systems such as that from Bluebox Aviation.
NETWORK KEY TO SUCCESS
Jonsson says Play has reached the point of "tightening up" the network through small steps, "surgically" managing capacity by adding frequencies rather than new destinations.
"That's really where the cost is," he says. "The cost is not how many people you have in the office, or whether you have nice coffee or not. In aviation it's really where you fly the aircraft."
Jonsson says Play is prepared to take quick – "some would say brutal, but I'd say realistic" – decisions on route viability. He points out that two Norwegian services, to Stavanger and Trondheim, were pulled after a short time.
"I look at it as a shop. I'm not going to put a brand of soda on the table that no-one wants to buy," he says. "And I don't really subscribe to the [idea] that you 'need to give it two years', or something like that.
"It's like you have a feeling. The market either reacts or it doesn't react."
He says the airline is "extremely data-driven", and this generates "all kinds of strange connections" between cities which might not have been considered. After starting its New York Stewart flights, the carrier is opening a service to the secondary Toronto Hamilton airport, and Jonsson says it is becoming "one of our biggest sellers".
"I think it's about the data," he says. "Don't think like a tour operator, don't try to have as many exotic and exciting locations – low-cost airlines are transport companies.
"If people want to go, and you have the data, I don't care what the name of the city is. There's a flow of people for some reason between the cities. If I wanted to be in the glossy 'go to the Maldives' [market], I'd own a travel operator."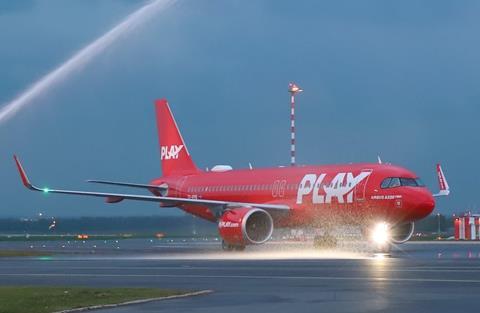 Play intends to keep its network manageable, ensuring the aircraft can complete a circuit from Reykjavik to Europe, and then operate a return service to North America, within 24h. This limits the airline's westward reach in its US network.
"Getting the utilisation in the 24h loop is crucial," says Jonsson. But he says the carrier will be "breaking that law" when it flies to Athens in the summer, because the aircraft will wait in the Greek capital before flying back to make the connection bank. But Play will use the Athens downtime to perform maintenance.
COULD PLAY CHANGE THE GAME WITH A321XLR?
The airline does not expect to broaden its US range until it has a second connecting bank, although Jonsson states that he is "extremely interested" in the potential capability of the long-range Airbus A321XLR. "Narrowbody long-haul flights would be a game-changer, I think," he adds.
Jonsson was the deputy chief of Icelandic budget carrier Wow, which collapsed after an ambitious expansion into twin-aisle aircraft services with Airbus A330s and development of an Asian network.
But he says Play will not be "hypnotised". It does not have any such "grand schemes" and might even be viewed as "a little bit boring", despite its name. "You have to know your place in the world," Jonsson says, arguing that Play has a competitive advantage with the transatlantic bridge but would not be able to offer anything different to other carriers if it set up elsewhere.
He believes Play has a "way to go" to maximise its potential, suggesting that it could develop a second connecting bank and steadily expand to 25-30 aircraft over the course of a few years, providing a low-cost alternative to incumbent Icelandair.
But while Play has claimed a large market share in its short existence, Jonsson indicates that – even in the small Icelandic market – there is room for both carriers: "Our success doesn't have to be at [Icelandair's] expense."