Marjan Rintel says the Dutch flag carrier is back on its feet after the Covid-19 crisis – but that 'normality' has also delivered fresh challenges
Despite being less than a year into her time as chief executive of KLM, Marjan Rintel responds with a knowing laugh when questioned about the airline's relationship with its parent company.
"We are one group and the enemies are outside and not inside," she says during an interview with FlightGlobal at the IATA AGM in Istanbul, her demeanour suggesting she is already well-accustomed to addressing the issue.
"I'm in Paris nearly every Wednesday and we are putting effort into building the relationship."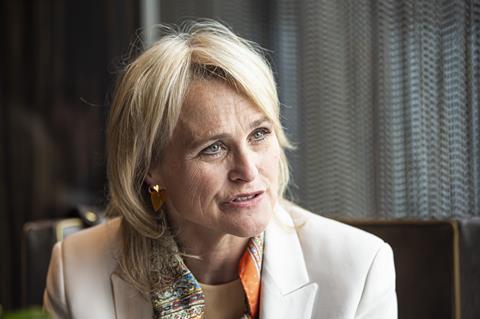 A cordial relationship would be a welcome development, because despite Air France-KLM enjoying the fruits of a post-Covid travel boom, there are significant challenges to overcome – including high-profile ones relating to KLM's Schiphol airport hub and government action on sustainability – and post-Covid opportunities to explore, such as consolidation.
Helpfully, Rintel is not new to KLM and its politics; her appointment as Pieter Elber's successor last year marked her return to a business she had left in 2014 to become head of Netherlands Railways.
Aside from the Air France-KLM group dynamics, though, had much changed in the airline sector since then? In one particularly important way, Rintel replies.
INDUSTRY SCRUTINY
"The environment has changed a lot," she says. "It is more critical on the airline industry and our focus is more and more and more – and every day – on sustainability.
"This industry is difficult and the solutions aren't there yet, so we do everything we can in our power to reduce CO2," Rintel states, citing sustainable aviation fuel as a key focus.
Indeed, there are arguably fewer airlines that are feeling that sustainability pressure more acutely than KLM – from its government and from the NGOs keeping a close watch on the airline industry's actions.
On the latter point, KLM is facing landmark legal action over allegations of 'greenwashing' with its 'Fly Responsibly' campaign, which was launched before Rintel's arrival. Whatever happens with that case, KLM is focusing on a few guiding principles with its sustainability communications, Rintel explains.
"You need to be transparent, you need to show proof points, that you are doing the right things and leading the way and being a front-runner in sustainability," she says.
Under Rintel, a new marketing campaign is due to be launched soon.
Another sustainability-linked challenge is playing out at Schiphol airport, where the Dutch government has proposed a structural cut in the capacity with noise-reduction in mind, alongside emissions concerns. Ongoing legal cases and different timescales are involved, but fundamentally Rintel's hope is that the reductions can be achieved without the need to cap flights – a potentially serious development for an airline that prides itself on its hub operations from the airport.
"If the goal is 20% noise reduction, what can you do? First you need to look at fleet renewal and then you need to work on operational measures, working together with all the parties at the airport," Rintel explains.
She describes the reduction in flight movements as a "last resort" that she hopes will be unnecessary.
"We are still confident that there will be an outcome taking into account all the other things that we can do," she says. "We invest as a group millions and millions in fleet renewal and if you look at the [Boeing] 747 compared with the Airbus [A350], it's a 50% noise and 40% CO2 reduction. We should take that into account. It really helps… it's adding up."
On the prospect of Lelystad airport opening to commercial flights and providing alternative options to Schiphol capacity, Rintel has little hope that a decision is imminent on what has become a long-running saga. "They've postponed the decision to '24, '25, '26," she states, nevertheless noting that "it would be helpful though with all the noise reduction [requirements]" in Amsterdam.
OPERATIONAL CHALLENGES
In the nearer-term, KLM has already faced lowered capacity ceilings for other reasons – with Schiphol at the centre of that narrative, too, amid operational challenges at airports as the industry emerged from the Covid-19 crisis.
After a summer 2023 trial-run during the recent May holiday season, Rintel has some confidence that challenges relating to a lack of security staff have been overcome, even after they had persisted through last year and into April.
"It's one of the biggest peaks we have, so it's really a test," she says of the May holiday. "We didn't hear anything… For customers it took 15-20 minutes to cross security, so it was really good, it was positive. They hired 700 people, they did their processes, we did as well," she adds.
Still, "the labour market in Netherlands and Europe remains challenging", Rintel states, citing other key functions within the aviation industry.
"We think from the KLM perspective we are a good employer, so people want to work for us," she says. "But if you look at engineering and maintenance… that is still difficult."
And her view is that the labour market will be tight for the "next coming years".
One way airlines and the wider aviation industry can try to overcome that challenge is by ensuring they are open to the widest possible pool of talent – a subject of strong interest to one of the airline industry's few female chief executives.
But while Air France-KLM – with Anne Rigail leading Air France alongside Rintel at KLM – is setting "a good examples for others", there is more work to be done be done on diversity at airlines.
"We need to be proactive," she says. "So, it's hiring more outside, at least to mix the teams and show it's possible, and show it's positive and working."
Rintel notes that KLM has its own diversity targets and that "if someone is leaving, I always ask to see the list and that a woman should be included".
Ultimately, her view is that "if you have more people in the room from a diverse background, you have, at the end, better decision-making".
And when considering diversity, she looks beyond the airline industry's focus on gender.
"For me, it's diversity in a broader sense," she says. "You need to represent, at least, your customers and represent all your employees and that's not the case in a broad diversity way.
"We are just starting," she says.
More female pilots might help KLM to overcome another challenge: shortages in the cockpit, which are being exacerbated by the effects of the war in Ukraine and KLM's upcoming shift to Airbus narrowbodies.
Amid the closure of Russian airspace to European carriers, KLM requires more pilots for the longer flights to Asia. While, therefore, the reopening of China has been "very important" for KLM, it has created some recruitment headaches, Rintel says.
"It's difficult for us because we fly from the Netherlands to Asia and we need four pilots in the cockpit instead of three," she explains. "[We needed] 80 extra pilots due to the war in Ukraine.
That is why, as KLM looks to recruit more pilots in a tight market, "we are back on destinations but we are not fully back on all frequencies", she says.
Another factor exacerbating the pilot shortage is KLM's planned shift away from Boeing narrowbodies to Airbus jets in the coming months.
"You need to train your pilots and with [existing] difficulties already in your pilot capacity, it's complex but doable," she states.
Air France-KLM placed a firm order for 100 A320neo-family jets in late 2021, signalling KLM's shift from a Boeing 737-dominated short-haul fleet to an Airbus one. At the time, deliveries to KLM were expected to begin in the second half of 2023, but the Dutch carrier now expects to receive its first Airbus A320neo-family jets in 2024.
"Hopefully we have fixed planning now," she states of the delivery schedule.
Describing the OEM supply-chain issues that are delaying the delivery of new jets and prolonging the maintenance of existing aircraft as a "long-term challenge", Rintel says: "It's making planning difficult, the new planes are arriving late and the planes that need maintenance… you really need to be flexible."
KLM is responding to the maintenance and parts issues – which have notably affected KLM Cityhopper's fleet of Embraer E2 jets due to "technical challenges" with their Pratt & Whitney PW1900G engines – with measures such as retaining older aircraft for longer than expected and bringing in wet-leased jets.
Separately, Rintel says of KLM's widebody fleet, including prospects for a fresh order: "We will let you know this year."
STATE-AID RELIEF
Any such commitments would be easier now KLM is free from Covid-related state-aid restrictions, having converted its remaining Dutch government credit facility in April. Rintel describes that development as "very important" – not just for confidence and flexibility within the business but also when it comes to having the freedom to pursue consolidation moves within Europe.
She notes, however, that consolidation moves would be made at the group level, within the purview of group chief executive Ben Smith.
For now, in common with many of her peers, Rintel reports no signs of a weakening in the post-Covid demand for travel.
"It's not what we're seeing yet," she states. "Prices are still good, customer cost of living is, in the Netherlands, higher because of the inflation, so cost levels are higher, but the yield is still good, so it's matching.
"But you never know how long this will stay," she cautions, adding that "cost-reduction is certainly one of the key themes" in KLM's business plan.
As she works through KLM's challenges and opportunities, Rintel reflects fondly on her efforts to "get to know the organisation again" over the past few months.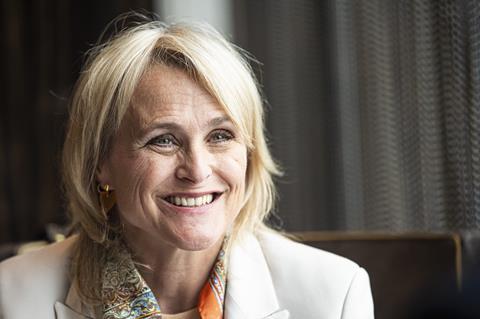 "I was impressed – impressed by the passion of the people after a difficult period during Covid. And then, after Covid, they all thought we were going back to normal, but we never did," she states.
Rintel cites the tight labour market, war in Ukraine and other uncertainties as defining the era KLM is going through now.
Still, "we're building back the business and we're standing on our feet again", she says.