KLM is tweaking its summer schedule and is holding on to several Embraer 190s that were due to be returned to lessors in a bid to overcome a capacity shortage caused by technical challenges affecting its Pratt & Whitney-powered E195-E2s.
The carrier says that "due to technical issues" its regional unit KLM Cityhopper is having "difficulty fully deploying" its E2 jets.
"KLM Cityhopper is consulting with Embraer and engine manufacturer Pratt & Whitney to seek a solution for these issues, which have no impact on flight safety," it adds.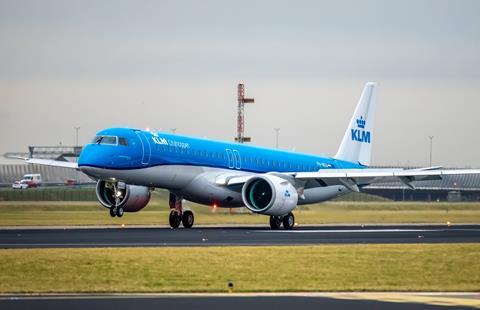 E195-E2s are equipped with PW1900G engines, part of P&W's wider geared-turbofan (GTF) family.
While KLM does not specify the technical issues impacting the regional jet's deployment, it appears to mark a spreading to the Embraer aircraft of the wider challenges P&W has been facing with its GTF engines.
P&W is working to tackle durability issues with the PW1100G that powers some Airbus A320neos – an issue compounded by maintenance delays amid supply chain and labour shortages – while A220 operators have flagged lengthy maintenance delays impacting the aircraft's PW15000G powerplant.
Cirium fleets data shows KLM Cityhopper has 11 E195-E2s in service and four currently in storage. It also operates 17 E175s and 30 E190s and says it has secured alternative capacity by retaining a number of the latter that were to due be returned to lessors and by striking several wet-lease agreements.
However, it is also making what it terms "minor adjustments" to its summer timetable, though it notes this affects flights several months away, giving customers plenty of notice to rebook if required.