Air France-KLM has signed for up to 160 Airbus A320neo-family aircraft, including 100 firm orders, and has become the fourth customer to commit to buying the manufacturer's new A350 Freighter.
The group has signed for 100 A320neo-family aircraft and taken acquisition rights on 60 more to renew the KLM and Transavia Netherlands fleets, and to renew and expand the Transavia France fleet.
The order covers a mix of A320neos and A321neos. Deliveries of the narrowbody are set to begin in the second half of 2023.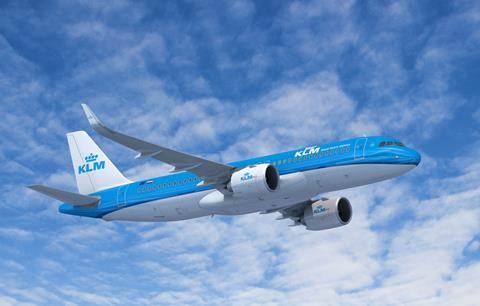 Air France-KLM has also signed a letter of intent covering the acquisition of four A350Fs, and taken acquisition rights for four more of the type. The aircraft would be used to increase Air France's cargo capacity. However, the company would retain rights to convert the A350Fs to passenger aircraft.
The group already operates 12 A350 passenger aircraft and has another 26 on order.
Air France-KLM Group chief executive Ben Smith says: "These scalable orders will position the group's airlines on the path to improving their performance, while accelerating our decarbonisation trajectory. This is a major step for KLM, for Transavia and for Air France, which will use the best aircraft available to meet their needs."
Smith highlights the fuel and noise efficiency of the new aircraft, saying, "They will play a key role in achieving our ambitious goals, including reaching zero net CO2 emissions by 2050".
The deals mark another significant Airbus aircraft commitment following the recent announcements of Qantas committing to acquire as many as 134 A220 and A320neo jets and Singapore Airlines firm order for seven A350 freighters, together with five options on the freighter.