Boeing is projecting slightly rosier demand for new aircraft over the next 20 years due to factors including expected airline expansion in emerging markets and a looming wave of retirements.
Released on 18 June, the airframer's new 2023 Commercial Market Outlook estimates airlines globally will require 42,595 new jets through 2042 – 1,425 more than Boeing predicted in last year's 20-year forecast.
Boeing has added more narrowbody and widebody jets to its estimate but removed regional aircraft – reflecting a pilot shortage – and cargo jets.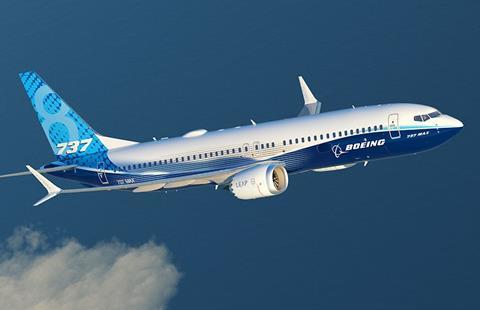 Boeing vice-president of commercial marketing Darren Hulst describes the changes from last year as relatively minor.
"There is a tremendous amount of demand in the market", he says, noting the global airline industry has largely recovered from the Covid-19 downturn, with the fleet now at 97% of its pre-pandemic size, and passenger capacity at 92%.
The outlook covers only demand for regional, narrowbody, widebody and cargo jets.
Of the 42,525 aircraft Boeing thinks airlines will need through 2042, 7,440 are widebodies – 210 more than in its previous 20-year outlook; Hulst cites strong recent demand for 787s in particular.
Narrowbody aircraft account for 32,420 of the total, up 1,540 units from last year's report.
Hulst point out that airlines have recently delayed retiring older jets because production and delivery of new aircraft have been held up by supply chain and labour problems.
All those older aircraft will need replacement, Hulst says, adding that some 3,000 jets now flying have reached what Boeing considers retirement age.
The company also sees more demand for narrowbodies from airlines based in regions outside North America and Europe, such as Asia, Africa and the Middle East, where the air travel industry has more room to grow.
Troubles facing the regional airline sector also support increased demand for narrowbody jets, Hulst says, noting airlines having been paring back their operation of regional aircraft due to lack of pilots and spiking pay demands. In response, carriers have deployed larger narrowbody jets on routes previously served by regionals, he says.
Due to that trend, Boeing now anticipates airlines globally will need only 1,810 new regional aircraft over 20 years – 310 fewer than in last year's report.
Boeing also trimmed its 20-year demand forecast for new cargo aircraft to 925, down from 940 one year ago; Hulst says the cargo segment cooled recently following a boom early on in the pandemic.
"This year, things have taken a little bit of a breather," Hulst says of the air cargo sector.
Boeing now expects the global airline fleet will comprise 48,600 aircraft by 2042, up last year's prediction of 47,080 at the end of 2041.