As low-cost carrier Scoot approaches full recovery, chief executive Leslie Thng says the airline wants to be the region's leading operator, not the largest
The Scoot head office is located at a non-descript corner in the basement of Singapore's Changi Airport, but upon entering, one is greeted by a buzzy, colourful and open-concept workspace.
The office is no stranger to Scoot chief executive Leslie Thng, who took helm of the airline in June 2022. After all, he was its commercial chief in 2016, part of an executive team that oversaw the merger between Singapore Airlines' low-cost units Tigerair and Scoot.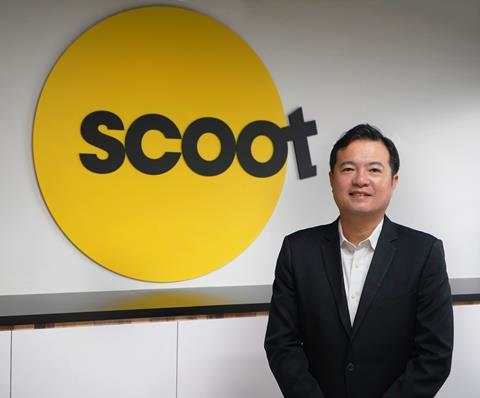 "If you do simple math, with more aircraft, you should be doing more"
Still, more than five years later, Thng is acutely aware the operating environment has changed, along with the airline size – "I have new colleagues now," he quips – and challenges.
Thng, who was speaking to FlightGlobal in an interview in Singapore, is an SIA Group veteran, having joined the company in 1999. He became chief executive of now-shuttered regional unit SilkAir in 2012 and moved to low-cost unit Scoot in 2016, and then onto lead SIA joint venture Vistara in India a year later.
Now back at Scoot, Thng is presiding over one of the busiest periods in the airline's post-pandemic recovery: a rise in year-end travel demand, coupled with major markets like Japan and Hong Kong reopening have pushed Scoot's traffic results to record highs in the October-December quarter.
The surge in demand did not come as a surprise to Thng, who confirms "there is pent-up demand" in Asia, and he points out that a lot of demand is driven by intra-Asian travel.
"[There] is still a shortage of capacity to cater to the demand. I think that is where being first off the block, being able to put capacity back as soon as we can… [helps] us in terms of improving our operational as well as financial performance," he tells FlightGlobal.
The airline also posted an operating profit of S$135 million ($102 million) during the quarter – its best showing yet – with revenue increase outpacing a rise in costs.
TOWARDS FULL RECOVERY, AND THEN SOME
Scoot is set to close the January-March quarter – its final quarter for the financial year – with demand holding strong, thanks to the reopening of mainland China, says Thng.
China is an important market for the airline, given that it was about 25% of system-wide capacity pre-pandemic. Thng says the airline is progressively adding back frequencies to China, and aims to reach 80% pre-pandemic capacity to China by October.
"The bookings are still coming in quite strongly…[and that] is the reason why we are planning to progressively add more flights back. [If] there's a need to add more [capacity to China], we'll definitely look at how we can readjust our network to cater to countries where we see the stronger demand," he says.
"[We] have been quite nimble in terms of adjusting our deployment, adjusting our capacity accordingly where we see we can tap the demand," adds Thng.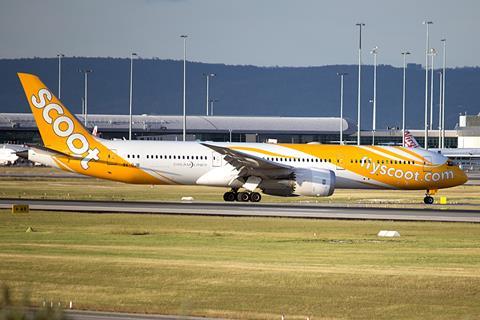 Scoot is operating at 80% pre-pandemic capacity currently, and Thng expects a full recovery this financial year, which runs until 31 March 2024.
There is impetus to return to pre-pandemic capacity, given the airline's current fleet of around 55 aircraft is higher than the 49 it entered the pandemic with. "If you do simple math, with more aircraft, you should be doing more," he says. "We are definitely not staying stagnant. We definitely want to go back to 100% and more."
The airline is, however, not content with simply getting back to full recovery. "Are there opportunities out there that would further help us to strengthen [Scoot's] proposition?" says Thng.
NOT BIGGEST BUT LEADING
The airline already has plans in the works, particularly around its fleet. It is "working hard" for the imminent entry of the Embraer E190-E2 regional aircraft in 2024, of which it will take nine examples.
Scoot in February announced the lease of the nine Embraers, which will seat 112 passengers in a single layout – the smallest aircraft in the SIA Group's fleet.
Thng explains that the new aircraft were a fit to the airline's future strategy, stating that there was "a business case" for having regional jets. For one, these would allow the airline to open up more cities in its network, with the added benefit of being able to right-size existing operations.
In the longer term, the airline will be retiring its older Airbus A320ceos and replacing them with A320neo and A321neo aircraft, with their deliveries set to continue in the near term.
Even as plans are afoot, Thng says it is not without its challenges. Like most airline chiefs, he is closely observing the macro-economic environment and how it could impact travel demand.
While he acknowledges that being part of the SIA Group – its branding and financial strength – is an advantage against its competitors, especially amid a tough operating environment, Thng is quick to stress that Scoot has and will operate independently from its full-service parent.
SIA adds its code to a number of Scoot flights, with the latter feeding traffic to the broader parent company network. The agreement covers more than 30 cities not served by the mainline carrier.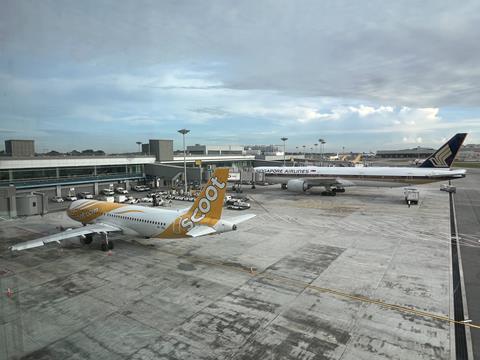 However, Thng says the connecting passengers from Scoot to SIA flights are half that of its passengers connecting on other Scoot flights – underscoring the strength of its own network and its operating model.
Indeed, Thng says the airline remains committed to the low-cost operating model, when asked if the airline might in the future evolve into a hybrid mid-market operator. "I think the [low-cost carrier] model is still our core…the majority of our customers are still low-cost, so we definitely have to stay true to our core business," he saysl.
"The cross-selling with SIA is an important part, but it is one part that would help to support some of our flights. [For] most of the flights we would have to depend on ourselves as well," Thng adds.
Thng takes pains to emphasise the airline remains very much a low-cost operator at heart, even as its product offerings – like a premium 'ScootPlus' cabin – differ from the traditional low-cost model. These, he says, are Scoot's "differentiated product offerings", that will set the airline apart from the competition.
The new aircraft types, alongside its product offerings, are part of what Thng hopes will make the airline a "leading low-cost operator".
"It is never our goal to be the biggest [low-cost carrier] around…we would want to be the leading carrier in this region. Being the leading doesn't mean we have to be the biggest," Thng observes.
"[We will] be striving for operational excellence…[we are] making sure we are operational resilient. What we are [and have been] doing…is to strengthen our position as the leading low-cost carrier in the region", he says.
The interview comes to an end, and, noticing that a bottle of water offered earlier was left unopened, Thng urges this reporter to take the drink.
"Don't worry, it's free in here," says Thng, gesturing in the direction of the office. Then, and in keeping with the airline's low-cost ethos, he quickly adds: "But if you were on our flights, you would have to pay!"