Scoot will take delivery of its first Embraer E190-E2 jet in March next year, as it focuses on building up its short-haul network.
Leslie Thng, the low-cost operator's CEO, says Scoot will take delivery of another four E2s through 2024, and that the type will be deployed on "a mix of new and existing destinations".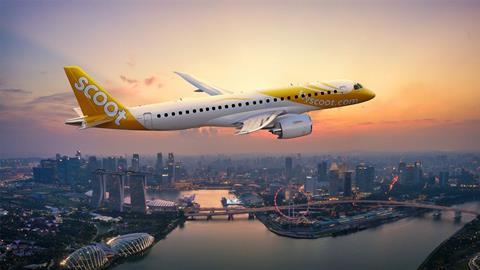 Thng, who was speaking at the Association of Asia Pacific Airlines' Assembly of Presidents in Singapore, declines to comment where Scoot will be launching flights to, except to reiterate that these details would be disclosed "when we are ready to".
His comments are the latest updates from the airline on its incoming fleet of E2s. The Singapore Airlines Group unit announced in February it would be taking nine E190-E2s on lease from lessor Azorra.
The jets will seat 112 passengers in a single-class layout – the smallest aircraft in the SIA Group's fleet.
Scoot had touted the "business case" for the regional jets in its fleet. In a wide-ranging interview in March, Thng said the E2s will "give us additional growth opportunities to continue to expand our network, which will provide us with the network connectivity that we have been building".
He reiterated those sentiments in his latest remarks, noting that the E2s "are a good fit for us…to actually expand into thinner routes in the region".
Asked if the airline was looking at growing its long-haul network - Scoot flies to Athens and Berlin in Europe, as well as Jeddah in Saudi Arabia - Thng says the airline's "short-term focus" is to induct the new E2s and deploying them to the Southeast Asian market.
"[Scoot's] focus will be to continue to increase our destinations that we can offer [with the E2s] in this region. [Southeast Asia] is a massive market…[and is] something that we should continue to invest in," he adds.