Scoot chief executive Leslie Thng says the carrier has a good business case for regional aircraft, which will help it expand in the region.
Speaking to FlightGlobal at a wide-ranging interview on 30 March, Thng says the airline will likely deploy its new Embraer E190-E2s to "potential new points" in Asia from 2024, amid preparations for the type's service entry in Singapore.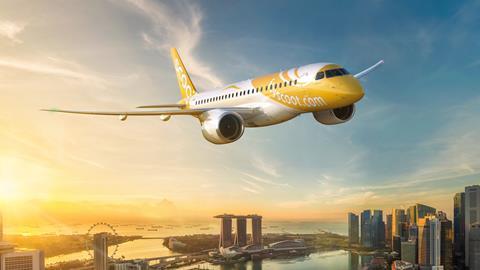 He says: "When you look at the whole network that Scoot can actually serve, there is a business case for a regional jet. [It] would give us additional growth opportunities to continue to expand our network, which will provide us with the network connectivity that we have been building."
"For the Singapore market, a regional jet…[you can fly to] potential new points in the region. It will give us you will give us more selling opportunities, more excitement back here," adds Thng.
These are Thng's first comments since the low-cost unit of the Singapore Airlines Group in February announced it would be taking nine E190-E2s on lease from lessor Azorra.
The jets will seat 112 passengers in a single-class layout – the smallest aircraft in the SIA Group's fleet. In February, the airline said it will deploy the aircraft on short- and medium-haul flights of up to five hours, serving "thinner routes to non-metro destinations out of Singapore".
Asked by FlightGlobal which cities these could be, Thng remains coy, noting that the airline will announce them "when ready". Still, he points out that the aircraft will mainly be used in network expansion, with its secondary purpose to right-size operations to existing cities.
Much of the focus for this year will be preparing for the E2's arrival, including getting the relevant approvals from regulators, says Thng.
He also confirms that should initial operations in 2024 be successful, the airline will look to add more aircraft.
"We think that there is greater potential, but we would like to test it out…to make sure what our assumptions [and] projections will turn out as what we have included in our business case," he tells FlightGlobal.
Separately, Thng confirms that the airline will retire all its Airbus A320ceos by 2025, and will replace them with new A320neos and A321neos.
According to Cirium fleets data, the airline has 17 A320ceos in service, with an average age of about 10 years. Scoot also has 18 A320neos and A321neos on order.