The Embraer E190-E2 and E195-E2 have attained type certification in Malaysia, setting the stage for E2 operations in the Southeast Asian country.
The type certificate from the Civil Aviation Authority of Malaysia (CAAM) comes two months after Embraer's major breakthrough in the country, when local carrier SKS Airways committed to ten E195-E2s.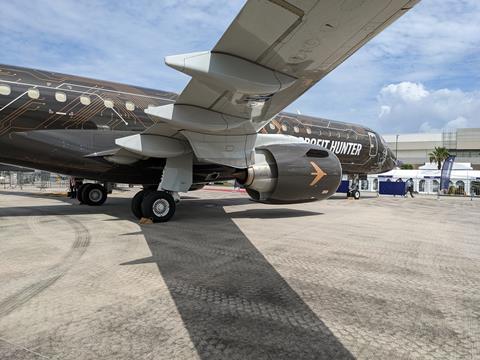 "Following our comprehensive assessment, CAAM is pleased to grant the type certification validation to Embraer's E195-E2 and E190-E2 aircraft," says CAAM chief executive Norazman Mahmud.
"We value Embraer's spirit of collaboration towards our goal of instilling safety culture to ensure the highest level of safety, security and efficiency in Malaysian aviation industry."
At the Langkawi International Maritime and Aerospace exhibition in May, SKS said it would start taking E195-E2s from lessor Azorra in 2024, making it Malaysia's first carrier to operate E-Jets.
The aircraft will be configured with 136 seats and operate from Kuala Lumpur's Subang International Airport. The airport was formerly KL's international gateway, but closed to most commercial traffic following the opening of Kuala Lumpur International Airport in 1998. Malaysia has plans to turn Subang into a city airport and allow the resumption of jet operations.
"CAAM's certification of the E2 is great news for Embraer and the industry", says Martyn Holmes, chief commercial officer of Embraer Commercial Aviation.
"It lays the foundation for the entry into service of the E195-E2 in Malaysia in 2024. The E2 is the ideal family of aircraft to complement larger aircraft and grow regional connectivity within Malaysia and beyond, while delivering ultimate performance in terms of the lowest fuel burn, smallest noise footprint and outstanding passenger comfort."