Indian low-cost carrier IndiGo is steadily building back its passenger business after nearly two months on the ground amid the coronavirus pandemic.
The carrier's chief commercial officer, William Boulter, admits that it has been a tough time, but that the carrier is steadily coming back on steam, now operating around 30% of its pre-pandemic capacity – a limit prescribed by the Indian government.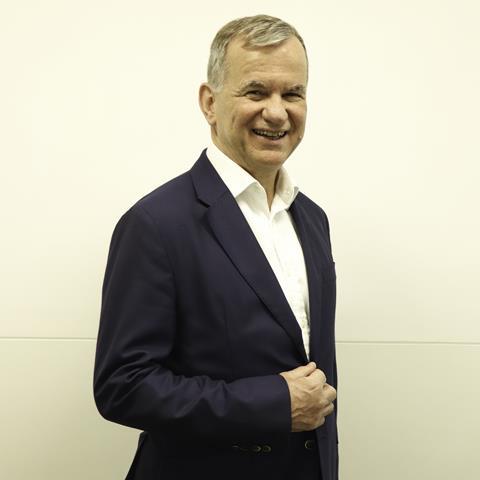 As with many airlines facing a total collapse in demand, IndiGo found itself imposing pay cuts and asking some staff to take unpaid leave. Boulter stresses, however, that IndiGo continued to pay people on-time.
On some days only two or three aircraft out of the airline's 272-aircraft fleet would be flying on a given day.
"Obviously the most significant impact was that we stopped flying and were locked down towards the end of March," he says in an interview with FlightGlobal. "And that basically lasted for two months. But during that two months we were able to operate a number of flights for the government, carrying essential medical supplies."
One initiative that was able to raise some cash was the use of 10 Airbus A320s as freighters with a capacity of up to 20t. This involved using nets, seat-top bags, as well as stowing cargo under seats and in overhead racks. The company operated some 100 cargo flights, carrying everything from pharmaceuticals to perishable goods. Cargo services included some work for an Indian supermarket chain with outlets in the Middle East.
In addition, the airline has operated a number of repatriation flights, both domestically and overseas.
Though the use of passenger seats to carry cargo has been viewed as somewhat of a novelty during the pandemic, Boulter notes that the idea is not new. When he joined Cathay Pacific Airways in the late 1970s, he says the manuals for the airline's Boeing 707s highlighted the ability to carry cargo on seats under nets.
"It's quite interesting to see that this crisis brought that back as a very popular and a very useful mechanism," he says.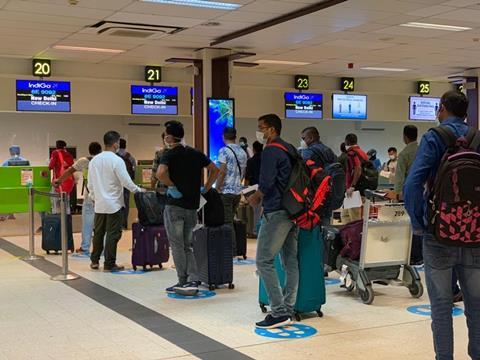 With the resumption of air traffic in late May, the airline was cleared to fly to any of the 64 domestic points it operated prior to the pandemic, but with total network capacity capped at 30%. So far, the airline has returned to 50 of its pre-coronavirus points.
Every seat in the aircraft can be occupied, but middle seats are allocated last. Passengers assigned a middle seat are provided a special protective gown.
Prior to the lifting of the grounding, the airline worked with airports to ensure the increased adoption of boarding pass and bag tag printing at home, thus helping passengers minimise contact with personnel at the airport. Now, over 90% of IndiGo's passengers check-in on-line before arriving at the airport.
Even though the airline has had to cut back on services such as meals and drinks, Boulter notes that the airline's net promoter score is higher than before the crisis.
According to Cirium fleets data, on 18 June just 58 of IndiGo's 272 Airbus narrowbodies were classified as in storage, compared with 258 one month earlier.
While some industry observers have said that pilot currency will be an issue after long groundings, Boulter notes that IndiGo's limited network at the height of the crisis was sufficient for senior pilots to maintain currency. In addition, the airline was able to get access to simulators. That IndiGo is operating at a fraction of its pre-pandemic capacity also helps.
Boulter also feels that the airline's massive orderbook of 632 Airbus A320neo family jets is still justified.
"We're very confident in our order book," he says. "We're confident in the longer term about the Indian market and we still think that there's huge potential here."
A key focus will remain taking people off of India's railway system. "It takes a long time to travel by train within India, but you can get everywhere within three hours by flying. [India] will take a bit of a setback in terms of GDP growth this year. But we're very confident that longer term, those airplanes will be fully employed."
For the time being, however, IndiGo's main focus is to get passengers flying again as India gradually opens up air travel. Highlighting the extent of the challenge, New Delhi has yet to allow international services to resume.
Nonetheless, Boulter is upbeat. "We're very keen to come back as strong as we left," he says.

Greg Waldron is the Asia Managing Editor of FlightGlobal, responsible for the team's airline, aerospace, and defence coverage across the region. He has worked at the company since 2009. In the airline space, Waldron has conducted dozens of interviews with airline leaders in the Asia-Pacific. He also covers areas such as MRO and safety. On the defence beat, Waldron has written extensively about the rise of Chinese airpower, as well as broader airpower developments around the region, such as indigenous fighter programmes, and regional acquisitions of foreign equipment. In addition, Waldron writes about commercial helicopters in the region and business aviation. Waldron worked has a freelance journalist with his work appearing in several business publications.
View full Profile