The Indian government has proposed creating "air bubbles" with five neighbouring countries, according to civil aviation minister Hardeep Singh Puri.
Proposals have been made to Sri Lanka, Bangladesh, Afghanistan, Nepal and Bhutan, he said in an 18 August Twitter post.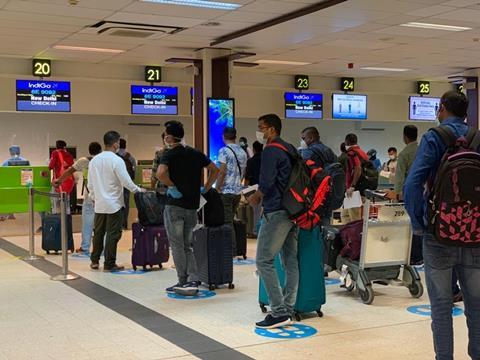 "Going forward, we will consider such arrangements with other countries also."
He adds that India is committed to "further strengthen the reach [and] scope" of its Vande Bharat Mission, an evacuation programme for Indians stranded overseas during the Covid-19 pandemic. "Air travel arrangements" are already in place with the USA, UK, France, Germany, the UAE, Qatar and the Maldives, he said.
He went on to say that the government is now "taking these efforts forward" and negotiating with 13 more countries – including Australia, Italy, Japan, New Zealand, Nigeria, Bahrain, Israel, Kenya, the Philippines, Russia, Singapore, South Korea and Thailand – to "establish such arrangements".
It is not clear what stage these "air bubble" talks are at, nor exactly what Puri means by an "air bubble", but his Tweet seemed to provide a ray of hope for the many Indians stranded overseas amid the Covid-19 pandemic. His tweet was flooded with replies from Twitter users who said they were desperate to get home.
"Sir, I'm stuck here in Nepal since March. Please start air bubble with Nepal as soon as possible. So I can go back to India, as my mom [and] dad are alone there with no help," one person tweeted.
Travellers in Asia-Pacific have been faced with an array of immigration restrictions and border closures related to the coronavirus, although limited travel "bubbles" allowing less restricted travel have emerged.
Earlier this month, for example, Auckland International Airport in New Zealand said it would separate its international terminal into two self-contained zones to cater to different categories of travellers "in anticipation of a safe air corridor being formed between New Zealand and the Cook Islands".
Amid the chorus of Indians stranded abroad, the government has made clear it will do its best to bring them home.
"It is always our endeavour to reach out to every stranded citizen," Puri said. "No Indian will be left behind."