European low-cost giant Ryanair has not always been known for its commitment to environmental issues, but group chief executive Michael O'Leary's conversion to the cause in recent years has come alongside an effort to put sustainability at the forefront of its strategy.
That is perhaps just as well for a carrier expecting to exceed pre-Covid traffic levels in the current financial year – with the extra environmental impact that theoretically brings – as part of a strategy focused on achieving year-on-year growth across a long list of bases.
The person heading the Irish carrier's work on the topic today is director of sustainability Thomas Fowler.
"As we ramp back up to 165 million passengers this year, myself and the team are working with flight ops, engineering and our scheduling team to make sure that what we were doing so well pre-the pandemic comes back, because obviously people haven't flown in a while," he tells FlightGlobal during an early April interview.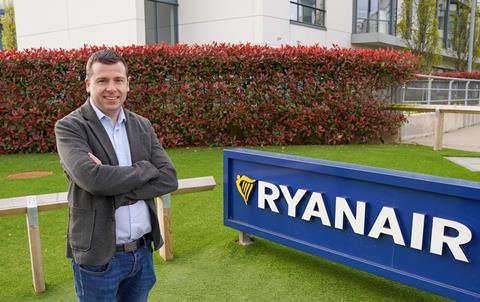 More and more of the group's passengers are being flown in the Boeing 737 Max 8-200 jets that are now a significant feature in Ryanair's group fleet – and it is their arrival that also occupies a significant amount of Fowler's time.
"We're taking in the new 'Game-changer' – 210 new aircraft coming of which we'll have 65 for this summer," he states of the carrier's Max jets. "As it stands today they are 16% more fuel-efficient and carry 4% more passengers and [create] 40% less noise.
"One of my key jobs today as they roll into the fleet is working with our operations and commercial teams to make sure we put them on the most efficient lines of flying for reducing our CO2."
Indeed, Fowler's background may be as an accountant, but he found his way to his current role via one of the emissions levers that airlines can pull today: operational efficiency.
"Back in 2010, I was a member of the fuel committee, which is now the sustainability committee, so we were looking at fuel efficiency and what we could do with regards to reducing our fuel consumption in a safe and efficient manner on board the plane," he states.
"Fuel is the single biggest cost in Ryanair, so it kind of evolved from there, and over the last two years now, I got appointed to the sustainability role while also being the liaison on the social and governance side with the rest of the company."
As that work continues, Fowler's role notably involves being Ryanair's internal guide on the consequences of legislation and regulation such as the European Union's 'Fit for 55' initiative, under which the bloc proposes to cut its net greenhouse gas emissions by at least 55% by 2030.
He also cites other day-to-day projects, including the monthly reporting of sustainability KPIs and responding to any "slips on that".
Furthermore, the carrier has a sustainable aviation partnership with Trinity College in Dublin.
"They're looking at how we increase the feedstocks for SAF [sustainable aviation fuel], which ones are the best from a product life-cycle [perspective], and how we get it through the approval process," Fowler says of the partnership.
"And then on the longer-term, they're looking at aircraft propulsion and different technologies, whether that's hydrogen or electric aircraft."
NET-ZERO ROADMAP
Those developments and more were considered when Ryanair recently outlined a plan to reach net-zero CO2 emissions by 2050, which involves a mix of SAF, aircraft and other technology, operational improvements and offsetting.
Fowler explains that SAF adoption is particularly challenging for an airline such as Ryanair, which operates across multiple bases.
"The reason why we haven't [announced many SAF deals] yet in Ryanair is we have over 80 bases around Europe, compared to a Lufthansa or an Air France whose main hubs are in Frankfurt or Charles de Gaulle," Fowler says.
"So with SAF it's all about the product life-cycle. I really don't want to purchase the SAF and then be told I have to ship it from Scandinavia to Greece and I lose all of the CO2 reduction, so it's very important for us in Ryanair to make sure where it's produced, that we're able to get it in a relatively reasonable distance to those bases."
Moreover, the current low levels of SAF production mean a lack of availability and high prices. Even blended fuel costs four times the price of traditional jet A-1, Fowler suggests.
"The thing we're talking about with Brussels and Europe is maybe there needs to be some incentives given initially to ramp-up production," he states.
He cites some progress on SAF incentives in the Netherlands and the UK, and among airports, as encouraging.
"Realistically, I still think we're a couple of years away on the SAF, if I'm being totally honest," he says. "You look at the Fit for 55 mandate, they only have 2.5% mandated by 2025 and 5% by 2030, and that's compared with our 12.5% target for 2030.
"We'd like to see, maybe, targets being stretched a little."
Crucially, under Fit for 55, the SAF mandate will shift to include fuel producers, alongside airlines, Fowler observes.
"We've seen Shell announce a 10% target of their jet fuel production by 2030 and that gives us a bit of confidence that we're starting to see the fuel producers now look at this in the medium term," he says.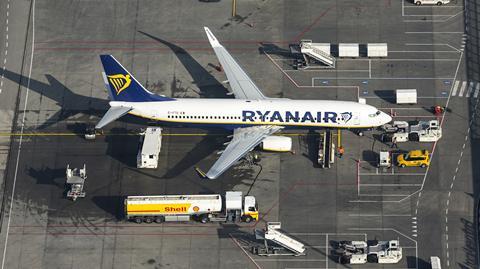 Beyond SAF, another longer-term focus of the industry is new technology, such as electric and hydrogen-powered aircraft.
But Fowler is unconvinced the breakthroughs will happen soon enough for Ryanair to rely on the technology's emergence for now.
"Our view is, given how heavily regulated the industry is and given our model – at the moment the aircraft they're talking about are a range of maybe 700km… it's well beyond 2035 before we see an electric commercial plane certified and ready to fly.
"That's not to say if the technology moves on over the next few years, as we negotiate new aircraft orders, we won't look at it," he adds.
Ultimately, Fowler is keen that Ryanair tries to "sound realistic" about the pathways available today.
In the meantime, carbon offsetting will play a significant role in Ryanair's net-zero ambitions – even if Fowler acknowledges that it is far from an ideal solution.
"Our view is offsetting is the last thing we want to do," he states. "Our focus has been on carbon reduction.
"But as I look out into the future… we do recognise there is going to be an element of offsetting."
Ryanair's reliance on offsetting could change, he suggests, based on a range of factors including the emergence of carbon-capture and aircraft technologies beyond what is expected today, or a sudden ramping up of SAF production.
SPREADING THE LOAD
But while Ryanair keeps a close eye on developments, Fowler is concerned that the current sustainability environment does not spread the load evenly between airlines.
"I agree safety is paramount for every airline, but I don't think sustainability is," he says. "They all want to talk about [sustainability] but then want to be excluded."
A major concern for Fowler is that in his view, "long-haul is left out of a lot of policies", leaving the burden on short-haul operators. He cites Europe's Emissions Trading System (ETS) as an example.
Under the EU's Fit for 55 proposal, he worries that if intra-EU flying stays under the ETS, long-haul operators will be paying much lower carbon prices under ICAO's CORSIA scheme.
The key, he suggests, is that aviation should have a "polluter pays" policy.
"Everyone has to do their part," he says.
Regardless of those alleged inconsistencies, however, how do airlines like Ryanair convince the travelling public they are doing enough on sustainability?
"I think we show it in our numbers," Fowler states. "We show the CO2 per passenger kilometre, we show the investment in the aircraft at the moment, and then show these [SAF] deals rolling in and what impact that has."
CO2 per passenger kilometre is Ryanair's chosen metric – and is one that tends to reflect well on airlines with tightly packed cabins and high load factors.
"We want to educate that the underlying intensity factor has to be the CO2 per passenger kilometre, so for every passenger that flies, the carbon footprint is as low as possible," Fowler says.
"We've set the pathway for reducing that by 10% between now and 2030," he says.
A further boon to the public-relations challenge around sustainability will be highlighting the work Ryanair is doing through its Trinity partnership and any SAF deals that are agreed – such as a recent tie-up with Neste at Amsterdam Schiphol airport.
And as he looks to the next five to 10 years, Fowler says that progress on SAF will be crucial.
"SAF is the next step-change for us," he states. His desire is "getting something over the line with a BP, Shell or Repsol, where we're able to produce at local refineries and get it around those countries [in Ryanair's network]".
Amid those ambitions, Fowler acknowledges that a lot is at stake for the industry.
"I think the biggest thing is we start to see restrictions [on flying]," he says. "We've seen the talk in France about [not being able to fly if the] train journey is less than 2.5 hours, which kind of defeats the purpose of freedom of movement.
"What we're trying to show here as well is that aviation is only 2% of greenhouse gas emissions today," he claims (estimates tend to vary between 2-3%). "Even if they restricted aviation, it's not the silver bullet that clears the climate-change problems."
To prevent draconian government steps in the future, Fowler believes the industry should be focused on "getting out on the front foot and educating consumers, educating investors, educating policymakers that aviation has done a lot over the last few years".
"Aviation is too important on social and economic terms to be cast aside as a lost cause," he adds.
At the same time, Fowler says it is important that any government or regulatory action does not stymie Europe's carriers in competitive terms.
"We're trying to educate the MEPs a little bit," he states. "While we've all got a bit to do, we've got to make sure we don't damage the European economy by putting these policies in place in Europe; that you're not just pushing the carbon to the likes of Tunisia or Morocco because it's as cheap to fly there, which don't have these policies."
As the airline leading Europe's industry out of the pandemic, Ryanair is increasingly determined to take the lead on sustainability, too.
The sustainability chiefs leading the airline industry's net-zero charge
1

2

3

Currently reading

Ryanair's director of sustainability on SAF, Max, offsets and ensuring 'the polluter pays'

4