Budget carrier Ryanair is aiming to reach a fleet of 70 Boeing 737 Max 8-200s for the summer peak, up from the previous target of 65, as it seeks to deploy summer capacity 15% above the pre-crisis level of 2019.
It is "cautiously optimistic" that the summer fare peak will be "somewhat ahead" of that in 2019, and is predicting full-year passenger numbers of 165 million in 2022-23.
But the airline acknowledges that fares have required "significant" stimulation over the second half of 2021-22, continuing into the first quarter of the current year, as a result of the delayed lifting of pandemic restrictions and the geopolitical situation in Ukraine.
Although average fares were down over the full year, scheduled revenues rose to reach €2.65 billion ($2.76 billion) – out of total revenues of €4.8 billion – as passenger numbers recovered to 97 million.
But lower variable costs and the 737 Max's reduced fuel-burn helped to constrain overall operating costs to €5.27 billion despite higher fuel expenditure.
Ryanair turned in a full-year net loss of €355 million, although this does not include an exceptional net gain of €114 relating to jet fuel caps which reduces the loss to €241 million.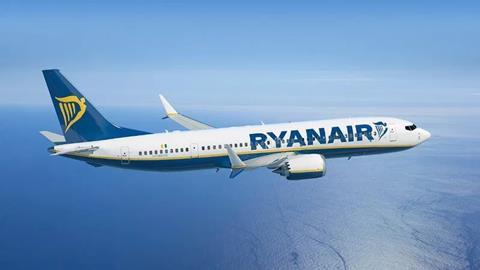 It says the recovery situation remains "fragile", but it hopes to return to "reasonable" profitability over the 2022-23 fiscal year – although it is unable to offer a "sensible or accurate" guidance range.
The airline says its fuel requirements for the year are 80% hedged "well below" current spot prices of over $100 per barrel, through a mix of swaps and caps, and adds that this "strong" hedging position will give the company a "considerable competitive advantage" over the next 12 months.
Ryanair cut net debt to €1.45 billion, from €2.28 billion, by the year-end and it plans to reduce this debt to zero over the next two years.
"Strength of Ryanair's balance sheet ensures that the group is well-poised to capitalise rapidly on the many growth opportunities that exist in Europe into the [post-pandemic] recovery this year and beyond," the carrier states.