While the arrival of new entrants is grabbing the headlines as part of Saudi Arabia's ambitious plans to create a new global aviation hub and triple passenger numbers by 2030, growth has been part of the story since day one for local carrier Flyadeal and its chief executive Con Korfiatis.
"It was always going to be an exhilarating ride because of the potential," Korfiatis told FlightGlobal on the sidelines of the IATA AGM in June. "The whole idea of establishing Flyadeal in the first place was you had basically a duopoly and visions around growth and diversification were starting to come out and they decided in the aviation industry to open up."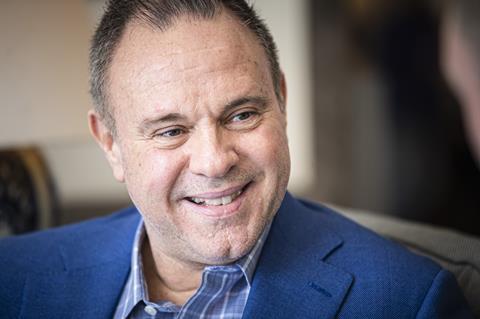 Flag carrier Saudia, which together with Flynas were the primary operators in the Kingdom at the time, was one of three companies to put itself forward, through the creation of a new low-cost unit. "The reason for that was the Saudia Group were firmly at the top end of the market, the other airline was effectively a hybrid airline, and somebody was going to come in and give it a shot. They figured rather than leave it to someone else, they'd have a shot at it themselves."
Enter Flyadeal and Korfiatis. The latter was already well-versed in low-cost start-ups following spells leading Jetstar Asia, Viva Macau Airlines, and Garuda Indonesia unit Citilink and, in 2017, Flyadeal launched.
"We started out of the gates gangbusters," he says. "We were six months behind the other guys who set up, and the aircraft were full from day one. And as quickly as we could bring them in, we were filling them. We had a business plan that frankly in terms of long-term outlook has not deviated that much, but the timing of the roll-out and how we staged it has dramatically changed."
"People were doing long trips by buses before we came along. The market is there, there' s no question about it. It is no different to the rest of the world"
That saw the carrier, at least prior to the pandemic, focus on domestic routes.
"We honestly thought with the aggressive capacity we were planning that we would need to spread ourselves further so we don't overload fewer routes and end up with empty seats. But what we found is as quickly as we brought the aircraft in domestically… we were filling them. So it kind of made sense to hold back on international expansion."
That proved a fortuitous strategy given that it meant when the pandemic hit, the airline had limited exposure to the loss of international markets and a wide domestic network to fall back on when internal flights could resume.
"That domestic flying came back in two and a half months. [And] because people couldn't go internationally, it sparked the domestic tourism industry around the same time," he says.
FLEET GROWTH TO MEET DEMAND
While the relatively rapid recovery in operations from the pandemic enabled the airline to avoid the salary and labour cuts pain much of the industry endured, it did initially emerge from the crisis with more aircraft than it needed.
"We came out with 27 aircraft, because our orderbook started delivering," he explains. Flyadeal had before the pandemic switched an initial commitment for up to 50 Boeing 737 Max jets for Airbus A320neos after the former's grounding. Deliveries of the 30 A320neos on firm order began in the summer of 2021.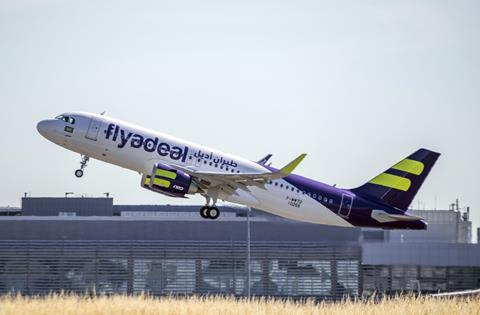 "When Covid came along we tried to delay things as much as we could, but we could only do small things. So the capacity came and honestly, for a period of time it was too much," say Korfiatis.
"But then as things came back, things really took off and we filled that capacity quickly and we have gone from having a bit of over-capacity to now we are short of aircraft.
"It's been driven by the fact the tourism, albeit starting from an extremely low base, is growing quickly. The Umrah market opened and is coming back and in bigger numbers than we had pre-Covid, so we have that from an inbound point of view. And from an outbound point of view, people are allowed to travel again. It's been incredibly busy and it's continued."
Indeed, the growth has been such that the carrier is looking at options for additional capacity. "We are thinking about leasing some aircraft short-term, we are thinking of exercising options we have with Airbus, we are thinking about a campaign to add more aircraft to our orderbook. So it's a nice place to be."
Flyadeal's Airbus A320 fleet will reach 32 by year-end – around half of which are Neos.
"Our orderbook is for another five over the next two years, and we are looking to go to market for additional capacity from 2024 onwards," he says. "The intent is 100, 100-plus aircraft by 2030. And maybe by then a small sub-fleet of widebodies as well." Flyadeal currently wet-leases three Airbus A330s for Haj operations, but Korfiatis says in the longer-term there could be a requirement for year-round services.
"The targets for Saudi Arabia are for tripling passenger numbers by 2030. Even with all the activity in the market place, the sum of that doesn't fully get you to 300 million"
He though stresses the scale of Haj means doing it within its own capacity alone would be challenging. "Someone has asked me before, could you structure in such a way as you could do the Haj operations with your own aircraft? You could but then they wouldn't be doing a lot the rest of the year, because it's such an abnormal peak because of the number of people who come through in such a short time period. It's millions of people in the space of three and a half weeks."
NEW PLAYERS JOIN THE FRAY
While it proved opportune to be a domestic carrier prior to the pandemic, Flyadeal has since moved into the international space. It launched flights to Dubai and Kuwait in 2021 and now operates a string of international destinations from Damman, Jeddah, Madinah and Riyadh. This summer it added flights to the Georgian capital Tbilisi and Turkish cities Antalya, Bodrum and Trabzon.
"Late in the year we are looking at south Asia, so Pakistan and India," he says. "The predominant proportion of growth from here on will be international.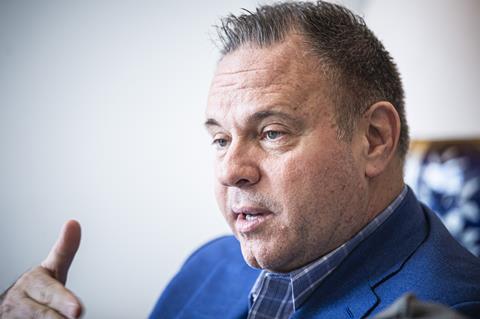 "Having said that, the domestic network is not mature," he adds. "We are in 20 of the 25 biggest airports. So we still have airports we don't operate and dots to join, and there is still existing growth on the existing routes."
While the other carriers granted licences along with Flyadeal fell away – SaudiGulf launched in 2016 but has since suspended operations, while Qatar Airways' Al Maha unit failed to start – Flyadeal is now firmly established in the market.
Cirium schedules data for August shows Flyadeal is the third biggest operator in the Saudi market, accounting for more than 11% of seat capacity in the market.
And amid Saudi's Vision 2030 growth aspirations, a fresh round of operators are on the way.
At the network carrier end of the market that includes Riyadh Air, the new flag carrier which aims to connect the Saudi capital to the rest of the world, and plans are under way for an airline to serve the ambitious new destination project city Neom. In the low-cost segment, both Kuwait's Jazeera Airways and Central European budget carrier Wizz Air are taking steps into the market.
Korfiatis, however, is more than confident about there being enough demand.
"The targets for Saudi Arabia are for tripling the passenger numbers by around 2030. Even with all the activity in the market place – Saudia are talking about getting a lot more aircraft, we are saying that, the other local airlines are saying that, and new airlines coming along as well – the sum of that doesn't fully get you to 300 [million]." he says.
"Our demographic exists in every market, because we are the true low-cost in Saudi Arabia, and the other stuff that is coming in is going after a different demographic to that. We already play Kingdom-wide. Albeit we are headquartered in Jeddah, our larger base is actually in Riyadh already and it is projected to stay that way."
Korfiatis' optimism also comes from his confidence in the demand for low-cost air travel.
"This is the fourth time I have done a low-cost start-up. And every market I've done, people say 'the demographic here doesn't like this sort of product'. And [it was] no different in Saudi Arabia.
"Clearly when we launched, we didn't succeed by stealing market share from the other airlines. We actually grew the market. People were doing long trips by buses before we came along. The market is there, there' s no question about it. It is no different to the rest of the world.
"And if you look at where we are now and where we might be on the maturity curve, the proportion of the traffic this demographic represents is still low compared to other markets where it has been around for longer," he notes. "So there is a lot of growth to come."