Saudi Arabia's ambitious Neom smart-city and sustainable-development project, in the north of the kingdom, is to have its own airline and airport system, which aim to overhaul current travel processes.
Neom Airlines intends to be operational as early as the end of next year, according to its chief executive, Klaus Goersch, initially using current aircraft.
But Goersch indicates that the carrier will turn to "new innovative aircraft" – potentially with electric or other forms of propulsion – from 2026 onwards, and feature "next-generation interiors" with state-of-the-art in-flight entertainment.
"We are already in discussions with [aircraft], interior and seat manufacturers," he says in an outline on the Neom project's official website.
Goersch says the company will focus on enabling tourism and commercial travel to Neom, firstly from the Neom Bay airport – already open for Saudia and Flydubai services – before taking advantage of a new international airport in the area.
"Due to the strategic geographical location and the level of economic activity here, we expect that we will have a global aviation hub on our hands as time goes on," he states.
Goersch says commercial air travel "leaves a lot to be desired". The Neom project provides the opportunity to build an airline and airport "from scratch", he says, and the freedom to "personalise the customer experience", capitalising on biometrics, artificial intelligence and other advanced technology.
"This legacy-free approach is how we are working at Neom. We have no outdated infrastructure or business models to protect, meaning we can provide a personalised service," he says, stressing that the carrier "certainly will not be a generic airline".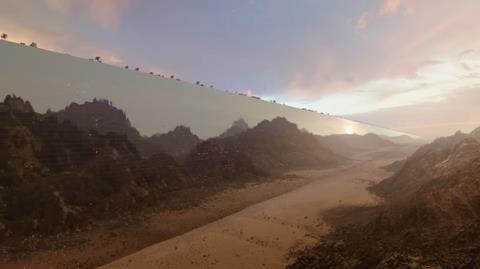 Goersch envisions collection of luggage from the passenger's home, for delivery to the destination hotel or residence, seamless and automatic gate-free security clearance at the airport, and simple flight rebooking.
"The ambition is that every flight that we operate will have some sustainable fuel on board – originating from mixing facilities at Neom," he adds.
"We will look at every single component right down to the carpets and single-use plastics. Little things like this will accumulate and add up to more than the sum of their parts."
Goersch, a former chief operating officer for British Airways and Air Canada, says Neom offers a "freedom" through "starting from zero" with strong financial backing.
"We can be futuristic and efficient, we don't have to modify or retrofit," he says.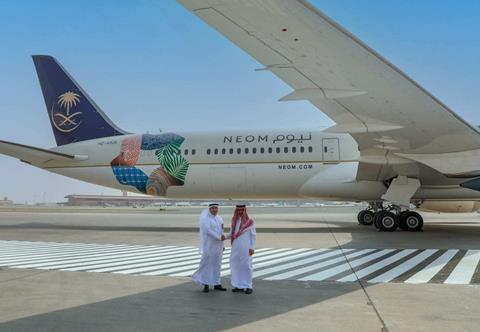 Neom Airports chief John Selden, the former general manager of Atlanta Hartsfield airport, says airports need to be "much less about keeping people captive".
"Bigger airports, expanded budgets and limitless runways are not the answer," he insists, in his own remarks on the Neom website. "Smart airports, progressive design and advanced technologies with a human touch are the areas where our energy must be channelled."
He argues that airport should not be considered mainly as a "profit centre" but a means to assist people and stimulate the economy, and passengers should be treated accordingly.
"The usual sources of delay – such as immigration, baggage handling and boarding – can be optimised," says Selden.
"Biometrics will allow us to unlock time savings across the board. Facial recognition, for instance, means you can link faces to bags in the terminal as people walk through – so that baggage never gets lost."
Selden similarly mentions having a "blank sheet of paper" which, he says, will enable Neom to create a "completely integrated" continuity of service: "Both the airline and the airport will be serving the same vision, same owner and same passenger."